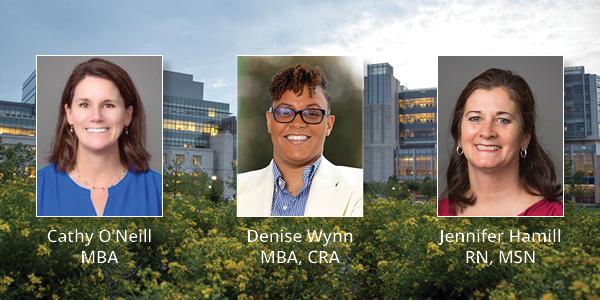 The Department of Medicine is pleased to announce the newest members of our leadership team.
Cathy O'Neill, MBA, assumes the role of director, Clinical Operations Integration, for the department. Denise Y. Wynn, MBA, CRA, has been named director, Basic Research Administration, and Jennifer M. Hamill, RN, MSN, has been promoted to director of Clinical Research Administration in the department's Clinical Research Unit.
All three are trailblazers in administration who are taking the helm at an opportune time, as we continue to emerge from the pandemic and look to the future. Cathy, Denise, and Jenn have demonstrated an ability to cut through barriers and obstacles and leverage resources (people and systems) to continuously improve and support our tri-partite mission. While each took a different pathway to their success; they all share essential leadership qualities – confidence, resilience, positivity, and a commitment to excellence. 
Cathy, Denise, and Jen, thanks for being such extraordinary role models. Hopefully, your stories will encourage other talented Duke employees to look internally when contemplating their next career move.
As Director of Clinical Operations Integration, Cathy O'Neill will serve as the liaison for key administrative and clinical leaders in the coordination of clinical expansion activities and the implementation of our clinical strategic plan.
She has over 15 years of experience as an administrator at Duke, starting in Neurology when it was still a division within Medicine, where she led their clinical research finance operations and before moving to the School of Medicine finance office. She returned to the Department of Medicine in 2012 to lead the GI Division, where she has contributed greatly to the growth of the division for the last 10 years, overseeing a $32 million operating budget and over 180 faculty and staff.
"Cathy has been an integral part of our success in Duke GI," says Andrew Muir, MD, GI division chief. "She combines a strong finance background with effective project management skills.  Cathy brings tremendous energy and drive to any project.  I have relied on her so much for her guidance and support, and I am grateful for all she has done for Duke GI."  
"I'm so excited to take on this new role in the department," says O'Neill. "I look forward to partnering with the department and division leadership on the strategic growth and access initiatives across our clinical mission, particularly in this critical time in the creation of DHIP. I am committed to advocate for all our faculty and staff in this new model."
Denise Wynn, a certified research administrator, brings 22 years of experience in sponsored research management, data analytics, and leadership to her new role.  She has had the opportunity to work in academia, healthcare and clinical research at Winston-Salem State University, North Carolina Central University, North Carolina State University, and FHI360.  She worked also at Duke University within the Department of Cell Biology, as well as the Office of Research Administration where she voluntarily served as in interim director roles in both the School of Nursing and Medicine. Currently, pursuing her doctoral degree, Denise is committed to the training and development of our future administrators in research.
"I am excited for this new journey in the Department of Medicine," Wynn says. "Duke University is one of the top research universities creating legacies for future researchers. One of my favorite quotes from Nelson Mandela says, 'Education is the most powerful weapon which you can use to change the world.'  I hope to help change the world during my journey."
Jennifer Hamill has over 30 years of experience both in direct patient care as a nurse and a nurse practioner as well as a research practice administrator.  She first came to Duke in 2009 as a registered nurse working in the Intensive Care Unit at Duke Raleigh Hospital and part-time as a clinical research coordinator for the Cardiology Division. This latter role proved to be her passion as she moved onto more complex duties in the Heart Center and cath labs at Duke University Hospital. Jennifer served in leading roles in the Heart Center for almost seven years where she contributed, greatly to development, training and support of faculty and staff.
"Jen is an exceptional individual with extensive experience in clinical medicine and clinical research. We were fortunate to have her join the Medicine CRU in early 2020, just before the COVID-19 pandemic began, and her leadership led to important initiatives in the Department of Medicine clinical research program which allowed Duke to become a national leader in COVID-19 research," says Laurie Snyder, MD, MHS, associate professor in the division of Pulmonary, Allergy and Critical Care Medicine. "She continues to focus on improving the quality of clinical research through her work on study start-up, feasibility, enrollment and finances."
"I have often found ways to do things better when opportunities for improvement have presented themselves," Jennifer Hamill says. "This takes commitment to treat failures as opportunities to succeed. I am grateful to call Duke my home for 14 years and appreciate that hard work is valued here."