A commitment to diversity, equity, and inclusion and to being an anti-racist department requires that we know more about the history of our institution and its relationship to the people of Durham.
 
That will be the topic of Medicine Grand Rounds on August 14, when Jeffrey Baker, MD, PhD, will present "Forgotten Voices: Confronting Duke Hospital's Racial Past."
Department of Medicine leaders invited Dr. Baker to help faculty, trainees, and staff understand the cultural context and institutional history in which we work.
"As our colleague Damon Tweedy, MD, makes clear in a powerful essay in the New York Times, 'ideas that fueled race-based medicine stubbornly linger,'" Andrew Alspaugh, MD, and Laura Svetkey, MD, MHS, wrote in the department's weekly newsletter. Dr. Alspaugh is vice chair for academic affairs; Dr. Svetkey is vice chair for faculty development and diversity.
 
Dr. Baker is professor of pediatrics and research history and director of the Trent Center for Bioethics, Humanities & History of Medicine. His presentations about health disparities have enlightened faculty and trainees across Duke Health. For Medicine Grand Rounds he will focus on the two different ways to tell the history of Duke University Hospital, as a progressive center for science and medicine and also as part of a city with a history of racism and racial discrimination.
 
As Dr. Baker will explain, the work of medicine requires more than just science, and it is important to understand that we are part of a long and complex civic story. Understanding this context is critical to the future of our practice. We urge you to attend this session or watch the recording soon after.
Know Where You Work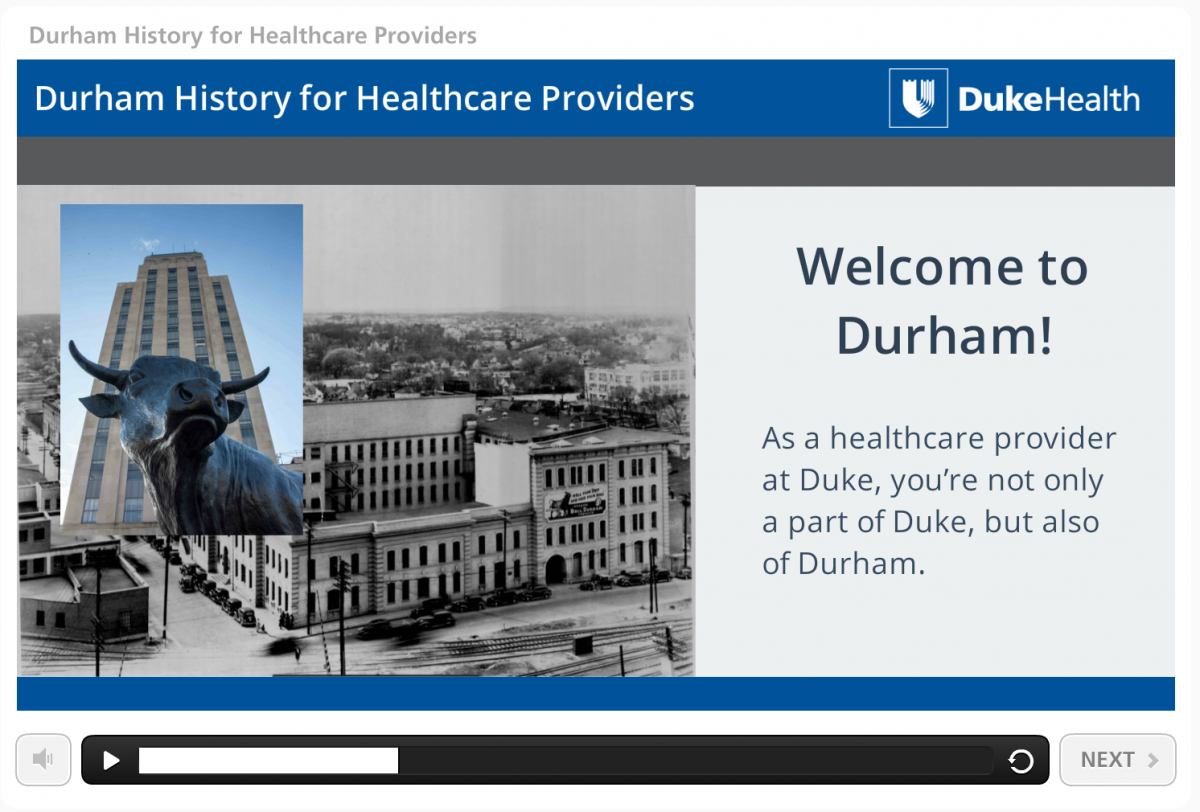 Another opportunity to learn about the local context is a pair of learning modules about the history of Durham and about health disparities in Durham.
The Know Where You Work modules were created by the Department of Medicine in partnership with the Office of Graduate Medical Education.
All new GME trainees are required to view the modules, and anyone at Duke is welcome to watch them (sign into the learning management system with your NetID).
Readings and Resources
Dr. Baker recommends the following sources for more background about the history of Durham and Duke.
DUMC Archives has excellent page on Black History at Duke Health, including videos, interviews, oral histories.
Bull City 150 is a documentary project that exploring how Durham's current inequities are rooted in its history.   Its website features a very engaging on-line exhibit on the history of housing in Durham.
Durham: A Self-Portrait. Well-done historical documentary directed by Steve Channing. Available on You Tube.
Osha Gray Davidson, The Best of Enemies: Race and Redemption in the New South (UNC Press, 2007).  Tells story of Durham's history through two individuals, one a civil rights activist and the other a Klan leader, who against all odds came to recognize their commonalities and became friends.  If you want to read one book about the complex interplay of race and social class in Durham), this might be it.  Don't bother with the movie.
Walter Campbell, Foundations for Excellence: 75 Years of Duke Medicine. Best overall history of Duke School of Medicine and Hospital (Duke University Press, 2006).
Scott Ellsworth, The Secret Game: A Wartime Story of Courage, Change, and Basketball's Lost Triumph (Little Brown, 2015).   The story of a "secret" game between the Duke School of Medicine squad and the NC Central's groundbreaking team,  set against the history of Duke and Durham in the Jim Crow Era.
Edward C. Halperin, "A Solitary Act in the Bell Building: Striking a Blow for Racial Desegregation at a Southern Medical School," The Pharos (Spring 2—7): 48-51.  Account of the Bell Building controversy by former Dean of Medical Education at Duke.
John Hamilton, A History of Infectious Disease At Duke School of Medicine. Important for HIV, TB.
Ralph Snynderman, A Chancellor's Tale,  Account of Duke Heath in 1990s, has much related to Durham and race.
Blake Hill-Saya, Aaron McDuffie Moore: An African American Physician, Educator, and Founder of Durham's Black Wall Street (UNC Press, 2020). New biography of founder of Lincoln Hospital.
David Barton Smith, The Power to Heal: Civil Rights, Medicare, and The Struggle to Transform America's Health Care System (Vanderbilt Press, 2016).  Good account of history of hospital desegregation. Durham appears, Greensboro plays prominent role.
Spencie Love, One Blood: The Death and Resurrection of Dr Charles Drew (UNC Press, 1996). Lively telling of the truth and mythology surrounding the dead of the great African American blood bank pioneer in Alamance County in the early 1950s. Duke Hospital plays a role in this story.
Timothy Tyson, Blood Done Signed my Name: A True Story of Race and Redemption in the South (Three Rivers Press, 2004).  Thoughtful exploration of a shooting in nearby Oxford NC that explores the history of race relations in North Carolina, with significant attention given to the Wilmington "race riot" of 1918.