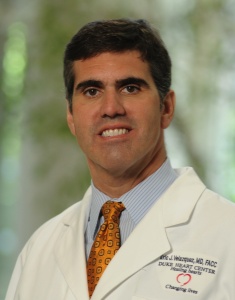 Eric J. Velazquez, MD, professor of medicine (Cardiology), has been appointed as chief of the Section of Cardiovascular Medicine in the Department of Internal Medicine, Chief of Cardiovascular Medicine at Yale-New Haven Hospital, and Physician-in-Chief of the Heart and Vascular Center for the Yale-New Haven Health System, effective June 4, 2018.
"Eric Velazquez has been an exemplary faculty member who has represented the best of Duke for over 15 years," said Joseph Rogers, MD, interim chair of the Department of Medicine. "He is a renowned clinician, clinical investigator, and mentor who shaped a body of knowledge that informed the practice of medicine. While he will be missed, we are confident that his vision and leadership will invigorate the division of cardiology at Yale."
About Velazquez
Velazquez graduated from Williams College with a bachelor's degree with Honors in Psychology and the Albert Einstein College of Medicine. He completed his internal medicine and cardiology training at Duke University, including fellowships in clinical research and echocardiography.
Named the inaugural Greenfield Scholar of Cardiology in 2001, Velazquez joined Duke University faculty and built a noteworthy career spanning patient care, research and education. He was named professor of medicine with tenure in 2012. He has served as chief of the Cardiovascular Imaging Section and director of the Duke Cardiac Diagnostic Unit and Echocardiography Laboratories since 2007.
Velazquez is a clinician-investigator whose major contributions to science include the design, development and implementation of landmark, randomized clinical trials that have altered international guidelines and the treatment of patients with chronic heart failure and, in particular, those with concomitant coronary artery disease. With his Duke colleagues and over 100 centers worldwide, Velazquez led the Surgical Treatment of Ischemic Heart Failure Trial (STICH). The program, continuously funded by the NHLBI since 2002, defined the role for coronary artery bypass grafting in increasing survival of patients with heart failure with reduced ejection fraction.
With funding from the NHLBI Global Health Initiative, Velazquez partnered with colleagues at Moi University in Western Kenya to develop a Center for Excellence for Chronic, Non-communicable Cardiovascular and Pulmonary Diseases, including the country's first intensive cardiac care and research training program. He established the Duke Echo Laboratory Database, one of the largest imaging repositories in the world with over 600,000 digitized clinical studies to champion research that link cardiac imaging findings more directly to clinical outcomes.
Velazquez has authored more than 250 peer-reviewed publications, chaired the American Society of Echocardiography's Taskforce on International Echocardiography, and is an incoming Associate Editor for Circulation Cardiovascular Imaging. He is board certified in Cardiovascular Diseases and is a Fellow in the American College of Cardiology, American College of Physicians, American Society of Echocardiography and American Heart Association. In 2014, he was elected to the American Society of Clinical Investigation.
A dedicated mentor, he has guided many physician-scientists and allied health care professionals in building unique careers providing outstanding patient care through clinical, 2 academic and research excellence. As a committed clinician and educator, Velazquez has had an active practice in advanced heart failure where he has also trained dozens of fellows who are emerging leaders in this field.