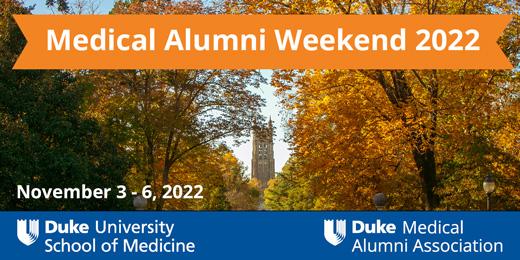 The Department of Medicine looks forward to welcoming our graduates to the 2022 Medical Alumni Weekend November 3 through November 6, 2022. It's a time to continue to share medical school memories and build new ones, connect with classmates and friends, and enjoy this year's colorful fall season on the beautiful Duke University campus.  
Classes celebrating a 2022 reunion include those ending in 7 or 2 ('72, '77, '82, '87, '92, '97, '02), the Half Century Society (classes of '32 through '71), and Recent Alumni (classes of '07 through '22). We encourage you to explore this site which hosts all information and scheduling for the weekend.
Highlights will include the Medicine Grand Rounds Eugene A. Stead, Jr., MD, Lecture on Friday, Nov. 4 from 8 to 9 a.m. at Trent Semans Center, Great Hall. This year's guest speaker is from the University of Texas at Austin Dell Medical School, Michael Pignone, M.D., MPH, MACP, the Dr. Lowell Henry Lebermann Endowed Chair in Internal Medicine, assistant dean for veterans affairs, director of the program on Cancer Prevention and Control at the Livestrong Cancer Institutes, professor in Internal Medicine and courtesy professor in the departments of Oncology and Population Health.
His topic is "Using Preventive Care Innovation to Improve Equity: Colorectal Cancer Screening".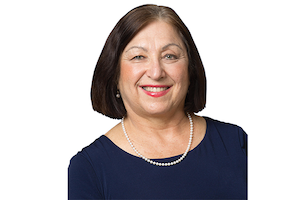 On Friday evening from 7 to 9 p.m., join Dean Mary E. Klotman, MD, and Janice Gault, MD, president, Medical Alumni Council, as they host the Medical Alumni Association Awards Celebration at Washington Duke Inn, Presidents Ballroom. The awards recognize those who have made important contributions to the establishment and growth of the School of Medicine and honor alumni whose careers have been distinguished by significant accomplishments in academic medicine, medical research or clinical practice.
Among this year's honorees is Professor of Medicine Diana B. McNeill, MD, Endocrinology, Metabolism, and Nutrition, director of the Duke Outpatient Clinic Diabetes Clinic, and associate dean and inaugural director of Duke AHEAD (Academy of Health Professions Education & Academic Development), recipient of 2022 Distinguished Service Award. 
Start out your Saturday, Nov. 5, with a breakfast buffet hosted by Dean Klotman from 9:15 to 11:00 a.m. at Washington Duke Inn, Presidents Terrace. The program will focus on "Frontiers in Transplant Care" with a conversation on Duke's leadership in transplant surgery, transplant immunology, and efforts to improve outcomes and access to care.
Panelists include Professor of Medicine, Scott Palmer, MD, vice chair for research, Department of Medicine, Stuart Knechtle, MD, the William R. Kenan, Jr. Professor of Surgery and executive director of the Duke Transplant Center, and Lisa McElroy, MD, MS, assistant professor, Department of Surgery and Population Health Sciences.