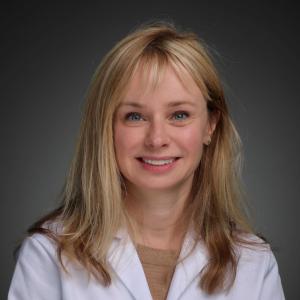 Fellow, Hospice and Palliative Medicine
Fellowship year: 2022-2023
Residency: Adult Psychiatry
I was born in Chicago and grew up in the surrounding suburbs. I graduated with a BS in chemical engineering from the University of Illinois at Chicago after which I moved to Oregon to work as an engineer for a decade. I attended medical school and completed adult psychiatry residency training at Oregon Health & Science University in Portland. I moved to North Carolina earlier this year with my husband, toddler, and our 2-year-old German Shepherd mix to complete palliative care fellowship training at Duke University.
Helping others through the most difficult times in their lives is what I find most meaningful. I am especially interested in caring for patients with a history of trauma and those with serious illness. Ultimately, I hope to work at the intersection of palliative care and psychiatry, providing holistic care to address physical, emotional, and mental health needs during difficult times.
In addition to direct patient care, I also love using my engineering background to drive healthcare system improvements so that we may provide better care for patients.
Duke was highly recommended by my palliative care mentors. I chose Duke because I wanted to train at a strong program with a significant history in palliative care. I was attracted to the balanced focus on goals-of-care conversations and ethics in addition to symptom management. Now that I am here, I am also happy I chose a program with inpatient hospice training.
I chose Durham because of its natural beauty – so many trees! It is a place where I can spend time in nature with my family. It is also a place of racial and cultural diversity, a medium-sized city with an easy commute to work, a reasonable cost of living, and filled with wonderful restaurants and cultural activities.
Outside of work, I love hiking, gardening, cooking and design. I hope to spend time at North Carolina beaches and mountains this year.
As an incoming fellow, I'm excited to learn about palliative care, to help patients during important times in their lives, getting to know and learn from new mentors and colleagues, and seeing some new places!