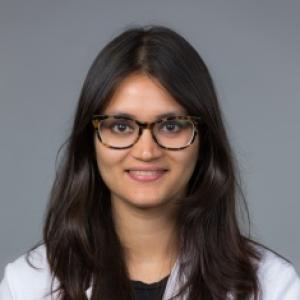 Fellow, Nephrology
Start Year: 2019
Where are you from?
Lucknow, India
Education and Training
Medical School: MBBS – Era's Lucknow Medical College, India
Residency: Icahn School of Medicine at Mount Sinai (Bronx) Program
Honors, awards and distinctions
Short-term Studentship Indian Council of Medical Research, 2010 
Academic Distinction, M.B.,B.S, Class of 2014 ELMC&H 
Inducted into Lefkowitz Society at Duke, 2020
2021-2023 ASN Ben J. Lipps Research Fellowship Award
What are your career goals?
I have a keen interest in Transplant Immunology my long term goal is to develop into an independent Physician Scientist and Transplant Nephrologist.
What were you looking for in a fellowship program?
A supportive community of educators and mentors with diverse interests, an all-round training, research opportunities and accessibility to graduate degree programs for aspiring physician scientists. 
Which Scholar pathway did you choose and why?
I chose the basic science research pathway because it gives me the tools to pursue my long terms goals along with the option to pursue an additional fourth year and have protected time for research.  
What are the strengths of the Duke program?
A faculty with a wide range of interest and expertise within Nephrology, a collegial environment and physicians and fellows who aren't just wonderful teachers but an absolute delight to be around.
What has surprised you most about Duke?
Duke Nephrology is by far the most welcoming and warm community of people I have ever some across.
What are your observations about the relationships between faculty and fellows?
Dialogue between faculty and fellows is never unidirectional. Everyone is receptive to changes and is supportive of each other.
What advice would you give about moving to Durham?
Don't think about it, just do it! The amenities, affordability, community and weather are factors that will make you want to call it home.  
Follow Irma on Twitter @husairma