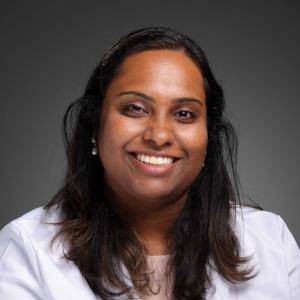 Fellow, Hospice and Palliative Medicine
Fellowship year: 2022-2023
Residency: Internal Medicine Resident at Allegheny General Hospital
I was born in India but raised in Pittsburgh, PA.
I went to medical school at George Washington University and then went back to my hometown for internal medicine residency at Allegheny General Hospital in Pittsburgh.  I stayed on for an extra year to be a chief resident.
I am a newlywed and most of my family is in Pittsburgh, except for my husband who is in India. We are eagerly awaiting to be on the same continent soon!
My professional interest is mainly medical education. I am part of the SEEDs program here at Duke. I also enjoy narrative medicine, which is a field I'm slowly wading into.
My palliative care interests are working with medically complex patients, mainly in the inpatient setting although I am keeping an open mind about all the various settings we work in palliative care.
I chose Duke because during the interview, I really enjoyed speaking with the attendings. I also wanted to work in a system that had an inpatient hospice unit/center and VA. Duke is also one of the biggest places for palliative care research. The cherry on top was having the SEEDs program, which would help mold my clinical educator career.
Durham and in general the RTP area is a quite diverse place. There are tons of places to eat and trails to explore!
Most of the time, you can find me reading a book and trying to find a new restaurant or cafe to eat from. Once the weather cools down, I hope to explore some of Durham's trails.
There are many things I am excited for this year including learning from some of the top palliative care researchers and physicians in palliative care and the opportunities Duke offers (SEEDS program). Most of all, I'm excited to get to know my co-fellows even more!