Senior Assistant Resident
Medical Instructor in the Department of Psychiatry andBehavioral Sciences
Start Year: 2018
Basics
Hometown
The Woodlands, TX
College/University
Baylor University
Medical School
Baylor College of Medicine
What are your career goals?
I hope to care for patients in the hospital and one day in the clinic setting as well, both in a manner than integrates medical and mental health care.
The welcoming and engaging atmosphere runs deep -- from the very top of leadership, through the program culture, and down into the way we learn and treat patients.

Cameron Strong
Reflections on the Duke Program
What were you looking for in a residency program? 
I wanted to join a program with an established sense of community and support among the residents, alongside a shared interest in encouraging and challenging each other to become well-rounded and astute clinicians.
What are the strengths of the Duke program? 
The Duke program meets and surpasses the expectations I had for a residency. The leadership is very approachable and demonstrates authentic interest in our professional and personal well-being. The resident body exhibits remarkable camaraderie. And of course the educational opportunities here are superb with diverse patients and master educators.
What are your observations about the relationships between faculty and house staff? 
The faculty is engaging, supportive, and welcoming to a wide array of house staff career goals. As a house staff, I am treated like a colleague among the fellows and faculty members.
Tell us about your co-residents. How long did it take to connect? 
I connected very quickly with both my co-residents in Med/Psych as well as my categorical peers in both IM and Psychiatry. Mai and I actually interviewed at Duke together and connected back then about our shared Texas upbringing. Duke does an excellent job of priming our social connections with various events, but our class took off to develop meaningful friendships both inside and outside the hospital.
What has surprised you most about Duke? 
The welcoming and engaging atmosphere runs deep -- from the very top of leadership, through the program culture, and down into the way we learn and treat patients. I expected a big-name program like Duke to lose touch with humanity due to its magnitude in managing education, innovation, and high-volume patient care, but I have found this to be the opposite. In fact, this atmosphere only seems to bolster those institutional goals!
About Duke University and Durham
What's best about living in Durham and the Triangle? 
Durham has a familiar small-town feel (like my beloved Waco) butt the amenities and resources of a larger city. Nestled between the western mountains and the eastern coast, there is something in reach for everyone. Even within the Triangle, numerous venues, state parks, and high quality restaurants offer local opportunities for you or your visitors to take advantage of.
How does the Triangle appeal to people of diverse backgrounds? 
Durham has a rich history founded in agriculture, expanded by industry, and now blossoming in healthcare and tech innovation. This setting has attracted numerous academic institutions and the diverse backgrounds that come with progress. The area's southern hospitality fosters a welcoming atmosphere for this diversity. 
Based on your life, what advice would you give about moving to Durham? 
Plan ahead to explore the city before residency starts, so that as the weeks get busier, you can jump on your local favorite spots.
What do you like to do outside of medicine? 
I enjoy photography, outdoor activities, reading, and binge-watching Netflix. We also enjoy exploring the local food and coffee scene to unwind when not absorbed in clinical duties.
Parting thoughts? 
I nearly wrote off Durham coming from a big city, but I am so happy to live in such a beautiful area and state!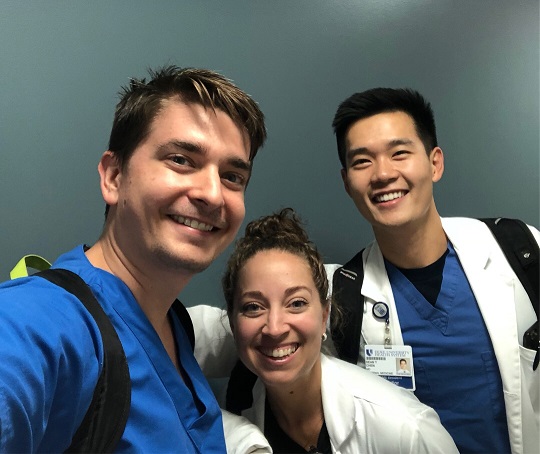 Medical Instructor in the Department of Psychiatry andBehavioral Sciences