Image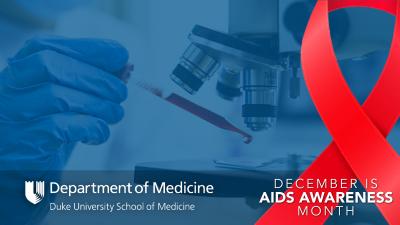 Department of Medicine Investigators at the Forefront of AIDS Research
Despite more than 40 years of research since its discovery, HIV remains a chronic disease that impacts millions of people. The Department of Medicine has over 40 faculty members, funded through a diverse research portfolio, working at the forefront of HIV research to change that dynamic.  
Duke Center for AIDS Research (CFAR) Co-directors, Susanna Naggie, MD, professor in the division of Infectious Diseases, and Georgia Tomaras, PhD, professor in the departments of Surgery and Immunology, are excited about the work that is taking place under the banner of the Duke CFAR, which is part of an NIH-funded national network of CFARs that promotes scientific leadership, infrastructure support and collaboration in HIV/AIDS academic research communities. 
"These Department of Medicine research stars span four areas of HIV/AIDS research: computational biology, clinical implementation, lab-based science and social and behavioral science," Naggie says. "While their research programs are independent, they work collectively as part of the Duke CFAR team. They truly represent the ideals of One Duke as they work to improve the health and lives of those living with HIV."
Drs. Lance Okeke and Amy Corneli lead game-changing studies to understand the U.S. South epidemic and implement effective prevention programs. "These studies are likely to have a global impact and inspire inclusion of new early career investigators into the field," Tomaras says. "Dr. Maria Blasi's innovative basic science laboratory seeks to uncover mechanisms of HIV infection and disease in the kidney to ultimately improve clinical care -in part through a unique surgical resource enabled by the HIV Organ Policy Equity (HOPE) Act. Computational biologist Dr. Kevin Wiehe is working on identifying and utilizing knowledge of improbable mutations in HIV antibody lineages to essentially change the design of HIV vaccines so they can be laser focused to overcome these specific roadblocks on the way to protective immunity".
Implementation Science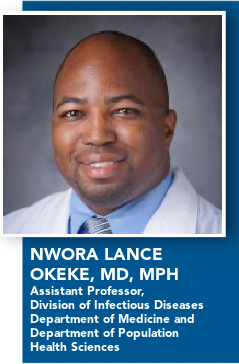 Dr. Nwora Lance Okeke devotes most of his time to HIV research that addresses the HIV continuum of care from prevention to comorbidity management. He is currently leading several research initiatives addressing expanded and equitable access to HIV pre-exposure prophylaxis (PrEP), an evidence-based intervention that is 99% effective in preventing HIV. He is also working to develop innovative strategies to retain persons with HIV in life-saving HIV care, and multidisciplinary approaches to improve cardiovascular disease risk factor management in persons with HIV. 
Okeke was recently awarded an R01 from the National Institute of Allergy and Infectious Diseases (NIAID) to address barriers to HIV PrEP uptake by evaluating two novel approaches that leverage local health system electronic health record (EHR) data in Southeastern Louisiana, where PrEP uptake is among the lowest in the country highlighting the disparity between PrEP need and uptake in the U.S. South. The grant focuses on the use of machine learning algorithms embedded within the EHR of large health systems in the region to identify persons at. Okeke previously showed that these algorithms outperform current Centers for Disease Control and Prevention PrEP indication guidelines.
"Over the next five years, we will be working diligently towards implementing a novel approach to understanding and identifying the risk of HIV acquisition on a population level using the health system as the fundamental population unit," Okeke said. "We hope our work will make an impact on attenuating the HIV epidemic in Southeastern Louisiana, and that the lessons we learn from this work can help us better address the HIV epidemic in Durham in the near future."
Through a CFAR  administrative supplement, Dr. Okeke and Dr. Corneli have also led Duke's work with CFAR's Diversity, Equity, and Inclusion Pipeline Initiative, highlighting the Duke CFAR's commitment to diversify the HIV research workforce. The program, Evidence2Practice (E2P) features an intensive three-day on-campus workshop that seeks to promote careers in HIV research by showcasing HIV implementation research. The program is a collaboration between the Duke CFAR, Duke Infectious Diseases, Duke Department of Population Health Sciences and the national Office of HIV Network Coordination (HANC). To date, E2P workshops have been held in six historically Black colleges and universities (HBCU) across the South, with plans to complete workshops at ten HBCUs by the end of academic year 2022-23.
Social and Behavioral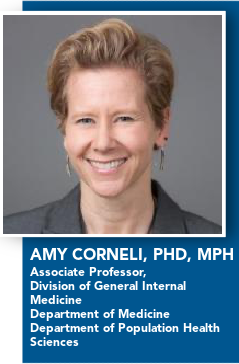 Dr. Amy Corneli is a social scientist by training who has conducted clinical, qualitative, and mixed-method research on PrEP in multiple countries in sub-Saharan Africa and in the U.S. 
"Worldwide, HIV continues to affect populations disproportionately," Corneli says. "PrEP is very effective at reducing HIV acquisition, yet long-standing systems and beliefs that disadvantage individuals because of their race, ethnicity, and/or gender, such as systemic racism towards Black and African American people in the U.S. South and gender norms among young cisgender women in sub-Saharan Africa, contribute to making PrEP access difficult for many individuals who could benefit from its use."
Corneli has led PrEP-related research among young women in sub-Saharan Africa. She employs innovative methods in her research, such as the community-based participatory research method called Photovoice, in her recently-completed NIH-funded R21 grant to identify the barriers and facilitators of PrEP uptake and how best to support PrEP use among young women.
Over the last four years, Corneli has been awarded four U.S. Ending the HIV Epidemic (EHE) Initiative NIH CFAR Administrative Supplements focused on increasing PrEP uptake among two key populations in the U.S. South—Black same-gender loving men (BSGLM) and Black cisgender women. As part of her EHE work, she partners with community groups and PrEP providers and together, they use qualitative data they collected from the study populations to identify the key determinants of PrEP uptake and devise implementation strategies to address them. One of these studies called "PrEP-MECK," as it focuses on PrEP uptake among BSGLM in Mecklenburg County, N.C., was recently published in a JAIDS supplement on EHE implementation science studies.
As a follow-up to another EHE study, Corneli partners with Dr. Meredith Clement, a former Duke Infectious Disease Fellow who is now at Louisiana State University, to implement "Start the Conversation" in New Orleans, which is focused on increasing PrEP uptake among Black cisgender women.  This NIH-funded R34 research pilots the implementation of a social media campaign promoting that PrEP is for Black women too, together with a combined care model of PrEP initiation by gynecology residents and PrEP follow-up care of the women's choice—either by residents or PrEP providers.
Corneli is also the Director of QualCore and partners as a qualitative methodologist with faculty in the School of Medicine to contribute to the design, conduct, and analysis of the qualitative aims in their HIV-related research.
Computational Immunology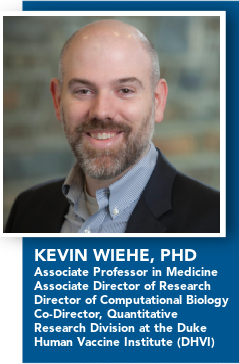 Dr Kevin Wiehe focuses on the use of computational methods to help develop an HIV vaccine, which has been elusive because HIV is the world's fastest mutating pathogen.
"The number of viral variants in SARS-CoV-2 that we've seen during the entire two plus years of the pandemic is thought to occur every single day in an HIV infected subject," Wiehe says. "This means that HIV typically stays many steps ahead of the immune system and continuously escapes the conventional antibody response."
His lab has studied the evolution of B cells that mature to become broadly neutralizing antibodies - the type of antibodies an HIV vaccine needs to induce. Using computational methods to piece together the history of how these broadly neutralizing antibodies evolved, Wiehe has generated evolutionary roadmaps that can be used for designing a vaccine. The goal is to make a vaccine that can direct the immune response to follow the same or similar roads that the broadly neutralizing antibodies took as they evolved within HIV infected subjects. He has further found that broadly neutralizing antibodies tend to include antibody mutations that rarely occur during the conventional antibody response.
"We think that acquiring these improbable mutations is one of the primary bottlenecks that causes broadly neutralizing antibodies to be so rare," he says. "If we can guide the immune system to make antibodies with these improbable mutations, we think we can accelerate the induction of broadly neutralizing antibodies much in the way an enzyme speeds up a chemical reaction."
Toward that end, Wiehe has developed a strategy called "Mutation-guided Vaccine Design" which harnesses computational protein design methods to develop vaccine components that can elicit those hard-to-get mutations. With this strategy, he hopes to coax the immune system into making the right antibodies–to make what was previously unconventional now conventional– to ultimately achieve the goal of developing a protective HIV vaccine. 
Vaccine Research, HIV Latency and Reservoirs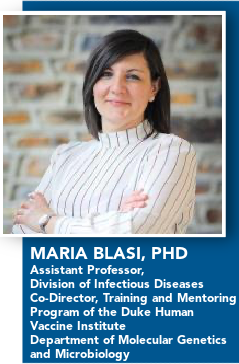 Dr. Maria Blasi's work encompasses several aspects of HIV research, ranging from the study of the kidney as a non-canonical reservoir for HIV to designing and testing a novel vaccine platform based on an integrase defective lentiviral vector (IDLV) in animal models. She was recently awarded an R01 from the National Institute of Diabetes and Digestive and Kidney Diseases (NIDDK) to understand the mechanisms and implications of HIV infections and persistence in the kidney.
Dr. Blasi's work demonstrated that HIV can infect renal epithelial cells, which can in turn infect CD4+ T cells and macrophages through release of infectious particle and direct contact, elucidating a potential mechanism of HIV spread and persistence in the kidney.
Additionally, her lab demonstrated that people living with HIV (PLWH) shed HIV in their urine and that those urine-derived viruses are genetically different from blood-derived viruses, suggesting the presence of a separate viral compartment in the upper genitourinary tract. She has also demonstrated that when a kidney from an HIV-positive donor is transplanted in an HIV-positive recipient, both viral strains can be detected in the urine of the recipient after transplantation, both as cell-free and cell-associated viruses, further supporting the presence of a viral reservoir in the kidney.
The newly funded grant will address several remaining key questions, including the long-term persistence of HIV in the kidney during ART; the reactivation potential of HIV in the genitourinary tract following ART interruption; the role of APOL1 kidney disease risk variants in kidney cells infection; and how HIV infection influences individual cell fates.
"Kidney disease is an important complication of HIV-1 infection. Understanding the mechanisms that contribute to kidney disease in PLWH, will aid in the design of improved therapies for this population," she says.
For the past ten years, Blasi's lab has also been working on the development of an integrase defective lentiviral vector (IDLV) based HIV-1 vaccine. In testing its immunogenicity in both mouse and non-human primate models, she showed that IDLV immunization induces stronger more sustained immune responses compared to other commonly used vaccine platforms.
---
Additional researchers in the Department of Medicine performing HIV/AIDS funded research: 
Drs. Munir Alam, John Alexander Bartlett, Chris Beyrer, Gerald Bloomfield, Joel Boggan, Ebony Boulware, Charles Burns, Derek Cain, Harvey Cohen, Cathleen Colon-Emeric, Gary Cox, Sandeep Dave, Tom Denny, Robert Edwards, Richard Frothingham, Michael Dee Gunn, Barton Haynes, Rory Henderson, Mary Klotman, Thuy Le,  Maria Marquine, Mehri McKellar, David Murdoch, Susanna Naggie, Opeyemi Olabisi, Lawrence Park, Sweta Patel, Steven Patierno, John Perfect, Loretta Que, John Rawls, Matt Rubach, Ken Schmader, Jason Stout, Nathan Thielman, Heather Whitson, Julius Wilder, Cameron Wolfe, Christopher Woods, and Christina Wyatt. As well as secondary faculty, Drs. Joseph Heitman (Molecular Genetics and Microbiology), Lesley Curtis (Population Health), Vincent Guilamo-Ramos (School of Nursing), Jeffrey Jenks (adjunct), Micah Luftig (Molecular Genetics and Microbiology), Kara McGee (School of Nursing), and Wilton Williams (Surgery), Mihai Luchian Azoitei (Pathology), Hayden Bosworth (Population Health)
About CFAR: The principal mission of the Duke Center for AIDS Research (CFAR) is to provide, establish, and enrich infrastructure support for research and to promote collaboration and coordination among the community of HIV/AIDS investigators at Duke and its principal international research partners.
Please contact the CFAR for more information on pilot grant and collaboration opportunities.  cfarinfo@duke.edu