Mission
The Program for Women in Internal Medicine at Duke, guided by principles of diversity and equity, aims to support, unite, inspire, and empower women faculty and trainees to achieve their highest potential in scholarship, leadership, and well-being, and thereby serves to strengthen the Department of Medicine as a whole. We specifically seek to nurture and improve the experience of women faculty and trainees in three core domains: (1) Networking and Wellbeing, (2) Scholarship and Leadership, and (3) Equity, Diversity, Inclusion. Specific efforts within these domains include:
Networking and Wellbeing
Community building
Expanding mentorship across divisions
Improving work culture, including civility, psychological safety, and wellbeing
Scholarship and Leadership
Connecting faculty to career development skills and resources
Keeping faculty up to date on promotions expectations
Equity and Diversity
Assessing equity of opportunity in regard to salary, promotion, leadership attainment, recognition and awards
Prevention and management of sexual harassment and gender discrimination at work
Ensuring diversity, intersectionality, anti-racism in all policies
Leadership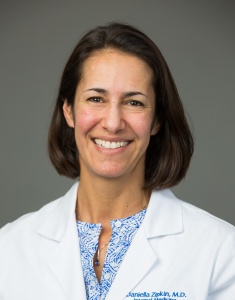 Daniella Zipkin, MD
Associate Vice Chair for the DoM Equity, Diversity, and Inclusion
Chair, Program for Women in Internal Medicine
Advisory Committee
Advisory Committee volunteers meet quarterly and bring their collective experience, wisdom and feedback to all PWIM efforts.
Richa Agarwal (Cardiology)
Afreen Shariff (Endocrinology, Metabolism and Nutrition)
Joanne Wilson (Gastroenterology)
Cindy Moylan (Gastroenterology)
Neema Sharda (Geriatrics)
Mamata Yanamadala (Geriatrics)
Milta Little (Geriatrics)
Joel Boggan (General Internal Medicine)
Laura Caputo (General Internal Medicine)
Nadia Pasha (General Internal Medicine)
Suchita Sata (General Internal Medicine)
Rahima Zennadi (Hematology)
Thuy Le (Infectious Diseases)
Mary Foster (Nephrology)
Tian Zhang (Medical Oncology)
April Salama (Medical Oncology)
Carey Anders (Medical Oncology)
Sangeeta Joshi (Pulmonary, Allergy, and Critical Care Medicine)
Loretta Que (Pulmonary, Allergy, and Critical Care Medicine)
Patricia Lugar (Pulmonary, Allergy, and Critical Care Medicine)
Jennifer Ingram (Pulmonary, Allergy, and Critical Care Medicine)
Coral Giovacchini (Pulmonary, Allergy, and Critical Care Medicine)
Neelima Navuluri (Pulmonary, Allergy, and Critical Care Medicine)
Amanda Eudy (Rheumatology and Immunology)
Contact Information
Office: Duke University Hospital
Campus mail: Box 3703   
Phone: 919-681-6386
Resources