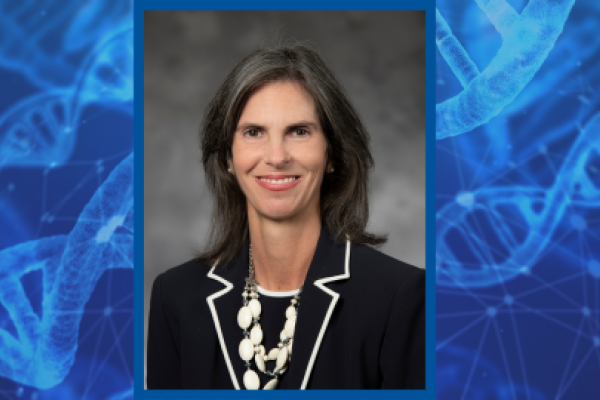 Lori Orlando, MD, MHS, MMCI, Director of the Precision Medicine Program and professor of medicine in the division of General Internal Medicine, will present at Medicine Grand Rounds on Fri., March 24, 2023. Dr. Orlando will present, "Are We Ready for the Era of Genomic Medicine?", sharing why precision medicine has the potential to prevent disease, detect it early, and provide patients personalized interventions.
The Precision Medicine Program is currently developing educational opportunities to help Duke providers understand when and how to utilize genomics and genetics in the clinical setting. The team knows that a number of complex barriers exist, so the goal is to work with providers to develop tailored educational opportunities and identify solutions that will facilitate clinical implementation.
"We want clinicians to see the value of genetics/genomics and to contribute to implementation design," says Orlando. "By taking this first step, to educate and provide resources, we are hoping more providers will continue to think about how to integrate genomic and genetic information into clinical practice for the benefit of the patient."
The newly coined Duke Precision Medicine Program, previously part of the Center for Applied Genomics and Precision Medicine, was reorganized in the summer of 2022 and the program found its new home in the division of General Internal Medicine. The program's mission is to bring proven precision medicine technologies from the basic science portfolio to the clinical setting through both research and clinical programs.
Precision medicine has grown rapidly in the last 10 years and has gone from a pipedream, only obtainable to those with extensive resources, to an achievable paradigm that could change the spectrum of medicine for millions.
Learn more about the Duke Precision Medicine Program
How to join Medicine Grand Rounds:
Meeting ID: 975 4336 7627
Passcode: 181825
Dial by Phone: +1 301 715 8592
---