Duke Palliative Care is dedicated to advancing Diversity, Equity, Inclusion and Anti-Racism (DEIAR).
We began this commitment with the Racial Equity + Justice Forum series (2020) which was a weekly series of educational sessions designed to raise awareness of race-based inequities and injustices and to promote critical thinking about the way we show up for our patients, their loved ones, and each other. The series focused on providing historical context and exploration of present-day implications of that history to equip staff with an understanding of how complex and ingrained racism, particularly Anti-Blackness, is in our society and how it manifests. 
This evolved into creating a DEIAR leadership role within our team and Dr. Karen Jooste was appointed as the Equity, Diversity and Inclusion lead for our division. Dr. Jooste works to gather DEIAR content surrounding different cultures, religions, holidays, etc. to be published in a monthly DEI flyer that is sent out to our team.  She serves as a liaison with the DEIAR Committee in the Medicine Department, which has a wealth of resources to advance equity, diversity and inclusion. Our Palliative Care Division has created an Equity, Diversity and Inclusion Team led by Dr Jooste to work on specific actions to implement our vision and our mission.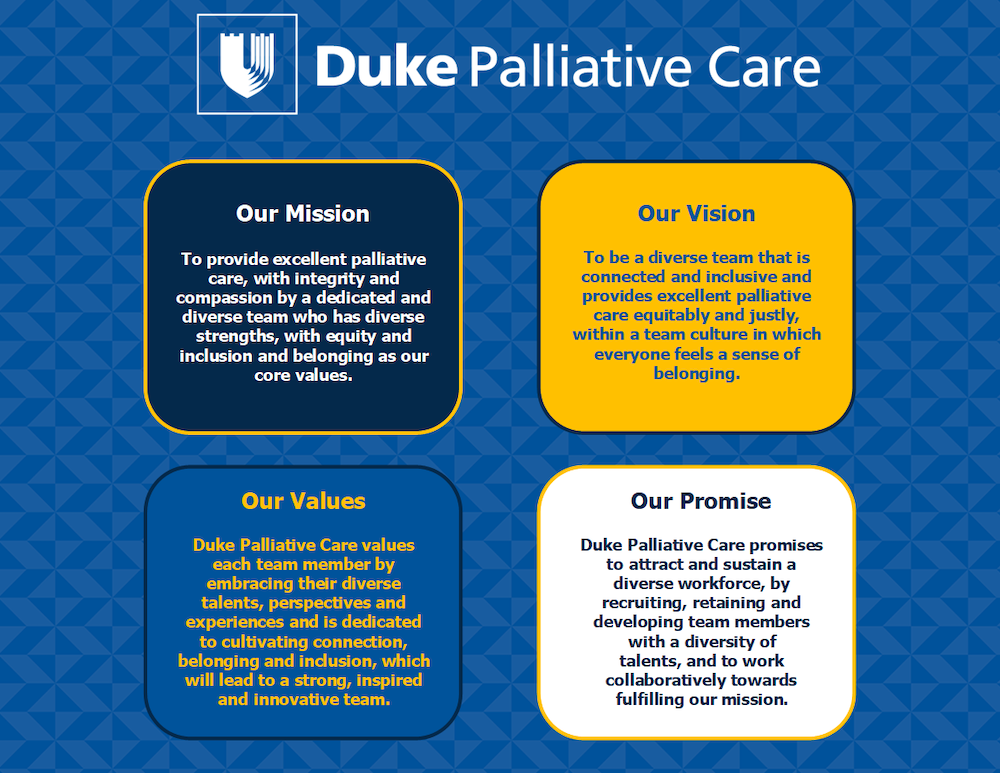 Our Goals
Grow our palliative care team as a diverse team, with people with a diversity of

 t

alents who respect one another and feel a sense of belonging and connection.

Ensure that Palliative Care Grand Rounds has diverse speakers and topics.

Ensure that education of fellows, residents and students highlights our commitment to embrace and advance diversity, equity, and inclusion.

Advance anti-racist practice throughout our team, through education of the current and future workforce.
We focus our efforts and actions in these specific areas:
Clinical Care

Education

Research

Career development (recruitment, retention and promotion) 

Culture

Community Engagement

Global Palliative Care

 
Creating Change
An example of a specific project that we implemented, is a review of our education for our Hospice and Palliative Medicine fellows and our curriculum now includes discussions on the following topics:
Micro and macro aggressions 

Historical Trauma 

Cultural Competency/nuances related to palliative care 

Disparities in Palliative Care 

The LGBTQ+ community 
Get Involved
We encourage all new employees to sign-up in the LMS training site for the Moments to Movement (M2M) course which helps leaders and those who support them become more comfortable talking about race and better prepared to challenge inequity and advance equity. This course is made up of (4) one hour sessions that occur weekly. We also encourage new employees to join Conversations with Colleagues regularly/as needed, which are group sessions in which peers emotionally support each other on topics ranging from fatigue and work/life balance to racial justice (recent topics: Mass Shootings, Roe Vs Wade Overturned, Racial Justice: Deeper Dive Series).