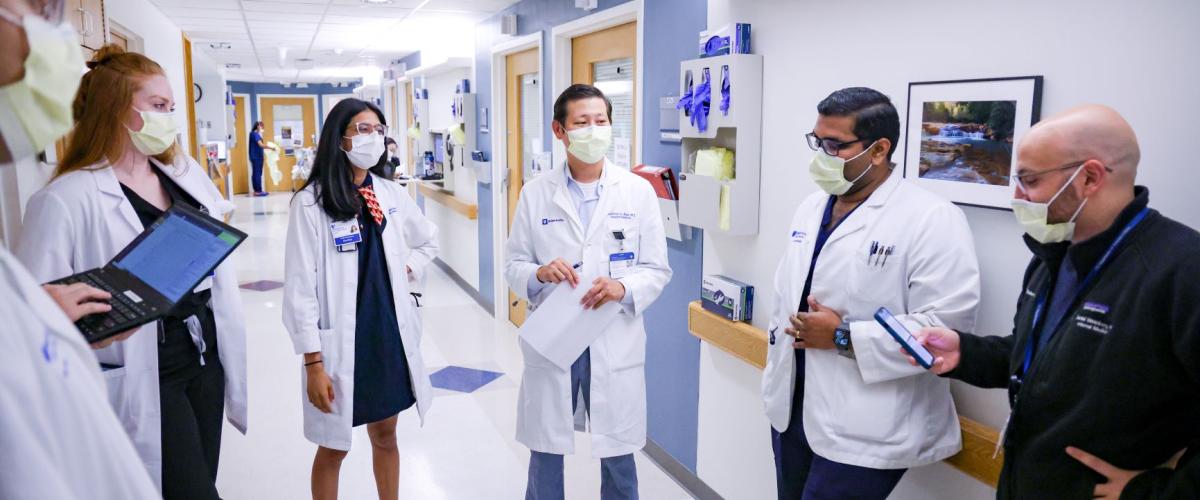 Our hospitalists and advanced practice providers perform inpatient general medicine services including admitting, rounding on, and discharging patients.
As of 2022, our group includes over 200 hospitalist physicians, nocturnists and moonlighters, and over 40 physician assistants and nurse practitioners. At both Duke University and Duke Regional Hospitals, our hospitalists work with Duke Medicine residents as well as independently to provide clinical services. Our patient volumes have continuously grown and, in FY22, our hospitalists performed over 200,000 patient encounters across the three hospitals. We primarily see patients in the intermediate care areas of the hospitals and do not provide routine intensive care unit coverage. In addition to inpatient care, our providers staff a variety of other services such as perioperative medicine at Duke Regional and Duke Raleigh Hospital, and a robust and expanding ultrasound-guided bedside procedure service at Duke University Hospital. 
A continued area of focus for Hospital Medicine is providing safe, high-quality care to patients which includes carefully and regularly monitoring our quality and safety performance and establishing well-defined processes aimed at improvement. Examples of the performance measures monitored include mortality, length of stay, case mix index, readmission rates, Emergency Department consult turnaround time, patient experience scores, as well as other metrics. To provide the best care possible to our patients and their loved ones, we continuously reassess areas of focus and evolve our practices. Also, our hospitalists are actively involved in institutional improvement initiatives including electronic medical record development (EPIC/Maestro) and clinical care redesign.