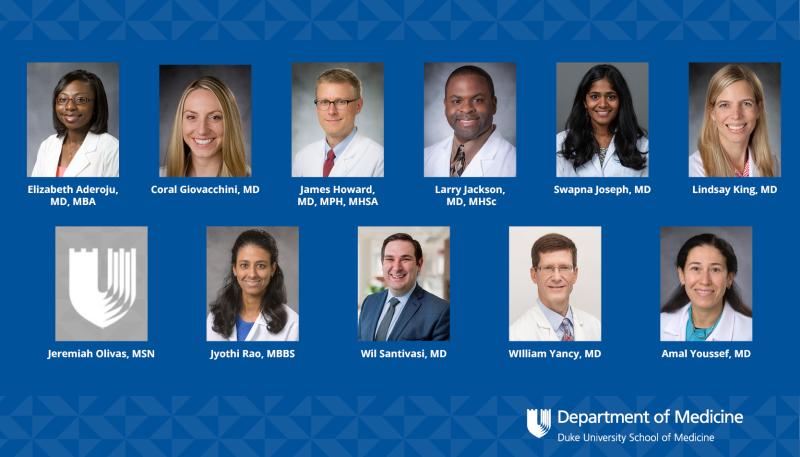 28 faculty from the School of Medicine, including 11 faculty from the Department of Medicine, have been selected for the School of Medicine's 2023 Duke Clinical Leadership Program cohort.
The Duke Clinical Leadership Program (DCLP) was founded by the Chancellor for Health Affairs in 2010 to help expand leadership capacity within DukeHealth. The program provides faculty with an opportunity to deepen their awareness of healthcare operations and to develop relevant leadership skills. The program is run by the School of Medicine Office for Faculty with the enthusiastic support of Chancellor Eugene Washington. Program fellows are introduced to leaders from the Health System, School of Medicine, School of Nursing, and Fuqua School of Business. 
Faculty in this program were competitively selected to participate. Congratulations to the 2023 DCLP participants!
Here are the members from the Department of Medicine
Elizabeth Aderoju, MD, MBA (General Internal Medicine)
Coral Giovacchini, MD (Pulmonary, Allergy, and Critical Care Medicine)
James Howard, MD, MPH, MHSA (General Internal Medicine)
Larry Jackson, MD, MHSc (Cardiology)
Swapna Joseph, MD (General Internal Medicine)
Lindsay King, MD (Gastroenterology)
Jeremiah Olivas, NP (Medicine) 
Jyothi Rao, MBBS (Endocrinology, Metabolism, and Nutrition)
Wil Santivasi, MD (General Internal Medicine)
WIlliam Yancy, MD (General Internal Medicine)
Amal Youssef, MD (General Internal Medicine)