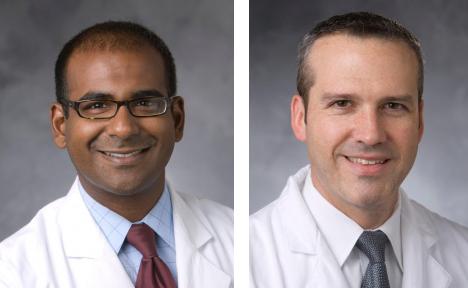 Two Department of Medicine faculty members have been selected to receive 2019 Physician-Scientist Strong Start Awards.
The School of Medicine created the awards program in 2016, funded with a gift from the Duke Endowment, to support promising, new physician-scientists at Duke as they develop independent research programs. Each recipient will receive $70,000 annually for three years to support their research programs.
The faculty recipients from the Department of Medicine are:
Dennis Abraham, MD, assistant professor of medicine (Cardiology)
Brent Hanks, MD, PhD, assistant professor of medicine (Medical Oncology)
"The career path for physician-scientists can be very challenging, requiring years of both clinical and scientific training," said Andrew Alspaugh, MD, professor of medicine (Infectious Diseases) and molecular genetics and microbiology, and director of the Strong Start awards program. "The goal of this award program is to provide mentoring and financial resources to support these young faculty members as they become fully independent investigators."
The program is designed to integrate with other Duke initiatives that train physician-scientists including the Medical Scientist Training Program (MD-PhD students), the Lefkowitz Society (clinical residents and fellows), and the Duke Office for Physician-Scientist Development (OPSD).
The next call for submissions will be in spring 2020.
Read the full list of recipients from the School of Medicine.