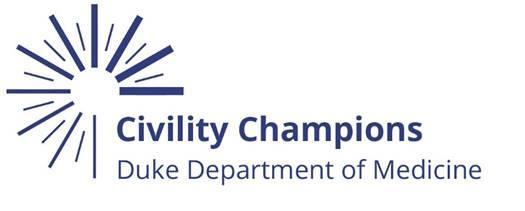 The Department of Medicine Civility Champions program invites interested faculty (including VA) and trainees to become Civility Champions. 

The next training opportunity with Ada Gregory will occur on two consecutive Tuesday mornings (April 18 and 25, 2023 from 7-10 a.m.) or two consecutive Thursday afternoons (April 20 and 27, 2023 from 2-5 p.m.). 
Please contact Jane Gagliardi (jane.gagliardi@duke.edu) or Kim Dorman (kimberly.dorman@duke.edu) with questions.
---
Civility Champions are a cohort of Department of Medicine faculty and trainees have been trained on how to offer informal support in response to incidents of bias, harassment, or other unprofessional behaviors.
These Civility Champions provide support; explore options for intervention or reporting when safe and appropriate; model the Department's commitment to addressing the harm these incidents cause; and strengthen our community by working toward an environment of healing and care.