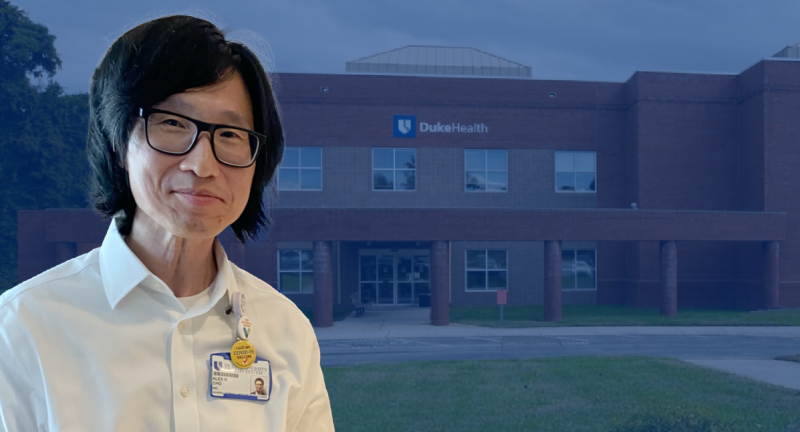 Alex Cho, MD, MBA, assistant professor of medicine, in the division of general internal medicine, was recently named the new Medical Director of the Duke Outpatient Clinic (DOC), effective August 1, 2022.
Dr. Cho transitioned into the new role following his predecessor, Lynn Bowlby, MD, associate professor of medicine, who has led the DOC since 2006. Cho has been at the DOC since 2011.
Dr. Bowlby stepped down from her role as medical director to take a clinic leadership position at Brown University. Bowlby leaves a lasting legacy at the DOC, the largest primary care safety net practice in the Duke Health system and the largest primary care teaching clinic for the Duke Internal Medicine Residency Program. Under Bowlby's watch, she and Cho helped the DOC become a hub for innovation, recognized locally and nationally for interdisciplinary models of comprehensive and effective care for individuals with complex chronic illnesses. She was also responsible for expanding the clinic's specialty care services.
As Cho steps into the medical director role, the DOC will continue this commitment to excellence and the underserved patient segments it cares for. He also hopes to guide the DOC to becoming a truly high-performing practice for all its patients – and in the process overcoming entrenched health disparities. Achieving this goal will build on the efforts of several others in the clinic including Daniella Zipkin, MD, associate professor of medicine and associate vice chair for faculty development and diversity for the Department of Medicine, who has been helping lead a monthly clinic-wide huddle focused on equity.
Cho also plans to continue the increasing emphasis over the past few years on ensuring a smooth transition of senior residents departing and handing the baton for their patients over to the incoming intern class. This work has been led by Patrick Hemming, MD, assistant professor of medicine, who also helps leads weekly on-site resident education activities at the clinic.
"Duke Internal Medicine residents play a central role in the success of the DOC, and continuity is extremely important to the success of residents' care of DOC patients, especially those that are most vulnerable," said Cho. "It is both a privilege and a tremendous responsibility for residents to have the full, authentic experience of caring for their own primary care panels. But over the years, I have just been so impressed with the compassion the residents exhibit for their complex patients with multiple health and social issues."
"Our ability as a clinic to provide excellent patient care for a very vulnerable population, while training our residents in this tradition and teaching them to provide care in a whole-person way, is one of the most unique aspects of the DOC" - Alex Cho, MD, MBA, medical director of the Duke Outpatient Clinic
Other areas of focus for Cho, in collaboration with DOC nurse manager, Brian Marshall, service access manager, Heather Beau, and other colleagues in the clinic, include, addressing important operational efficiencies, creating a more participatory leadership structure, and helping strengthen clinic culture through events as well as old and new traditions.
In tandem with this leadership transition, the DOC is marking a milestone this year, celebrating 25 years of providing care to the Duke and Durham community in its current location in north Durham.
The DOC has long been a dynamic and committed healthcare resource for the Durham community and the region as a whole, serving many underserved and socially disadvantaged patients. The clinic's population is majority minority, with over 60 percent being African American and two-thirds female patients. Patients even come from as far away as southern Virginia to receive care.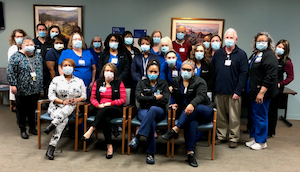 The patient-centered care delivered at the DOC hinges on an interdisciplinary approach, bringing together attending and resident physicians, advanced practice providers, pharmacists, social workers, ambulatory case managers, a chaplain, physical therapy, other learners, and more. With 100 different clinicians across more than 10 disciplines, the DOC can be considered as close to a one-stop shop for patients to get their medical care in a single clinic as might exist anywhere. In addition to primary care, patients can be seen in specialty clinics including psychiatry, endocrinology, cardiology, and dermatology.
"[The DOC] has demonstrated the impact that a highly committed and diverse group of health care professionals can accomplish in serving a patient population that has high complexity medical conditions and are confronted with many obstacles in achieving good health," shared Larry Greenblatt, MD, professor of medicine and community and family medicine and a medical director for the Duke Population Health Management Office (PHMO), which the DOC closely collaborates with. Dr. Greenblatt was the medical director of the DOC when it moved from the Duke South clinics in 1997.
The DOC conducts nearly 20,000 visits for 5,000 adult internal medicine patients each year. Its presence is further felt in offering patients access to essential resources beyond their medical needs, including social work, case management, access to food, transportation, pastoral care, and other resources and programs to advance equity and accessibility. 
"Together with an amazing interdisciplinary team and through innovative programs such as HomeBASE, mobile labs, and so many more, the DOC ensures that all patients, regardless of race, gender, or socioeconomic status, receive the best evidence-based care," shared Nancy Yang, MD, former Duke Internal Medicine chief resident and current gastroenterology fellow. "Working at the DOC was a truly formative experience, and I am excited to see how it continues to innovate, advocate, and serve its patients and the greater Durham community in the coming years."  
Although 2022 marks 25 years for the clinic in its current location, the history of the DOC dates back to when Duke University Hospital opened in 1930. A year later, outpatient clinics were established in medicine (MOPC) and surgery for patients regardless of their ability to pay. Renamed the Duke Outpatient Clinic when it moved to north Durham in 1997, the MOPC's tradition of service established then continues today – an integral part of the fabric of Duke Health's commitment to the Durham community and region as a whole.
"Our ability as a clinic to provide excellent patient care for a very vulnerable population, while training our residents in this tradition and teaching them to provide care in a whole-person way, is one of the most unique aspects of the DOC," said Cho.