The Department of Medicine is a national leader in research, education and clinical care.
Our Members
Total regular rank faculty: 770
MD faculty: 634
PhD faculty: 75
MD, PhD faculty: 41
Staff: 750
Residents (PGY 1-3 and combined): 185
Fellows (PGY 4 and up): 150
The Duke Department of Medicine ranks No. 5 for NIH funding nationally among clinical departments. In fiscal year 2022, our faculty received more than $185 million in research funding and accounted for 35 percent of NIH funding to the School of Medicine.
Medicine faculty members are recipients of major research awards and career honors, including Duke's first Nobel laureate, Robert J. Lefkowitz, MD. Our faculty are national leaders across internal medicine specialties, including these current or recent positions:
Barbara Alexander, MD
President, Infectious Diseases Society of America (2020-21)
Mary Klotman, MD
President, Association of American Physicians (2019-20)
Carl Berg, MD
President, Organ Procurement & Transplantation Network/United Network for Organ Sharing (2014-15)
Bill Kraus, MD
President, American College of Sports Medicine (2019-20)
David Pisetsky, MD, PhD
President, U.S. Bone & Joint Initiative (2016-17)
Dawn Provenzale, MD
Clinical Research Councillor, AGA Institute Governing Board
E. William St. Clair, MD
Immediate Past-President, American College of Rheumatology (2015-16)
Marilyn Telen, MD
Executive Committee, Cure Sickle Cell Initiative (NIH)
Heidi White, MD
President, The Society for Post-Acute and Long-term Care Medicine (2017-18)
Myles Wolf, MD
Council of the International Society of Nephrology
Rankings
Many of the divisions in the Department of Medicine were among the specialties individually ranked in the U.S. News Best Hospitals 2020-21 guide:
Rheumatology – No. 13
Nephrology - No. 19
Pulmonology - No. 32
Cardiology & Heart Surgery – No. 35
Cancer - No. 41
Gastroenterology & GI Surgery - No. 26
Diabetes and Endocrine - No. 47
Geriatrics - No. 62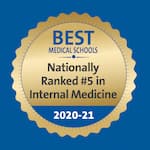 In U.S. News & World Report's 2023 America's Best Graduate Schools edition, Duke University School of Medicine received top marks for internal medicine (No. 5) and research (No. 6). The School of Medicine is No. 3 among all medical schools nationwide.