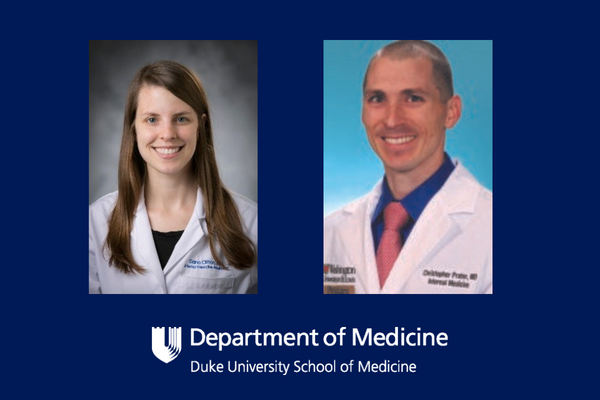 Dana Clifton, MD, and Christopher Prater, MD, MPH, will assume the positions of Associate Program Directors of the combined Internal Medicine-Pediatrics Residency Program, effective July 2023.
Clifton and Prater will join Med-Peds Program Director Colby Feeney, MD, in leading the program.
Clifton is a combined Med-Peds hospitalist, a 2016 graduate of the Duke Med-Peds Residency Program and a 2012 graduate of Duke University Medical School. She is an assistant professor in the division of General Internal Medicine and the Department of Pediatrics and has served as associate director of Pediatric Undergraduate Medical Education and pediatric sub-internship director since 2018.
Dr. Clifton founded the Opioid Use Disorder consult service at Duke University Hospital in 2019 and remains co-medical director. In 2020, she became the associate medical director of quality of the Duke Hospital Medicine program, and she has been a mentor in the American Medical Women's Association since 2016.
She also mentored faculty, trainees, and students through the Feagin Leadership Program and continues to advise and mentor students through the Quality and Innovation Scholars Program and the Pediatrics Interest Group.
Prater is a 2014 graduate of the Christiana Care Health System Med-Peds Residency Program and an assistant professor of medicine and pediatrics at Washington University School of Medicine in St. Louis, where he is also a Core Faculty Member in the Internal Medicine Residency Program. He is a primary care physician and refugee health screener at Washington University and works at the St. Louis Health Department's tuberculosis clinic. He also acts as a U.S. civil surgeon for U.S. Citizenship and Immigration Services.
Following his residency, Prater was clinical lead of the Pediatric Quality Committee in the Baltimore Medical System, a community-based, independent non-profit that serves nearly 55,000 patients in greater Baltimore, primarily in low-income, underserved areas. He also served as site director of The Access Partnership (TAP) of Johns Hopkins Medicine, which
provides access to effective, compassionate, evidence-based primary and specialty care for uninsurable residents of the East Baltimore community surrounding The Johns Hopkins Hospital and Johns Hopkins Bayview Medical Center with demonstrated financial need.
He has also served on numerous education committees at Washington University School of Medicine. In 2021, Dr. Prater created a health equity and justice curriculum for the Internal Medicine Residency Program, and he has been a faculty mentor and coach to many trainees and students.
"Dr. Clifton and Dr. Prater are exciting choices for this important leadership role at Duke," said Lisa, Criscione-Schreiber, MD, MEd, vice chair of education. "The breadth and diversity of experience that they bring to the Med-Peds program will be an incredible asset to our trainees."  
"I am thrilled to welcome Dr. Dana Clifton and Dr. Chris Prater to our Med-Peds residency leadership," said Feeney. "Both of these physicians have outstanding accomplishments as educators and leaders in their clinical areas. The growth of our program leadership is exciting as we have the opportunity to bring their knowledge and skills in mentorship, curriculum development, health equity, and quality improvement to our residency program. We are very fortunate for the many years of program leadership by Dr. Jane Trinh, and are grateful that she will continue to precept residents in clinic and serve as chief of the Med-Peds division."
Clifton and Prater will replace interim associate director Jane Trinh, chief of the division of Med-Peds. Dr. Trinh was the APD from 2008-2018, then PD from 2018-2022.