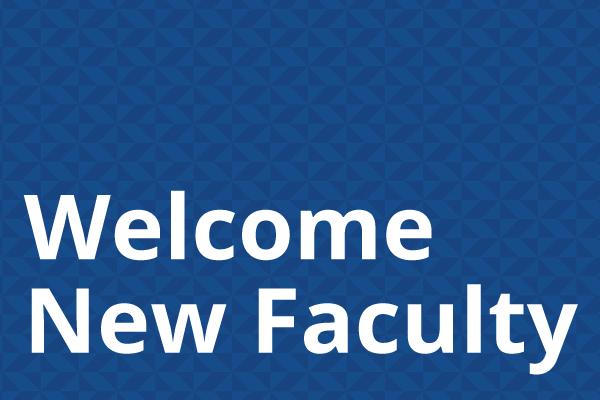 The Department of Medicine was delighted to recognize new faculty members at a Welcome Reception on October 18, 2022, at the Trent Semans Center for Health Education.  
Opening the occasion, Department of Medicine Chair, Kathleen Cooney, MD, spoke about the importance of faculty leadership, mentorship, career development, and highlighted a new Faculty Onboarding Tool to assist newcomers in acclimating to Duke. The tool provides a set of resources specific to research activities, just-in-time guidance and instructions to navigate the onboarding process, facilitating the transition as new faculty to the Department of Medicine.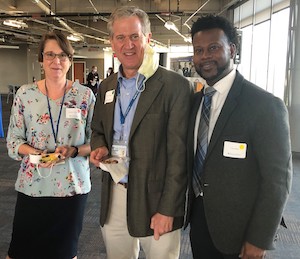 Organized by Vice Chair for Academic Affairs, Andrew Alspaugh, MD, the reception gave attendees the opportunity to network with division chiefs, vice chairs and other leaders in the department. In recognizing new faculty and the vast array of experience they bring to the table, Alspaugh spoke about the commitment of the department and each division to helping faculty members pursue their clinical and academic goals.
Additional resources available to new faculty members include a New Faculty Orientation on October 25, 2022, from 2:00 – 4:30 p.m. and the Faculty Development Academy, a two-year program to support early stage faculty development needs, supplement on-going mentorship, and develop faculty in multiple career tracks. The department also offers a Career Development Seminar Series with a curriculum that includes topics in leadership skills development, negotiation, mentoring, and the finances of academic medical centers.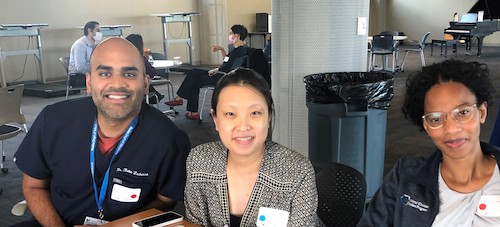 Faculty New to the Department of Medicine
October 1, 2021 through October 1, 2022
Steven Akman, Medical Oncology

Scott Alderman, Duke Human Vaccine Institute

Ashley Allen, General Internal Medicine

William Auger, Pulmonary, Allergy, and Critical Care Medicine

Christopher Beyrer, General Internal Medicine

Elizabeth Brindise, Gastroenterology

Charles Burns, Infectious Diseases

Jessica Cannavino, Endocrinology, Metabolism, and Nutrition

Diego Cepeda Mora, General Internal Medicine

Hui Chen, Medical Oncology

Rani Chudasama, Medical Oncology

Sara Coles, General Internal Medicine

Upadhyaya Deepa, Cardiology

Amreen Dinani, Gastroenterology

Michael Dore, General Internal Medicine

Ryan Duffy, General Internal Medicine

Sandy El Bitar, Hematology

Adedayo Fashoyin, General Internal Medicine

Natalia Ferrari, Medical Oncology

Sophia Francis, General Internal Medicine

Rebecca Frazier, Nephrology

Erin Gettler, Infectious Diseases

Jeremy Glissen Brown, Gastroenterology

Juneko Grilley-Olson, Medical Oncology

Rana Gupta, Endocrinology, Metabolism, and Nutrition

Ceshae Harding, General Internal Medicine

Nathaniel Harris, General Internal Medicine

Aaron Hein, General Internal Medicine

Madeleine Heldman, Infectious Diseases

Nathan Hirshman, General Internal Medicine

Daniel Hogan, Gastroenterology

Sanghee Hong, Hematologic Malignancies and Cellular Therapy

Alexandra Horne, General Internal Medicine

Anthony Horton, General Internal Medicine

John Ike, General Internal Medicine

Nicole Jawitz, Gastroenterology

Girish Kalra, Cardiology

Eun Joo Kang, Hematology

Neha Kayastha, General Internal Medicine

Michelle Kelsey, Cardiology

Archana Khandelwal, Hematology

AnnMarie Kieber-Emmons, Gastroenterology

Richard Lee, Gastroenterology   Yu-Lin Amy Lee, General Internal Medicine

Zak Loring, Cardiology

Anika Lucas, Nephrology

Joseph Lunyera, General Internal Medicine

Maria Marquine, Geriatrics

Cara McDermott, Geriatrics

Brandon Menachem, Pulmonary, Allergy, and Critical Care Medicine

Jyotsna Mullur, Pulmonary, Allergy, and Critical Care Medicine

Kathryn O'Donnell, Endocrinology, Metabolism, and Nutrition

Ryan Orgel, Cardiology

Hyungsoon Park, Medical Oncology

Michelle Perkons, General Internal Medicine

Derek Pinkerton, General Internal Medicine

Shweta Punj, Nephrology

Talisha Ramchal, Gastroenterology

Vinaya Rao, Nephrology

Joel Rivera Concepcion, Medical Oncology

Robert Rolfe Jr., Infectious Diseases

Steven Russo, Gastroenterology

Margaret Sahu, General Internal Medicine

Spoorthi Sankineni, General Internal Medicine

Ilan Schwartz, Infectious Diseases

Senthil Selvaraj, Cardiology

Dhvani Shah, Gastroenterology

Sujatha Soma, General Internal Medicine

Lonnie Sullivan II, General Internal Medicine

Sarah Summerville, General Internal Medicine

Sandip Swain, Gastroenterology

Patrick Tam, Infectious Diseases

Silas Trumbo, General Internal Medicine

Bharathi Upadhya, Cardiology

Judith Vick, General Internal Medicine

Aaron Vose, Pulmonary, Allergy, and Critical Care Medicine

Yibin Wang, Cardiology

Kara Wegermann, Gastroenterology

Kennedy Wolfe, General Internal Medicine

John Woytanowski, Pulmonary, Allergy, and Critical Care Medicine

Robin Zachariah, Gastroenterology

Tingrui Zhao, General Internal Medicine