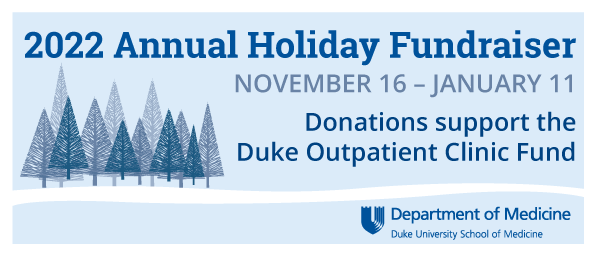 Tis' the season! The Department of Medicine Holiday Fundraiser is returning in 2022 to support the Duke Outpatient Clinic (DOC) Fund. All contributions to this fund will assist low-income and underinsured patients with healthcare related expenses. 
The DOC connects many of us as faculty, trainees, nurses, and staff.  We have nearly 100 different clinicians from a variety of health professions practicing at the DOC serving 5,000 visitors annually, including people experiencing homelessness. The DOC is the largest continuity care teaching clinic site for the Duke Internal Medicine Residency Program. Through iterations of innovative care model development and implementation, the clinic improves our population's health outcomes, integrates mental health care, and prevents avoidable, often unnecessary healthcare utilization. 
With the clinic being Duke's largest adult safety net clinic, we know our support will make a difference in the lives of those in our community.  
"As a physician in training, it is motivating and inspiring to see how a clinic can serve as a foundation and nexus for supporting community needs," shared Sachi Oshima, MD, Duke Internal Medicine Residency program. "Healthcare is a creative team sport at the Duke Outpatient Clinic. I have watched staff and patients work together to design programs and solutions like finding transportation for patients to necessary medical procedures, sending out a mobile lab clinic to patient's homes with mobility challenges, and providing invaluable grief counseling with our on-site chaplain."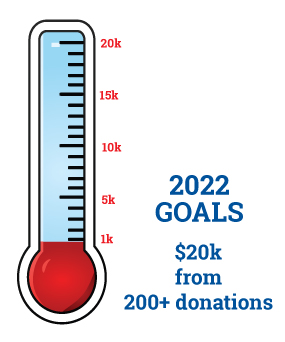 Your gift to the Duke Outpatient Clinic Fund provides financial support to help us expand care to a diverse, frequently underserved population of patients and families while enriching a dynamic educational experience for our trainees. Additionally, funds raised this year will support a new partnership with Project Access of Durham County to help our patients access appropriate healthcare including: 
Companion support for important medical procedures (colonoscopies / biopsies under anesthesia / same day surgery), required by Duke but difficult and unavailable to many patients 
Prep kits for colonoscopies including appropriate medication and nutrition for the procedure  

Access to durable medical equipment or supplies for the uninsured including CPAP, nebulizers, compression stockings 

Short term emergency medical respite housing for the homeless 

.. and more 
"As a nurse practitioner working at the DOC, it is rewarding to have the ability through the fund to provide direct support to vulnerable patients," says Julia Gamble, NP. "Recently I was able to offer a man who is experiencing homelessness a screening colon cancer test. When it was positive, we were able to offer support to get him to the colonoscopy – including funding the prep materials, a hotel room for the night prior to the procedure, a companion to sit in the lobby as required by Duke for the length of procedure, and a ride to the procedure. What an incredible gift for our most vulnerable patients!" 
Please consider supporting this important cause this year by making a donation today. Donations are tax-deductible.  
The DOM Holiday Fundraiser runs November 16, 2022, through January 11, 2023. Our goal is to raise $20,000 this year!  
Learn more about the Duke Outpatient Clinic
Make a Donation to the DOC Fund