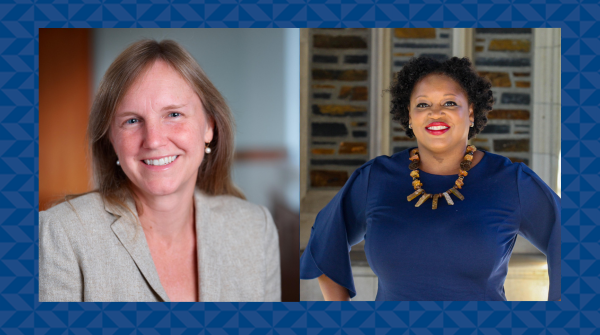 Christina Wyatt, MD, associate professor in the Division of Nephrology, and Keisha Bentley-Edwards, PhD, associate professor in the Division of General Internal Medicine, received an award from the National Institutes of Health (NIH) for a project entitled "Interventions that Address Structural Racism to Reduce Kidney Health Disparities, Research Coordinating Center." 
Duke was selected as the Research Coordinating Center (RCC) for a new consortium that aims to foster community-engaged intervention and research to address structural racism and reduce health disparities among individuals living with kidney disease. Total funding will be $4,562,498 over five years.  
"The consortium will evaluate the impact of several interventions to improve health equity for people living with kidney disease to include improving access to kidney transplant in minority populations and underserved populations," said Dr. Wyatt.  
The consortium includes the RCC and five intervention sites, each of which proposed a clinical trial to address key barriers to equitable kidney care. The main goal of the RCC is to coordinate efforts across the five centers and to identify areas for synergy, collaboration, and cross consortium data collection and analysis.  
Joining Drs. Wyatt and Bentley-Edwards is Huiman Barnhart, PhD, professor in the Division of Biostatistics. The three women serve as multiple principal investigator (MPIs). Additionally, the MPIs will collaborate with the Samuel DuBois Cook Center on Society Equity and Duke Clinical Research Institute (DCRI). 
"Complementary expertise from DCRI and the Cook Center is a key strength of our research team. We are excited to support this important work to address health care disparities in kidney disease," Wyatt said. 
Wyatt's primary research interest is in HIV-related kidney disease, which places a disproportionate burden on minority and under-served populations. She also has prior experience in coordinating center leadership and clinical expertise in nephrology. Therefore, she sees this award and the brand-new NIH consortium as an exciting opportunity to combine those skillsets.