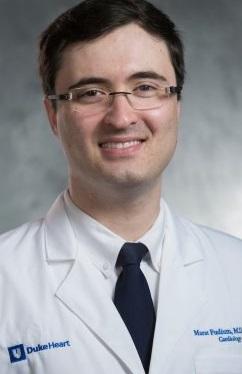 Congratulations to Marat Fudim, MD, MHS, assistant professor of medicine in Cardiology at Duke for his selection as a 2022 recipient of a Doris Duke Charitable Foundation (DDCF) Clinical Scientist Development Award! This is an early-career development award that will support his project, "Role of the Splanchnic Vascular Compartment in Heart Failure with Preserved Ejection Fraction."
Fudim has been working to understand the splanchnic nerve compartment's role in heart failure for years. His team is now developing methods to simulate volume shifts, or volume distribution, so that they can better identify responders and non-responders ahead of time.
"We already know that not every medication or intervention can work for everybody," he says. "We have seen the benefit of splanchnic nerve block in many people, but now we want to take a step back and ask how can we identify people who are more likely to be "volume shifters" versus "volume overloaders"? Who has the right physiology? Who will respond best?
He says he doesn't believe the situation is black and white, but that's why he is eager to simulate volume distribution to see if there is an overlap between the phenotypes. Fudim hopes this will help lead to a better understanding of the contribution of volume redistribution to the average heart failure patient.
"It is a great honor for me to have been selected by the Doris Duke Charitable Foundation and I am especially appreciative in this time of very tight research funding," Fudim said. "I believe this project will help bolster the entire field and that it will go beyond splanchnic nerve. It hopefully will help us get to the mechanism of how cardiac decompensation occurs."
"Dr. Fudim's early career award from the Doris Duke Charitable Foundation continues to showcase his excellent work on behalf of cardiology and medicine," said Kathleen Cooney, MD, chair, department of Medicine. "As he continues his research into splanchnic nerve modulation and potential therapies for patients with heart failure, I look forward to continuing to support his efforts and his growth as a clinical investigator."
The DDCF announced their grant award recipients this week. Through the Clinical Scientist Development Awards, the foundation funds promising physician scientists whose projects have the potential to advance the prevention, diagnosis and treatment of human disease and to enable their transition to independent research careers. 
A rigorous, multistage peer review process is done to evaluate each application on the significance, originality and research approach of their scientific proposals, and the research environment. According to the Foundation, a large share of this year's recipients span a broad range of critical health issues and their grantees are diverse in representation, with 53 percent of the selected projects led by women and 23 percent by those identifying as Black or Hispanic/Latinx, which is critical for providing insights into the health concerns of a wide spectrum of the national population.
Duke interventional cardiologist Schuyler Jones, MD is a previous DDCF grant award recipient.
A list of additional 2022 grantees and their project titles can be found here: https://duke.is/vgcjj. Each recipient will receive a grant of $495,000 over three years which begins retroactively on July 1, 2022.