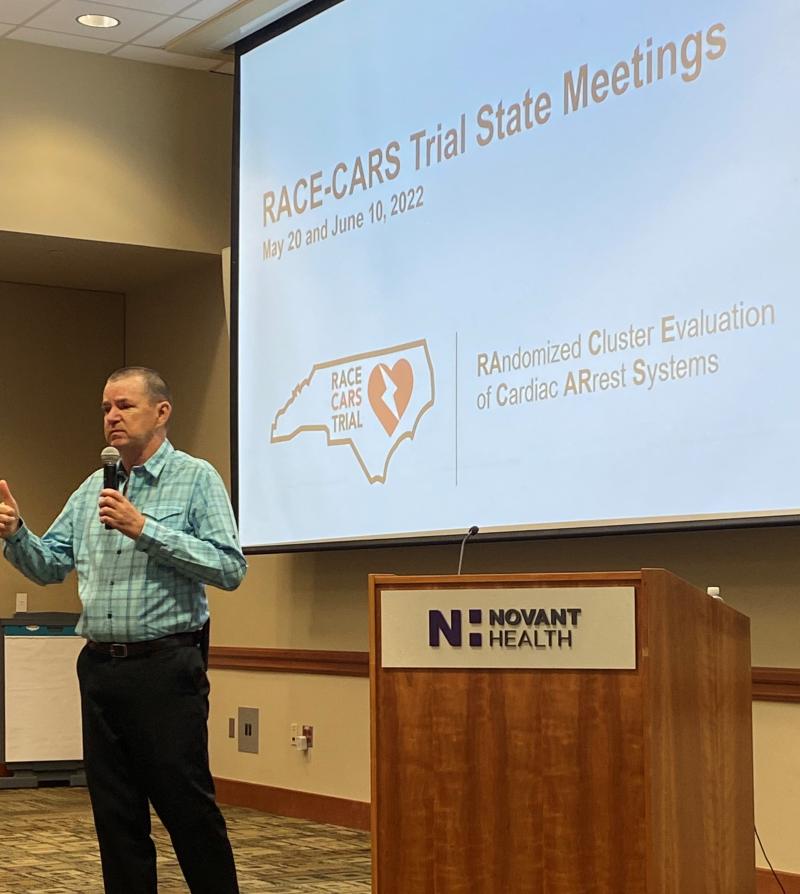 The last thing Mark Heath remembers before waking up in the ICU is climbing out of his dirt track race car at Friendship Motor Speedway in Elkin, N.C. and firing up one of the Marlboro Red cigarettes he has smoked every day for the past 40 years.        
"They told me I grabbed my chest and went down," recalls Heath, former chief of the White Plains Voluntary Fire Department in Mt. Airy and emergency medical responder. "I didn't have a pulse for about 23 minutes."
Heath had suffered a massive heart attack and went into out of hospital cardiac arrest on that day in March 2016, but he's one of the lucky ones—he survived with good cognitive function. With more than 400,000 incidents of out of hospital cardia arrest each year in the U.S., the survival rate is a bleak 10%.
Heath survived because of community interventions like some of the measures being tested in the RACE-CARS pragmatic cluster-randomized trial; the availability of automated external defibrillators or AEDs, bystander cardiopulmonary resuscitation (CPR) and well-trained emergency medical personnel.
"Almost as soon as I hit the ground, CPR was started and I had three rounds of shocks (AED)," Heath says. EMTs arrived about 20 minutes later and performed additional measures to stabilize Health before transporting him 45 miles to Forsyth Medical Center in Winston-Salem, N.C.
With out of hospital cardiac arrest and the need for urgent care, such distances are a complicating factor for patients who reside in rural areas.
"I'm alive because help was right there when I needed it," Heath says. "Totally, 100%."
"Back in the days when I first started running medical calls with the fire department, we would do 20 minutes of CPR before the EMTs got there," he adds. "We didn't have AEDs then and hardly anyone survived a cardiac arrest."
Mark Heath—now a reformed three-pack-a-day smoker—wants to use his experience as a former first responder and OHCA survivor to help educate others on the community interventions that saved his life.
Justin Jarrell is one of the Surry County paramedics that helped save Heath. "I'm a big advocate of public education and getting the community involved with learning CPR," he says. "Having bystanders trained in CPR makes all of the difference in these situations. I feel sure that's the reason Mark survived."
Learn about the Duke RACE-CARS trial helping patients like Mark Heath