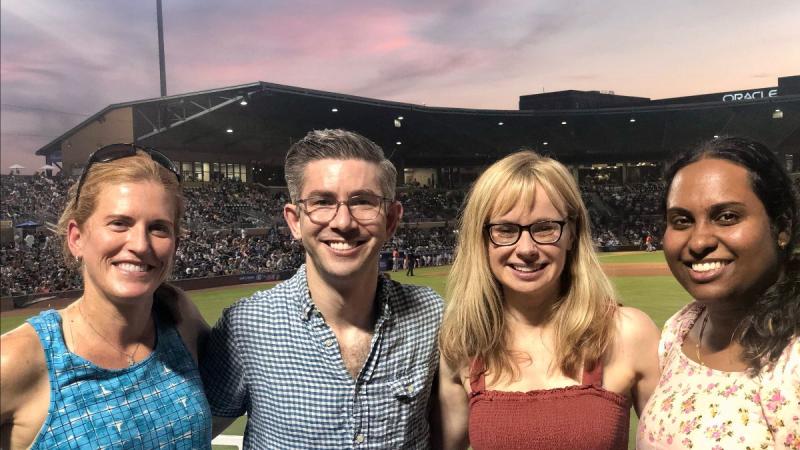 Meera Babu: Residency: Internal Medicine Resident at Allegheny General Hospital
Meera was born in India but raised in Pittsburgh, PA. She went to medical school at George Washington University and then went back to her hometown for internal medicine residency at Allegheny General Hospital in Pittsburgh. Meera stayed on for an extra year to be a chief resident. She is a newlywed and most of her family is in Pittsburgh, except for her husband who is in India. Meera and her husband are eagerly awaiting to be on the same continent soon! 
Ellie Hirshberg: Residency: University of Rochester Med Peds program graduated 2003
Ellie spent her formative years in Washington DC, yes the actual District of Columbia not Maryland or Virginia. After high school she attended Cornell University and graduated with Honors. She headed to San Francisco where she spent a year working as a researcher and unpaid intern for the UCSF AIDS Health Foundation. Ellie graduated from the University of Utah School of Medicine after mountains and skiing brought her to Utah. After Residency in New York, Ellie returned to Salt Lake City to complete her combined adult and Pediatric Critical care fellowship and has been a practicing Attending Critical Care physician at Intermountain Medical Center and Primary Children's Hospital. She is a Professor at both the University of Utah School of Medicine and Intermountain Health Care. Ellie Met and married her husband, Patrick Greis during fellowship and she is proud to be the mother of 2 wonderful children, Grace and Silas and their Great Dane, Frank.

Joseph Neiman: Residency: Internal Medicine, Hackensack University Medical Center
Joseph is from Reno, Nevada (near Lake Tahoe, though most people think of Las Vegas). Joseph completed medical school at the University of Nevada School of Medicine followed by a Masters of Public Health and post-doc research at Johns Hopkins University. Josephs wife is a general surgery resident who transferred to join him at Duke. 
Liz Sokolowski: Residency: Adult Psychiatry, Oregon Health & Science University
Liz was born in Chicago and grew up in the surrounding suburbs. She graduated with a BS in chemical engineering from the University of Illinois at Chicago after which she moved to Oregon to work as an engineer for a decade. Liz attended medical school and completed adult psychiatry residency training at Oregon Health & Science University in Portland. She moved to North Carolina earlier this year with her husband, toddler, and their 2-year-old German Shepherd mix to complete palliative care fellowship training at Duke University.