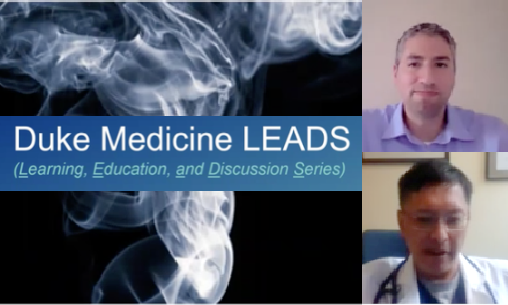 The March 23, 2021 session of Duke Medicine LEADS featured Stephen Telloni, MD, and Noppon Setji, MD, presenting, "Where There's Smoke, Is There Fire? Two Systems-Based Approaches to Identifying Safety Issues and Improving Quality of Care at Duke."
Here are pearls and takeaways from the session:
The Safety Reporting System (SRS) via RL6 software provides a centralized location for reporting concerns. It is also peer-protected, confidential, and HIPAA-compliant. It allows for a non-punitive approach to safety reporting and error identification and it assists leadership to in identifying trends/patterns and opportunities for process improvement. 
Any given safety event may fall into one of the following categories. A single safety event may result in a radical change with health system-wide impacts. Alternatively, it may result in a small local change. It may also not be significant from a system standpoint. Finally, and perhaps most tellingly, it may be one of many events that provide a signal for a trend that could have significant impact on the health system. 
The vast majority of doctors have no professionalism issues and are in fact models of professionalism themselves. Single isolated incidents results in a peer meeting, a "cup of coffee," as a means of informal intervention. If a pattern appears to be emerging there is an awareness intervention, where this emerging pattern is discussed with the person in concern. Following this, if a pattern persists, authority intervention and disciplinary interventions are considered. 
There is some concern that mortality reviews tend to be a "black box." The difficulty in communicating findings of mortality reviews largely lies in concerns related to peer review protection. In many instances, the language has to be modified and the case examples made so generic that the lessons are difficult to glean. Instead, the mortality review team meets regularly with key stakeholders across the health system on a regular basis to convey lessons learned. 
There have been many improvements that have resulted from safety and mortality reviews including our first call paging system, IV access escalation algorithm, and outpatient lab ordering system, to name a few.
Duke Medicine Learning, Education, and Discussion Series (LEADS) takes place each Tuesday at 12 p.m. Learn more and see schedule of upcoming sessions.