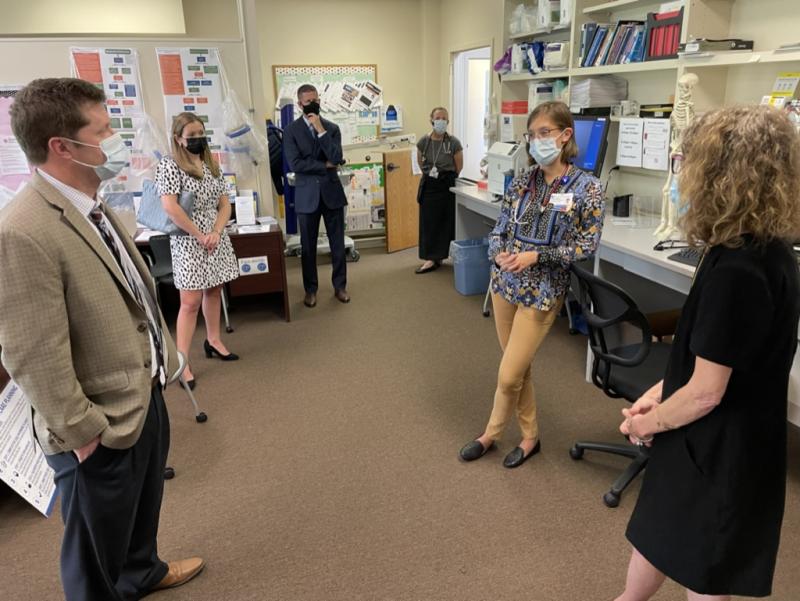 After a decade of debate, North Carolina is poised to expand the state's Medicaid program to more than 600,000 low-income adults through the Affordable Care Act.  
Medicaid expansion has been Duke Health's number one legislative priority since passage of the Affordable Care Act in 2010, and it marks an important milestone for hospitals and patient advocates across the state like Duke Health who have worked behind the scenes for years to bring it about.
A cohort of Duke internal medicine residents has been among these advocates, playing a small but powerful—perhaps even pivotal—role in moving expansion legislation forward through a group called Advocacy in Clinical Leadership Track (ACLT), an elective course of study for second and third-year internal medicine residents interested in health policy.
"The arc of change in political advocacy work can be very long and change can be very slow," said Daniella Zipkin, MD, associate professor in General Internal Medicine and ACLT faculty director. "The arc of watching the conversation shift in NC regarding expanding Medicaid has been fascinating, and the ACLT residents have interacted with it at every turn."
ACLT each year alternatively supports advocacy efforts at either the state or federal level. Medicaid expansion is a topic that has resonated with Duke residents going back to 2015 as North Carolina remained one of 11 hold-out states that failed to expand Medicaid, leaving billions in federal funding on the table.
A Meeting of the Minds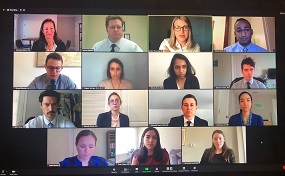 Since 2015 the ACLT group has met with leaders from both the North Carolina House and Senate, including Rep. Donny Lambeth (R-Forsyth County) who has been the champion for Medicaid expansion in the House since being elected more than 10 years ago. But it was not until the conversation began to shift in 2021 that things started to change. After several years of being told the topic of Medicaid expansion was off the table or the time was not right, ACLT met with state legislators again that May, continuing their advocacy. 
They also invited Nathan Babcock, health policy advisor to Senate leader Phil Berger, to visit the Duke Outpatient Clinic (DOC) in person to see how Medicaid performs every day in the lives of underserved and often the most medically-complex patients in the Duke Health system. He accepted the invitation.
On June 25, 2021, Babcock met with the whole DOC team including social workers, nurse practitioners, care managers, and DOC leadership. ACLT resident Hayley Cunningham, MD, now a fellow in the division of Infectious Diseases, recalls the meeting.
"We hoped Nathan Babcock's visit to the DOC would show that Medicaid policy is personal," Cunningham said. "I think he saw that all of us - patients, doctors, nurses, social workers - are people doing our best in a broken healthcare system and that Medicaid expansion will be truly life-saving."
The meeting also made a lasting impression on Babcock, who has referenced it during discussions leading up to agreement on the expansion bill.
"On the day the expansion bill was hear in the Senate Health Committee and passed, we were chatting in the hall and he said he thinks our team at the Duke Outpatient Clinic is going to be really happy to know they played a role in this" said Doug Heron, associate vice president, Duke State Relations.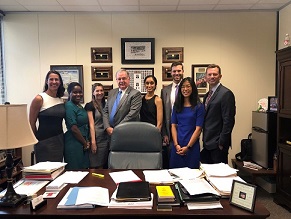 One of the things that Heron says he consistently hears from legislators and staff is the need for frontline accounts of the impact that legislation has on political constituents.  
"It's these firsthand clinical experiences that people like these physicians bring to bear that makes the difference," he added. "When they speak, it has a different meaning because they are actually hands on treating patients with personal stories about what we're doing and how what we are enacting into law actually affects people."
The Power of the Physician Voice in Policy Spaces
"We are not the policy experts or the legal experts, but we are on the ground  living the impacts of policy on patients. That is super important, being the voice for our patients and sometimes being the voice for ourselves," Zipkin said. "All of the ACLT graduates have become advocates. Some of them are advocating in smaller ways in their own health systems, in their own communities, and others have taken this on as a career, or a piece of their career. We are connecting learners with their sense of purpose more globally beyond the day-to-day clinical in the context of health care policy."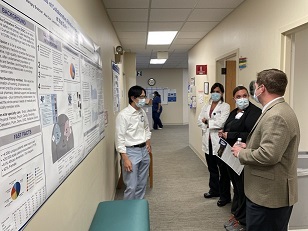 Voices from the Duke health care community are "crucial" to the delivery of better health care policy in North Carolina and the legislation that supports it, Heron adds.
 "This bill is the perfect example of how big, important legislation gets done," he said. These are young, emerging doctors who will be with us for the next 30 or 40 in the medical profession. To know that from the beginning of their careers that they made a difference in terms of providing more coverage and healthier outcomes for people is commendable."
Medicaid expansion is expected to be transformative for access to health care in rural areas, for mental health, for veterans, and for working adults and their families.
Feature photo: Nathan Badcock, (left) health care policy advisor to North Carolina Senate leader Phil Berger, talks with DOC staff and ACLT resident Hayley Cunningham, MD, (second from right) during his visit to Duke Outpatient Clinic. The visit left a lasting impression that Babcock credits with helping to change minds in the battle to expand Medicaid in North Carolina. Photos courtesy of Daniella Zipkin, MD.