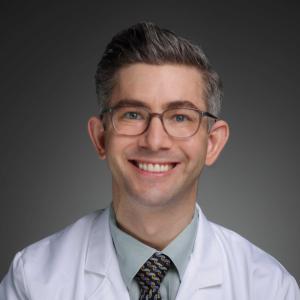 Fellow, Hospice and Palliative Medicine
Fellowship year: 2022-2023
Residency: Internal Medicine, Hackensack University Medical Center
Where are you from: Reno, Nevada (near Lake Tahoe, though most people think of Las Vegas)
Education and training: medical school at University of Nevada School of Medicine; Master of Public Health and post-doc research at Johns Hopkins University
Personal/family info: My wife is a general surgery resident who transferred to join me at Duke.
Professional interests:
I plan to stay in academia as a palliative care clinician-scientist-educator with ≥50% of time for research.  I do health services research and have a broad interest in health-related quality of life in palliative and critical care, engaging patients and families in bedside care, and reduction of long-term post-traumatic distress.
Palliative Care interests: I gravitate toward inpatient hospice and palliative care (but this may be because I've spent the most time in these environments).
Why did you choose Duke? It spoke volumes about Duke's palliative care department that they reached out to general surgery about the possibility of my wife transferring. The support for personal wellness and professional development is on another level. After my interview day Dr. Benner connected me with prospective research mentors and a fellowship alumnus who was completing an additional research fellowship, which is also my plan. I was also accepted to Duke's Society for Early Education Scholars (SEEDS) program, which provides longitudinal clinical educator training (without the need to dedicate an extra year).
Why did you choose Durham? Other than rooting for Duke basketball growing up, I didn't have a lot of connections to Durham, and I hadn't lived south of Washington, DC. But according to US News and Review, Durham is among the top 10 places to live. Coming from the northeast, I've found the cost of living, the paucity of traffic, and the ability to live in a great house within biking distance of work all game changers.
Personal interests outside of work: dry humor, tinkering around the house, exploring new restaurants and museums, hosting dinner parties, and travel
End with what you're excited about as an incoming fellow: I'm excited about finding my niche as a palliative care doctor and taking advantage of Duke's panoply of research, mentorship, and educational offerings.