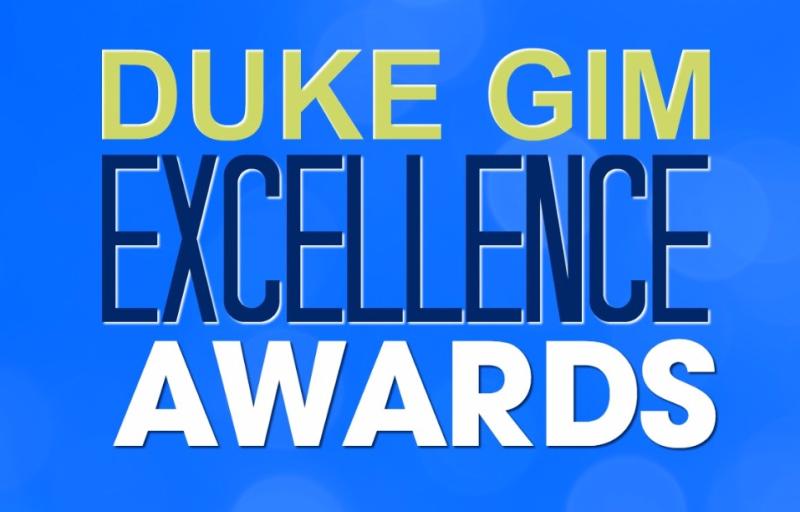 Four Department of Medicine faculty members have been named recipients of the 2022 Duke University School of Medicine (SOM) faculty awards.
Congratulations to J. Brice Weinberg, MD, for the Career Mentoring Award in Basic/Translational Sciences, Manesh Patel, MD, for the Career Mentoring Award in Clinical/Population Health Sciences, Cary Ward, MD, for the Leonard Palumbo Jr., MD, Faculty Achievement Award, and Anne Phelps, MD, and Aimee Chung, MD, for the Master Clinician/Teacher Award.
The faculty awards will be presented at the annual School of Medicine Spring Faculty Celebration on Tuesday, May 10, 5-7:30 p.m at Duke Gardens. The SOM is hopeful that the event will be able to be celebrated in person.
Research Mentoring Awards
The Research Mentoring Awards recognize faculty members in the SOM for excellence in research mentoring.  Excellence can be demonstrated in many ways such as by the accomplishments of individual mentees, by programs implemented by the mentor, or by exceptional creativity in mentoring.
Career Mentoring Award in Basic/Translational Sciences
J. Brice Weinberg, MD, Professor of Medicine and Immunology, Associate Professor of Obstetrics and Gynecology
Dr. Weinberg is a hematologist and medical oncologist who serves as professor of medicine and immunology and associate professor of obstetrics and gynecology at Duke University Medical Center.
His research focuses on blood cells, nitric oxide (NO), and leukemia including studies of resistance to infection, pathways of inflammation, and regulation of normal and leukemic cell life and death. His current work includes studies of leukemia (primarily chronic lymphocytic leukemia); the roles of NO and arginine in the resistance to malaria; and the interactions of NO, prostaglandins, and mechanical force in inflammation and arthritis.
Weinberg has a long history of mentoring trainees and junior colleagues in hematology, infectious diseases, orthopedics, and gynecology research, many of whom continue to work in academic environments. In the more than four decades since he joined the Duke faculty, Weinberg has mentored over 65 students and trainees across undergraduate, graduate, and medical studies/training, nearly 40 of whom have gone on to academic positions, says award nominator, Daphne Friedman, MD, associate professor and staff physician, Durham VA Health Care System.
"I consider Brice to be a consummate physician-scientist," Friedman adds. "His expertise in various fields (malaria, leukemia, and nitric oxide) demonstrates his broad intellect, ability to tackle seemingly disparate problems, and skill at collaborative research endeavors."
Weinberg's mentees and researchers have benefited in three key areas, says nominator, Danielle M. Brander, MD, assistant professor, division of Hematologic Malignancies and Cellular Therapy, that include establishment of the Duke and Durham Veterans Affairs Medical Center longitudinal serum, plasma, viably cryopreserved CLL cells and cell pellets (CLL) sample cohort, individualized and evolving mentorship and his research integrity and professionalism.
Since 1999, Weinberg has dedicated extensive efforts to establish a longitudinal cohort of samples from >900 patients with CLL. In addition to the nearly unparalleled size of the collection, she adds, it is unique as Dr. Weinberg himself has kept up with detailed, clinical annotations of patient biomarkers and outcomes, features frequently absent from other patient-derived data sets.  
"Given the lack of an established or accepted cell line that recapitulates CLL biology and patient to patient heterogeneity, this patient derived collection has not only benefited those that have worked on projects in his lab, and other research projects at Duke, but also many important collaborations throughout the country," Brander says.
---
2022 Career Mentoring Award in Clinical/Population Health Sciences
Manesh R. Patel, MD, Professor of Medicine, Richard Sean Stack, M.D. Distinguished Professor, Chief, Division of Cardiology
Dr. Patel is chief of the Division of Cardiology and the Division of Clinical Pharmacology. His clinical interests include diagnostic and

interventional coronary angiography, peripheral angiography and endovascular intervention and he is involved in several clinical trials involving patients with cardiovascular disease aimed at improving their outcomes. Patel is the Chair of American Heart Associate Scientific Sessions for 2022. Currently, he is also leading an effort to redesign the delivery of care to patients at risk or with cardiovascular disease in the health system with a specific aim of measure and providing individualized, patient centered, innovative, and efficient care.
Patel's interest in cardiovascular disease including diagnostic strategies and therapy is evident in his research, and his integration of these efforts into his roles at Duke was recognized in 2010 when he received the Duke Cardiology Fellowship Mentor Award. In 2013, he received the Robert M. Califf Faculty clinical research Award and was named the Richard S. Stack Distinguished Professor in 2020.
Patel came to Duke in 1997 as an internal medicine house officer, subsequently becoming a chief medical resident, and joined the cardiology fellowship program in 2000, training in cardiac MRI, interventional cardiology, and clinical trials. In 2006, he joined the Duke cardiology faculty, quickly succeeding in clinical research and mentoring young investigators and colleagues.  During his years on the Duke faculty, Patel he has assumed numerous important administrative and leadership roles that have included director of the lnterventional Cardiology Section, director of the Heart Center Research Unit, and director of Cardiac Cath Lab Research.
Patel has been consistently and continually funded by both NIH and AHA awards, as well as multiple awards from industry, and he has led and chaired many impactful clinical trials on international scene, including some of the most important antithrombotic trials for atrial fibrillation, acute coronary syndromes, cardiovascular imaging studies, and overall cardiovascular care.
He has published actively in the highest impact journals in cardiology and medicine, his CV listing 393 peer-reviewed manuscripts and 36 book chapters and editorials. Since 2018, he has been ranked in the Top 1 percent of cited researchers over the last 10 years by Clarivate Analytics.  
"I have been fortunate enough to be mentored by many amazing individuals during my medical career here at Duke (and before at Northwestern and Johns Hopkins), but Dr. Patel has had the largest influence on my career," says Jonathan P. Piccini, Sr., MD, MHS, director, Cardiac Electrophysiology. "He is always working to empower his mentees to be independent, to lead, and to be successful. He is the master mentor and is constantly mentoring others through his exemplary leadership."
Despite all of his remarkable academic accomplishments, Dr. Patel would be the first to give credit for much of his success to those he has mentored, says award nominator Thomas M. Bashore, MD, professor of medicine in the Division of Cardiology. "His support for his mentees has not gone unnoticed by trainees, and this has made him a magnet for fellows and house staff who wish to pursue academic careers. He has now actively mentored dozens of physicians and, most impressively, the majority are now in faculty positions as at major academic institutions."
---
Leonard Palumbo Jr., MD Faculty Achievement Award. 
This award honors a faculty member who displays both a dedication to compassionate patient care and excellence in the teaching and mentoring of young physicians. The award is named for Dr. Leonard Palumbo Jr., a compassionate and empathetic clinician and a dedicated and talented educator.  His commitment to both patients and students inspired the establishment of this award in 1999 by his brother, also a Duke alumnus, Mr. Art Palumbo.
Cary C. Ward, MD, Associate Professor of Medicine, Cardiology

Cary Ward, MD, is a member of the Duke Heart Physicians team that cares primarily for valvular and adult congenital heart disease patients and fellowship director for the adult congenital heart disease program.
Arriving at Duke as a cardiology fellow in 2002, she developed an interest in adult congenital heart disease after spending time in the basic embryology lab. That experience and her outstanding clinical skills resulted in her recruitment to the Duke cardiology faculty, where she has earned the reputation of "the doctor's doctor" for the way she connects with patients, greeting them like a friend or family member, and serving as a role model for the integration of the humanistic side of medicine into practice.
Ward also excels in teaching and mentoring, taking on the task of developing these qualities across the SOM with a series of programs focused on clinical leadership and the provider experience, and development and wellness. She has also become an important symbol and voice for the under-represented and for women in medicine.
Ward is the associate vice chair for the Provider Experience and Development, faculty director of the Duke Clinical Leadership Program, which spans all areas of Duke Health, and director of the Academic Leadership, Innovation, and Collaborative Engagement (ALICE) Program, a leadership development opportunity for mid-career women faculty in the SOM.
In nominating Dr. Ward, Laura P. Svetkey, MD, MHS, vice chair for Faculty Development and Diversity, notes that Dr. Ward's impact on well-being in the department has been substantial through her role as a DOM Civility Champion, where she is available to any faculty or trainee who has experienced or witnessed harassment or bias, and with leading the Faculty Development Academy Career Development Seminar Series (CDSS), where she has created a curriculum to help junior faculty in the DOM navigate the complex environment.
"Each of these activities has a direct impact on young physicians and physicians-in-training, as well as nonphysician junior faculty and trainees in the Duke Department of Medicine," says Svetkey. "In leading well-being efforts for the Department, Dr. Ward has been trustworthy and inclusive in determining the well-being needs of our department, with particular attention to young faculty and trainees."
Ward also launched a new program for pregnant cardiac patient, the first in the country, notes Manesh Patel, MD, chief of the Division of Cardiology and one of Ward's award nominators. In that role, she works closely with the OB department, sharing a clinic with them and rounding on OB patients admitted with cardiac issues. "Her excitement for this has even attracted one of our current adult congenital fellows to follow in her footsteps here," Patel says.
---
Master Clinician/Teacher Award
The Master Clinician/Teacher Awards recognize clinical practitioners who exemplify the highest standards of clinical care, pedagogy, and professionalism or to basic scientists who achieve distinction in pedagogy and professionalism.
Anne Phelps, MD, Assistant Professor of Medicine, General Internal Medicine 
Phelps is a Master Clinician and Clinician Educator in the Division of General Internal Medicine. She has been a member of Duke

faculty since 2001, and she now primarily practices clinically as an anchor physician in the Duke Signature Care program.
Phelps has consistently taught Internal Medicine residents, including teaching residents in Duke Primary Care Pickett Road (where she practiced from 2001-2012 and served as Director for Medical Resident Education) and in the Duke Outpatient Clinic.  She has gradually expanded the scope of her teaching from mostly in-clinic precepting duties to develop a specialized teaching focus in didactic education for advanced learners.
Since 2018, she has prepared review lectures to help internal medicine residents prepare for the American Board of Internal Medicine examination in nearly all topics including preparing study summaries and questions for review. Her teaching, particularly for this course, has always been extremely highly rated by the Internal Medicine residents. As a result, she has been repeatedly invited to expand her teaching activity. What initially started as brief presentations of board review sessions a few times a year has evolved into a weekly full board review course year-round.  
"Through her lectures, she demonstrates a remarkable breath of knowledge, versatility, and ability to teach a variety of subjects from endocrinology to nephrology and pregnancy," says nominator, Ebony Boulware, MD, MPH, chief, Internal Medicine. "Her dedication and joy for learning and maintaining a current knowledge base provides a wonderful role model for the residents, who are just starting their careers and learning about how to pursue a lifelong education."
When COVID hit the Duke University Health System in March of 2020, Dr. Phelps was immediately available to jump into online teaching to fill the educational void created by quarantines and home call. "She took it upon herself to carry on the educational mission of the Department of Medicine during the crisis," Boulware adds. "She taught 6-20 hours a week on Zoom and provided private tutoring lessons to the residents who were struggling on their in-training exams. This was a truly heroic effort that would not have been filled without her dedication and commitment and demonstrates her incredible leadership, passion, and dedication to excellence in teaching."
Phelps leads the Department of Internal Medicine with her teaching reviews.  Her consistent teaching excellence has been recognized at the Department level, where she received the DOM Ambulatory Teaching Award (in 2020) and the Division of General Internal Medicine Teaching Award (in 2019). She also received the Division of General Internal Medicine Practice Excellence Award in 2017 for her clinical excellence.
"Dr. Phelps has consistently demonstrated critical elements of both a master clinician and teacher as reflected through her excellent clinical patient care and sustained educational activities since coming to Duke in 2001," adds John Paat, MD, medical director, Duke Signature Care. 
Aimee Chung, MD, Associate Professor, General Internal Medicine and Pediatrics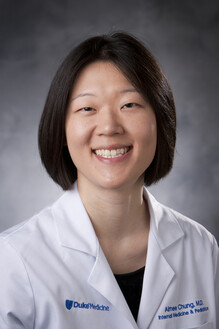 Aimee Chung, MD, has held many roles in the SOM, including director of the MS4 Capstone Course and small group leader in both Clinical Skills Foundation and Clinical Skills Course. She sees her own adult and pediatric patients in the outpatient and inpatient settings, teaches medical students in several longitudinal courses within the SOM, and is the preceptor for the Med-Peds residents in their outpatient continuity clinic.
Chung is beloved among her students and residents for her teaching and patient care, and colleagues recognize her as a model for an outstanding educator and a mentor to many.
Chung completed her combined internal medicine-pediatrics residency training at Duke in 2009 and served as Chief Resident in Pediatrics from 2009-2010 after completing medical school at the Brody School of Medicine at East Carolina University.
She has received many awards for her training professionalism including the Department of Pediatrics Samuel L. Katz Award, selected by pediatric residents and awarded yearly to the faculty member most influential in resident training within all departments of Pediatrics, for four years with prior nominations. Chung is a recipient of the SOM Professionalism Award, selected by Duke SOM students for outstanding professionalism and modeling of professional behavior in interactions with patients, families, and learners, for three years, and the Golden Apple Award as best overall clinical faculty educator within the Duke Health System. 
She was also selected by the Class of 2018 as best educator among Duke Health System faculty, receiving the Thomas D. Kinney Excellence in Teaching Award, and she has been nominated for the Master Clinician/Teacher Award and the Internal Medicine House Staff Ambulatory Teaching Award. Chung has also had the top 10 percent of faculty evaluation scores based on pediatric resident teaching evaluations for several years.
"Excellence in teaching is what comes to mind when Dr. Chung's name comes into a conversation with students, residents and even colleagues," says Jane V. Trinh, MD, chief, Division of Medicine-Pediatrics, one of Chung's nominators for 2022 Faculty Master Clinician/Teacher Award. "What is even more impressive, however, is her role as educator and a physician to her patients. Dr. Chung is the epitome of a master clinician – she is professional, respectful, inclusive and committed to excellence in patient care."
"Dr. Chung is the epitome of what it means to be an outstanding educator. Whether she is on the wards, in the clinic, or in the classroom, she represents a master teacher," says another nominator, Colby Feeney, MD, assistant professor, Medicine and Pediatrics. "She demonstrates a commitment to student and resident education through every learner interaction, shows support and compassion to her learners, and embodies a lifelong learner."