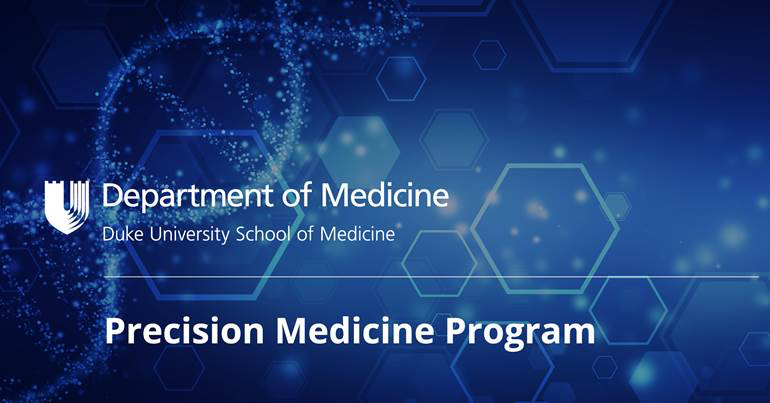 The Duke Precision Medicine Program has officially opened its doors. The newly reorganized program, housed in the division of General Internal Medicine, will bring proven precision medicine technologies from the basic science portfolio to the clinical setting through both research and clinical programs.
Bringing a wealth of knowledge and research in precision medicine, Lori Orlando, MD, MHS, MMCI, has been named the director of the Duke Precision Medicine Program.

"We are excited to continue to embed precision medicine into the inner workings of the Department of Medicine," said Kathleen A. Cooney, MD, MACP, Chair of the Duke Department of Medicine. "From research, to patient care, and educational opportunities, this program will engage providers, trainees, and learners broadly across Duke and beyond."
The new Precision Medicine Program will focus on three key areas:
Research

Healthcare

Education
Within these core areas, faculty researchers are studying and applying precision medicine through implementation science, risk assessment, digital health, and pharmacogenomics, with an overarching vision to improve clinical care processes and patient care outcomes. Through trial networks, initiatives, and programs, the team will bring precision medicine into the hands of providers within and beyond Duke. 
"The pace of precision medicine is rapidly accelerating and its potential to improve individual and population health is as well," Orlando says. "However, precision medicine's unique complexities make it difficult to incorporate into our existing healthcare infrastructure and processes. Our goal is to identify and address these challenges so that patients and providers have the data, tools, and resources they need to optimize health."
The precision medicine research program was previously part of the Duke Center for Applied Genomics and Precision Medicine.
One of the most notable precision medicine technologies cultivated within the program is the risk assessment tool, MeTree, a web-based, patient-facing risk assessment tool, that collects personal health information and family health history. This precision medicine tool assists providers with the concept of treating their patient beyond a current illness, but instead by applying preventative measures, screenings, or therapeutics.
The Duke Precision Medicine Program is committed to training the next generation of genomic and precision medicine researchers, educators, and clinicians. Supported by the National Institutes of Health (NIH), the center offers a two-year post-doctoral training program in genomic medicine. Trainees receive mentorship and didactic training during their research experience.
Additional educational opportunities include a biweekly virtual forum, highlighting researchers and educators, internal and external to Duke, working on innovative precision medicine research in clinical, translational, and basic sciences.
Precision medicine doesn't follow a one-size-fits-all framework but is the future of medicine. Those interested in learning more or collaborating should contact Lori Orlando (lori.orlando@duke.edu) for more information.
Learn more about the Duke Precision Medicine Program
Learn more about the Division of General Internal Medicine