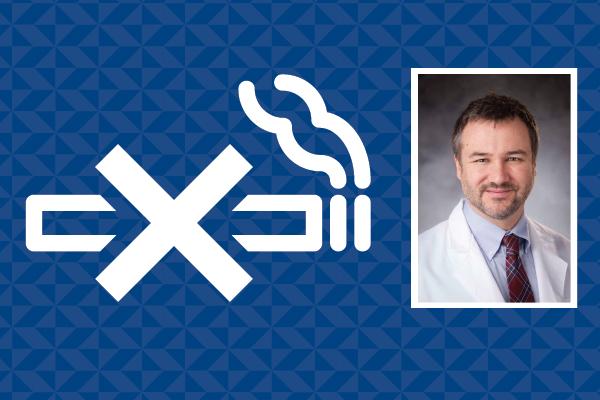 The Duke Office of Translation and Commercialization (OTC) in 2022 helped Duke inventors start 14 new companies. James Davis, MD, associate professor in the division of General Internal Medicine, is among these entrepreneurs. 
Davis' new company, Effective Tobacco Treatment, consults and helps develop high-impact, financially-sustainable tobacco treatment programs for a population with high rates of comorbid mental illness with substance use issues and limited resources.
"We are not just working with tobacco addiction, but with the interplay of nicotine dependence, stress, mental illness, and social factors that all must be faced when a person tries to quit smoking" says Davis, who has pioneered work on mindfulness training for smokers and published the first studies on this treatment that is now widespread. He is the director of the Duke Smoking Cessation Program, medical director of the Duke Center for Smoking Cessation, and co-director of the Duke-UNC Tobacco Treatment Specialist Training Program.   
Back in 1964, almost half of the US population smoked cigarettes; today this has fallen to 12.5%. Most smokers today want to quit smoking and make quit attempts. Today the people who still smoke have often tried to quit many times but continue to be unsuccessful. Smokers today tend to have psychiatric illness, lower levels of income, and limited health literacy.  Currently, the success rate for smokers trying to quit on their own is just under five percent, and the average smoker has unsuccessfully tried to quit seven times.
To help meet the needs of this patient population, Duke pioneered a highly specialized, "medical model" for treating tobacco dependence – a model that is new in the US. The program uses medical prescribers with specialized tobacco dependence training who are able to use more sophisticated pharmacotherapy such as pre-quit medications and adaptive pharmacotherapy and combination pharmacotherapy. 
Medication treatment is combined with behavioral or mindfulness training, delivered by a team of 13 Duke medical providers. Medical providers specializing in tobacco treatment are at the center of the team, and the first person that a patient sees. Behavioral providers are brought in as needed to manage complex psychiatric issues.
The model has proven to be highly effective. The success rate for a person that tries to quit smoking on their own is about 4.5%. Physicians see abstinence rates typically around 11%; specialized behavioral counselors report absence rates around 16%. Davis' team-based approach has a success rate of just over 30 percent.
Davis also serves as principal investigator on several trials including a study on adaptive smoking cessation and several trials on new medications for smoking cessation. He is co-investigator on trials involving lung cancer screening, e-cigarettes, minor nicotine alkaloids, imaging, lung function, and others. Davis also led the Duke Smoke-Free Policy Initiative, is co-author on a national tobacco dependence treatment guideline, and provides training in tobacco dependence treatment for the Duke School of Medicine, Duke Internal Medicine, Family Practice and Psychiatry residency programs. 
Davis had been putting the pieces of the program together since his training days but it was not implemented until he came to Duke in 2016. Word spread of his success and people from other health systems began reaching out to learn more.
 The Office of Translation and Commercialization provides the business mechanism for exporting Davis' program.  The program is also financially self-sustainable through standard medical billing.
"The idea in tobacco treatment is to break even," Davis says. "Do a good thing in the world and export these ideas by creating a business model that allows us to share this knowledge.