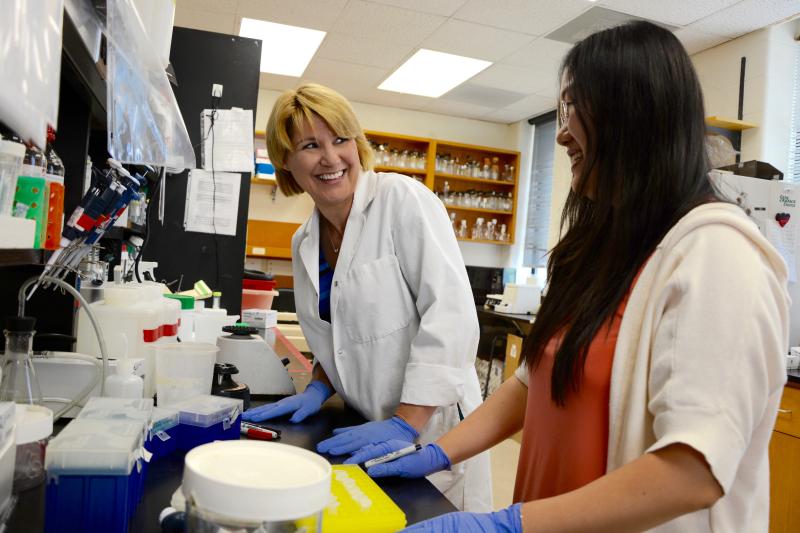 Since 1990, the Rockman Lab has utilized the power of teamwork, positivity, and creative thinking in their investigation of the molecular mechanisms of hypertrophy and heart failure.
The Rockman Lab's core team includes the lab's principal investigator Howard Rockman, MD, professor of medicine (Cardiology), analyst Weili Zhou, mouse colony manager Cathy Bittner, mouse surgeon Lan Mao, MD, assistant professor in medicine (Cardiology), graduate student Jialu Wang, and post-doctoral students Clarice Garari and Mike Makara, and staff assistant Cheryl Woodard.   
(Pictured above: Karen Terry, Rockman Lab manager, checking in with graduate student Jialu Wang to see what progress she is making with her work.)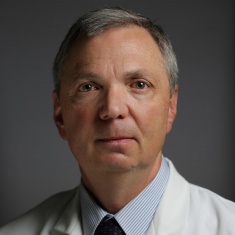 Dr. Rockman and his lab have pushed scientists, graduate students, fellows, and others to be engaged in research through open communication and cooperation.
"They make the discoveries. As you walk around the lab, they're there at the bench and doing the primary work," said Rockman. "They use their own creativity and innovation to try to figure out the answers to the important questions we come up with.  Then we get together, look at the data and see what kind of progress we're making."
Through their efforts, the Rockman Lab has developed models of cardiac overload in mice using microsurgical techniques and genetic models that mirror cardiac dysfunction. 
The lab has also generated novel transgenic and gene targeted mouse models to investigate G protein-coupled receptor signaling throughout the heart and body because the signaling pertains to hypertrophy cardiomyopathy (HCM) and subsequent cardiac dysfunction. 
Now, they performs a variety of in-vivo procedures on the targeted mouse models to assess the physiological changes in cardiac function as an imitation of human disease.
Aside from their scientific developments in research, the Rockman lab has created new initiatives and a lab environment based on developing personal growth and cooperation in research.
New core resource
Recently, members of the Rockman lab launched the Physiology Core, a new resource for investigators in the Duke Cardiovascular Research Center  to provide a centralized source for state-of-the-art invasive and non-invasive cardiovascular disease modeling and phenotyping.
Dennis Abraham, MD, assistant professor of medicine (Cardiology), Dr. Mao, and Karen Terry, Rockman lab manager, launched the Physiology Core from within the Rockman lab. Newer Core staff include Zhiqiang Chen, MD, as the Physiology Core's lab analyst and Maria Rapoza, PhD, as the Core's financial manager. Dr. Rockman is also director of the Duke Cardiovascular Research Center.
Using Dr. Mao's surgical expertise on mice that has been developed through the Rockman lab, investigators can learn non-invasive and invasive surgical procedures such as transaortic constriction and rodent echocardiography with the support of Mao and the core staff.
Having gone from never having done any research to now getting NIH funding and developing a lab of my own is a significant change for me. It's been transformative.

Dennis Abraham, MD
Terry serves as the coordinator of the Physiology Core. She works closely with Dr. Chen to ensure the Physiology Core facilities are well maintained and inventory needs are met. She is involved from the early stages of consultation and experimental planning through the transfer and humane oversight of the animals in her care.
Since becoming a part of the Rockman team, Terry said that everyone's dedication to the lab's research is inspiring because each breakthrough makes a difference. 
"There is so much of this type of amazing research being done at Duke for heart disease, cancer, diabetes, HIV/AIDS, infectious disease—I could go on," she said. "There isn't a single person I know that hasn't had their lives touched by a disease that Duke researchers are not working diligently on to understand and eradicate."
Helping others grow
Dr. Abraham is also a part of the core lab team, but he will be leaving the Rockman lab soon to start his own lab at Duke. Abraham has worked with Dr. Rockman and his lab since 2009, and he describes his beginnings in the Rockman Lab as someone who was "very green behind the ears."  He recently received funding from the National Institutes of Health and plans to focus on scar tissue development in the heart. 
"A lot of my career plans kind of mimic how Howard set up his lab," Abraham said, reflecting back on his start in 2009. "Having gone from never having done any research before to now getting NIH funding and developing a lab of my own is a significant change for me. It's been transformative."
For graduate student Jialu Wang, working in the Rockman lab has helped in developing her scientific academic career.
"Now, I think more scientifically…Even for more detailed tasks, I know how to design the proper control for the experiments, " said Wang. 
Zhou has been working for the Rockman lab for 16 years. In those 16 years, she said she is always learning from the fellows and residents who rotate through the Rockman lab.
"I really like the environment. Everyone in the lab is like family and we all always help each other out," said Zhou. "Whether it's family issues back home or technical issues in the lab, we're all here to support each other."
At the end of the day, everyone in the lab strives to promote excitement in research and boost morale even on days when his or her research isn't successful. 
"The culture of the lab is one of collaboration and the atmosphere is one of excitement," said Rockman. "I want them to be excited about their data. Not everything works so sometimes when experiments are not going well, they're discouraged. It's the job of all of us to make sure we see the big picture, stay focused and stay positive." 
This story was written by Tia Mitchell, communications intern for the Department of Medicine.