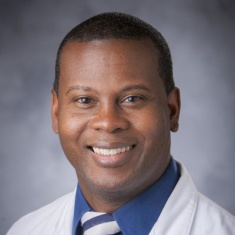 Julius Wilder, MD, PhD, assistant professor of medicine (Gastroenterology), will serve as vice chair of the Minority Recruitment and Retention Committee (MRRC) focusing on Black faculty, effective Oct. 15, announced Laura Svetkey, MD, MHS, vice chair for faculty development and diversity in the Department of Medicine, and Kimberley Evans, MD, chair of MRRC.
This is a new position to enhance the department's diversity, equity and inclusion efforts by focusing on the recruitment, retention and career development of Black faculty. The position will complement other MRRC efforts to provide career mentoring, leadership development, and social networking for Department of Medicine faculty and trainees from under-represented groups.
"As a physician scientist who did his training at Duke and has stayed here as a member of the faculty, Dr. Wilder is well positioned to see what's working and what needs improvement in our efforts to attract, retain and develop other talented Black faculty," said Dr. Svetkey.
Wilder earned his MD and PhD degrees at Duke University and completed his internal medicine residency, gastroenterology fellowship, and transplant hepatology fellowship in the Department of Medicine. He also completed a research fellowship in the Duke Clinical Research Institute.
"I am thankful and excited to join the MRRC to strengthen recruitment and retention of URiM faculty," said Wilder. "We will leverage partnerships across the Department of Medicine to create an infrastructure that promotes diversity and ensures opportunities for success among URiM faculty."
Wilder will work closely with and be guided by Dr. Evans.
Other recent MRRC leadership changes include:
Kevin Thomas, MD, who provided important links to his roles in the Dean's office, is leaving his MRRC role to focus his efforts on the dean's anti-racism strategic plan. Dr. Wilder will maintain MRRC connections to SOM through regular interaction with Dr. Thomas.
Leonor Corsino, MD, who launched the MRRC Latino Initiative, is leaving her MRRC role to focus on her new role as SOM Advisory Dean.
David Ortiz-Melo, MD, who serves as vice chair of MRRC and launched the Minority Alumni Association, will now lead the department's Latino Initiative.
Bonike Oloruntoba, MD, will continue in her role as MRRC trainee liaison, working closely with residents and fellows from under-represented groups.
"We have a great team of MRRC faculty leaders who are committed to making sure that all faculty and trainees feel included and engaged in the missions of Duke, and I am excited about our work ahead," said Dr. Evans.