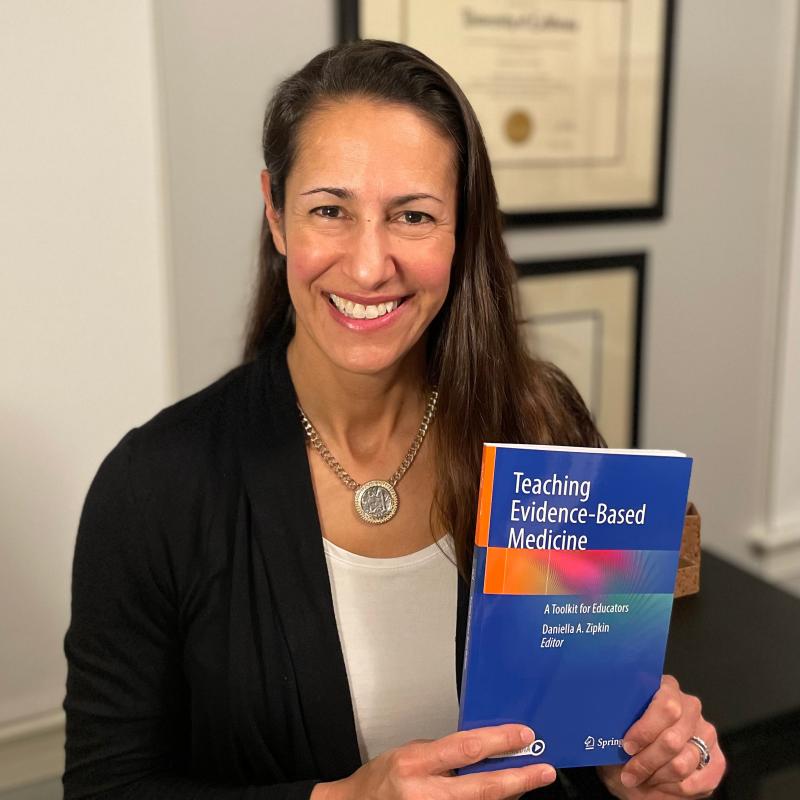 Daniella Zipkin, MD, associate professor of medicine in the division of General Internal Medicine, recently published "Teaching Evidence-Based Medicine: A Toolkit for Educators" with Springer. We chatted with Dr. Zipkin about her new book.
Interview conducted by Brittany Vekstein, communications strategist for the Department of Medicine
Congratulations on your new book! How long has this been in the works?
From concept to publishing – it was 6 years. Springer (the publisher) has a representative at the National Society of General Internal Medicine meetings, and I pitched the idea! The impetus for the idea came from an interest group meeting, talking to others, and the need for support for people teaching this content because it's a required piece for all medical education programs. It can be challenging to translate a set of scientific principles into something engaging and interesting.
What learning gaps for residency programs have you observed to ultimately come up with the book content?
The goal was to be adaptable. Residency and medical student schedules are so complex that educators in various settings will have many different needs ranging from teaching 10 minutes while rounding to teaching a full curriculum throughout a series of one hour dedicated conferences. The idea was to have educators reflect on their setting and their learner needs and for them to pick from a menu of options to take what they need. Each chapter comes with a "teach it" section, which translates to what teaching this topic would look like in a short timeframe vs. longer timeframe.
What was your favorite topic to write about?
Across evidence-based medicine (EBM) teaching, it is somewhat agreed upon that therapy is considered the pinnacle topic, with diagnosis as a close second - simply based on how rich the content is. Those are the cornerstones of any evidence-based teaching, but my personal favorite is non-inferiority. This work represents 20 years of curriculum development. As I took my first faculty job after my general internal medicine fellowship at UCSF, I taught EBM to the residents in 2003 and back then, non-inferiority wasn't a common study design and wasn't in the curriculum. As non-inferiority study designs became more commonly used, it became important to think about these randomized controlled trials in a whole new way, so that has been the most fun and challenging to teach! 
What's the biggest takeaway in your book you'd like to share?
Education scholarship is scholarship. Building curricula is valuable. As a clinician-educator, recognize the value of what you are doing. If you are working on something where there has been positive feedback and development, as I had with this EBM space, and if you've got a valuable product, share it!
You are a successful clinician-educator in the Duke Department of Medicine – for someone thinking about this path or may be in it already, what do you find the most exciting part about studying this topic, teaching, and the impact you have on trainees?
My favorite moments as a clinician-educator are when I get an email or stopped in the hallway by someone saying, "I never understood likelihood ratios before! And I do now!" Those are those tingly moments of satisfaction - recognizing that I found a way to communicate a concept that really did resonate with the learner.
What need does this fill for Duke Internal Medicine residents and how does it fulfill your career aspirations?
The purpose of a curriculum like this is to give residents tools to swim through the sea of evolving data. My hope is that it provides them the resources to make sense of what they are seeing and bring it down to the patient care level to apply it. For clinician educators, one of the hardest things to do is to make your body of work tangible. Publishing this book really helps substantiate my 20 years of work. It brings a lot of satisfaction seeing it in print. I might actually be helping learners across the country that I will never meet!
When did you first get interested in studying education within the medicine world?
Residency for sure. I've been teaching ever since other kids in high school were coming to me with questions. I realized I had something to give even back then! In residency it was the tiered approached to team-based care - where you walk in as an intern and you have a medical student with you, there is already someone there to teach. I just found that I loved it, again, communicating things in a way where a lightbulb would turn on for someone. It has brought me so much satisfaction in my career in medicine.
What's next for you?
This is the conclusion of my EBM teaching in some ways. While I was working on the book, I was working on transitioning the Duke Internal Medicine Residency Program's EBM curriculum. This is now being led by Adam Tosh in Hospital Medicine, along with several other faculty (shout out to Rachel Hughes, Steve Telloni, Talal Dahhan, David Edelman, Lalit Verma, and Betty Zhao.) I will continue to teach in Duke's teaching and leading evidence-based practice workshop in the spring, and continue my other work in ambulatory curriculum leadership, advocacy teaching, faculty development, gender equity and racial justice. More to come!