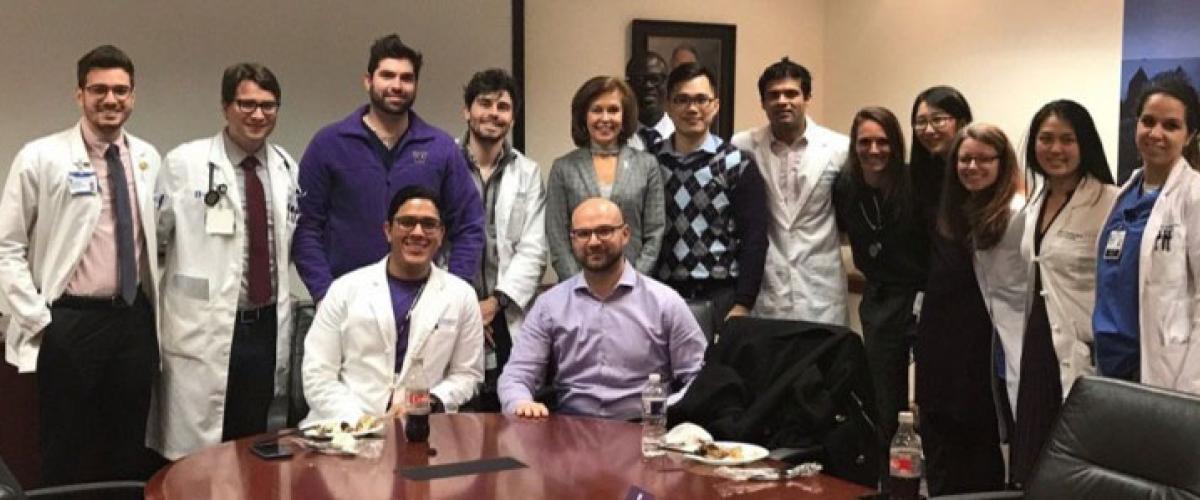 Conferences provide a foundation for the training program. The Division of Gastroenterology holds a variety of conferences each week. Participant and presenter interactions are encouraged to foster the exchange of ideas and promote learning.
Conferences
Summer Lecture Series
These lectures cover the approach to emergent topics that help with on-call responsibilities and common clinical issues encountered on-call and on the inpatient clinical services.
Core Lectures in Gastroenterology and Hepatology
These lectures are held on Wednesdays and Thursdays and cover core topics in Gastroenterology and Hepatology.  Lectures are organized into monthly blocks centered around core themes:
Core Clinical Topics Schedule for 2021-2022
| Month | Topic |
| --- | --- |
| July | Summer Lecture Series |
| August | Summer Lecture Series |
| September | Hepatology |
| October | Small Bowel Disease |
| November | Inflammatory Bowel Disorders |
| December | Pancreaticobiliary Disorders |
| January | Nutrition and Obesity |
| February | Motilty and Functional GI Disorders |
| March | Hepatology |
| April | GI Oncology |
| May | GI Infectious Disorders |
| June | Gastric Disorders |
Clinical Case Conferences
There are two core clinical conference series each month.  Two fellows present cases at each conference.  These are designed to discuss either: common presentations of uncommon conditions or uncommon presentations of common conditions.
General GI Multidisciplinary Conference (Second Thursday of each month)
Hepatology Multidisciplinary Conference (Fourth Thursday of each month)
Multidisciplinary Conferences
These are practical topics presented in a multidisciplinary approach focused on patient management for the purpose of making patient-care decisions with a team of gastroenterologists, surgeons, GI oncologists, pathologists and GI radiologists.
Esophageal Multidisciplinary Conference (First Thursday of each Month)
Pancreatico-biliary Multidisciplinary Conference (Every Tuesday morning)
Inflammatory Bowel Disease Multidisciplinary Conference (First Monday of each Month)
Journal Club
Journal club is held monthly on the fourth Thursday of each month throughout the year.  2 articles are reviewed with faculty with fellows selecting topics related to the core monthly themes and "hot topics."
Gastroenterology Grand Rounds
This conference is held every Wednesday at 8 a.m. This conference is a weekly educational conference with a focus on clinical and research topics, issues and advances related to Gastroenterology and Hepatology.  GI Grand Rounds conferences feature leaders and experts from outside Duke and from other Duke divisions, in addition to Duke GI faculty and trainees. Special GI Grand Rounds sessions include discussion of timely and significant issues, as well as of clinical controversies and quality improvement.
Research Conference
This conference highlights ongoing research by different Duke and External investigators, including fellows, to allow discussion of both specific goals and long-term objectives
Haque's DIGEST
Haque's DIGEST is a monthly literature review that includes selected journal articles on research and development in gastroenterology. The DIGEST is compiled by Mahfuzul Haque, MD, professor of medicine in the Division of Gastroenterology and shared with Duke GI faculty and fellows as a way to stay on top of current research. It is circulated nationally and internationally to more than a thousand GI professionals and institutions. Articles in the DIGEST, which typically have a clinical focus, are selected by Dr. Haque and do not reflect a comprehensive survey of the literature.​
Rotation-Specific Conferences
Fellows attend service conferences when on specific rotations.
Biliary Rotation
Biliary Case Review — This conference is attended by all biliary faculty members, advanced fellows and PAs for patient-management discussions. 
Durham VA Rotation 
VA GI Medical-Surgical Conference — This is a practical, patient-management multidisciplinary conference focusing on making patient care decisions with a team of gastroenterologists, surgeons, GI oncologists, pathologists and GI radiologists.
Hepatology Rotation
Transplant Listing Conference — At this conference, the liver transplant team reviews all patients under consideration for transplantation. At the end of the conference, the patients on the inpatient service are reviewed with the team. Fellows will lead the discussions focusing on the hepatology patients.
Liver Pathology Conference — Pathologists, hepatology faculty members and fellows on the rotation review liver biopsies from the previous week. Fellows should be prepared to provide a brief clinical summary for all biopsies reviewed from the inpatient service.
2021-2022 Monthly Schedule of GI Fellowship/Divisional Educational/Clinical Conferences