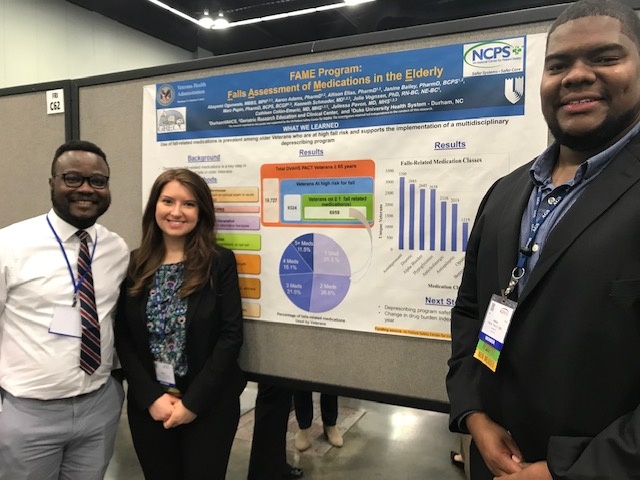 During the first year of the Geriatrics fellowship program fellows attend a variety of conferences and symposia (included below) to gain critical knowledge and skills for practice and careers in geriatric medicine.
Program Curricula
Evidence-based Medicine in Geriatrics -- Director: Dr. Mitchell Heflin
In this 8-part weekly series of interactive didactics with case applications, fellows learn the practice and application of Evidence Based Medicine in geriatrics.
Quality Improvement Course -- Directors: Dr. Gwendolen Buhr and Dr. Mamata Yanamadala
This well tested QI curriculum has been in place since 2008 and has been continuously modified to suit fellows' needs. Fellows are immersed in a half day retreat to learn QI concepts and design projects. They are coached throughout the year with frequent meetings on QI project execution. Many fellows go on to present results of their projects at the Society for Post-Acute and Long-Term Care (AMDA) and American Geriatrics Society National Meetings.
Clinical Teaching Workshop -- Director: Dr. Mamata Yanamadala
This curriculum is based on the Stanford Clinical teaching skills course designed by Dr. Kelly Skeff. Seven interactive sessions provide fellows with the opportunity to learn and master a variety of clinical teaching skills applicable to a variety of settings under guidance of Dr. Mamata Yanamadala, who is a Stanford trained facilitator in clinical teaching.
Advance Course in Long Term Care -- Directors: Dr. Heidi White and Dr. Gwendolen Buhr
Covers key topics in long term care, including medical directorship, team building, and nursing home litigation.
Palliative Care Medicine Retreat Series
Discuss key topics in palliative care, including pain management, non-pain symptom management, communication skills, psychosocial care, and understanding systems of care.
Health Equity Course -- Director: Dr. Mitchell Heflin
Geriatric medicine fellows work with Duke faculty and Durham community leaders to explore the linkages between social factors and health and the ways in which the local community responds.  In particular, participants take a closer look at Durham and the role of race and class on access and privilege in our community.  Participants also examine a variety of ways in which the people of Durham have demonstrated initiative and ingenuity in identifying and addressing inequities.
Weekly Conferences
Conferences are an essential part of the Geriatric Fellowship Program. Fellows are required to attend several weekly conferences and will periodically be invited to present. In addition to Geriatric medicine fellows, conferences are attended by trainees from a variety of other programs, including our geriatric psychiatry fellows, geriatric nurse practitioner fellows, geriatric physical and occupational therapy residents, and trainees from the internal medicine residency, making these conferences excellent multi-disciplinary learning opportunities.
Weekly conferences include:
Geriatric Grand Rounds: Formal presentation of a major topic in Geriatrics and Gerontology. The conference includes a monthly research conference and a monthly education seminar.
Medicine Grand Rounds: Topics requested by members of the Department of Medicine are selected by Chief Medical Residents, Department Chair, and Continuing Medical Education representatives.
Weekly "Check-in" Meetings: Fellows meet with weekly with the program director and a variety of core faculty to discuss clinical cases and/or discuss logistical issues within the program.
Geriatrics Friday Morning Conference: Fellows and pharmacy residents present journal clubs, board reviews, or clinical case conferences in an interactive format with candid follow-up discussions among division members.
There were so many research opportunities during my fellowship year that it was difficult to pick just one! I was lucky to be able to participate in both a QI project through the VA and a process evaluation for the GWEP's outpatient Interdisciplinary Care Team (a project that involved both Duke and Durham resources). It was an interesting year!

Karen Rhea, MD, Class of 2018