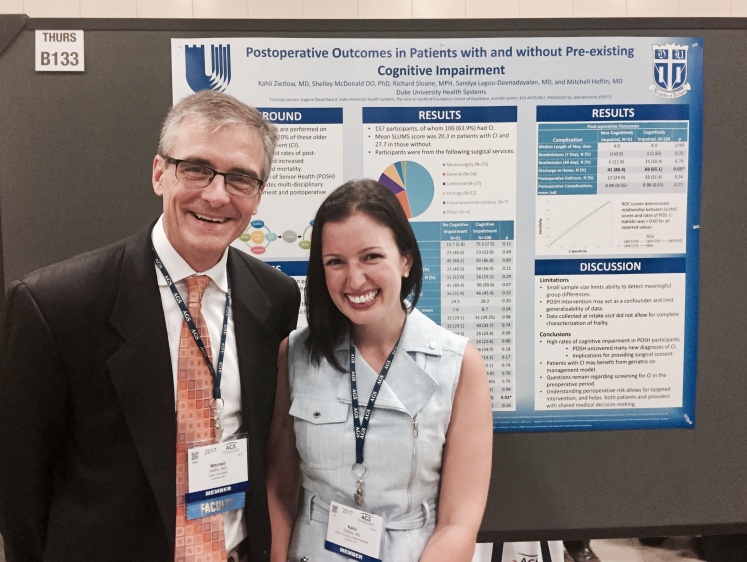 Duke University Health Systems and the Geriatrics Division have a variety of innovative programs that improve delivery of patient care and impact the lives of older adults, both locally and nationally! Fellows are welcome and encouraged to get involved with programs that are of interest to them.  The programs below offer a myriad of research, educational, and quality improvement opportunities for fellows, whether for a short project during the first-year elective month, or a more involved project during advanced fellowship. 
The Duke University and the University of North Carolina Alzheimer's Disease Research Center (Duke/UNC ADRC) brings together leading researchers in Alzheimer's disease and related dementias across two major research institutions.
As an NIH-funded center of excellence, we aim to catalyze and support research, innovations in clinical care and academic work force development (with North Carolina Central University, East Carolina University and UNC Pembroke as partner institutions) in this field. Our ultimate purpose is to reduce the burden of Alzheimer's disease and related dementias regionally and nationally. The outstanding scientific environment at both institutions enables novel research to identify effective methods of prevention and/or early intervention, and to reduce racial and urban/rural disparities associated with dementia.
Please visit the ADRC website to learn more.
The theme of REACH Equity is to develop and test interventions that reduce racial and ethnic disparities in health by improving the quality of patient-centered care in the clinical encounter. REACH Equity seeks to address gaps in current disparities research by focusing on the quality of healthcare delivery in the clinical encounter—a setting where racial and ethnic disparities in care are well-documented.  Although proposed projects can be disease- or setting-specific, REACH Equity is particularly interested in supporting research which is ultimately applicable across diagnoses, settings of care, stages of illness, and throughout the life course.
The overall goal of the Duke Claude D. Pepper Older Americans Independence Center (Duke OAIC) is to support research and training that improves the independence of older Americans. Its primary focus is understanding and optimizing reserve and resilience. The approach is founded on the insight that independence in older adults is related to an individual's ability to withstand or recover from functional decline following acute or chronic health stressors. The overall strategy for the OAIC is to serve as a sustained resource to our investigators through a broad range of training and research studies; the goal will be to address knowledge gaps in our focus with an emphasis on translational and interdisciplinary research. The Pepper Center recruits and develops early stage investigators in aging research related to its focus and utilizes the substantial strengths of the Duke academic and health system environment to advance their work.
Gerofit is a supervised exercise program for older Veterans that was developed at the Durham VA Medical Center in 1986. As a part of Gerofit, veterans are given a personal exercise program based on their physical profile and goals.
Gerofit can include individual and group-based exercises such as Tai Chi, line dancing, balance, core coordination, and strengthening classes. Exercise programs may include treadmills, elliptical machines, stair climbers, bicycles and a variety of strengthening machines. Guidance in carrying out the exercise program is provided by trained exercise staff such as a nurse or physical therapist.
Participants in the program have demonstrated improved health, physical function and well-being. They have shown improvements in blood pressure, diabetes management, symptom management, well-being, quality of life, physical function, overall fitness, and longevity.
Some perioperative patients have had the opportunity to participate in a project called Confusion Avoidance Led by Music (CALM). Numerous studies have demonstrated the effectiveness of personalized music in reducing the perception of pain and anxiety in hospitalized patients, which may in turn reduce incidence of delirium. POSH patients that elect to participate receive an iPod shuffle after surgery with some of their favorite music pre-loaded onto it. They are encouraged to listen to the music in the hospital whenever they wish, but ideally at least twice a day for 20 minutes at a time. Nursing assistants are enlisted to help and encourage patients to listen to the music.
The HOPE Skilled Nursing Facility Collaborative consists of 21 skilled nursing facilities that have agreed to collaborate closely with Duke Health around the goal of providing better, more coordinated care for our shared patients by:
Participating in quarterly conferences and monthly meetings to exchange best practices and address key objectives
Improving rates of scheduling and arrived primary care appointments within 14 days of discharge from their facility
Improving utilization of the Duke Health Transfer Center for ED transfer to Duke Hospitals
Improving transitions from Duke Hospital to their SNF through implementation and use of the Duke MedLink electronic medical record portal
Fellows are exposed to numerous opportunities to develop their educational skill set and become leaders in clinical education.  Fellows receive formal training in clinical education via the Stanford Clinical teaching skills course workshop during their first year and receive formal certification for their participation.  Fellows also present at a variety of conferences throughout the year, and receive formalized, structured feedback from Dr. Sandro Pinheiro, a member of the division specializing in educational competencies.  Informally, fellows have numerous opportunities to supervise and mentor trainees in a variety of clinical settings.
Additionally, fellows can participate in Duke AHEAD, an institution-wide program that promotes excellence in the education of health professionals by creating a community of education scholars, fostering innovation in health professions education, supporting outstanding teachers, providing faculty development programs and facilitating quality education research.
I had the privilege to working on the many facets of the Heath Optimization Program for Elders (HOPE). The program included a hospital intervention to improve the care transitions from hospital to SNF and a broader Duke health system collaboration with local SNFs. During my two years with HOPE, I became an integral member, working with a diverse team to improve the program, monitor data, and present the findings at local and national events. I have gained so much from my time with HOPE, including 1) a deeper understanding of the interaction between account care organizations and SNFs 2) mentorship from leaders in post-acute care field and 3) a clearer vision for the opportunities available in post-acute care. I will treasure this experience forever!

Michael Krol, MD, Class of 2018