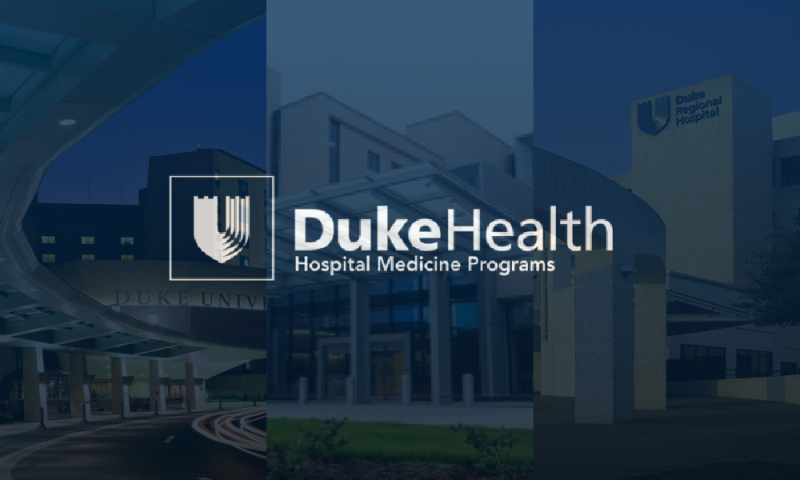 Hospitalists have continued a growing and vital role in care delivery at Duke Health that includes the important missions of clinical care, education, and research.
 
The hospital medicine programs are deeply integrated into clinical operations with more than 200 individuals employed within Duke University Health System (DUHS) as physicians and APPs working at all three DUHS hospitals. Hospital medicine is academically affiliated with the Duke Division of General Internal Medicine and there are 118 hospitalist faculty physicians. The clinical mission includes regular hospital medicine responsibilities such as hospital admissions, rounding, and discharges providing inpatient clinical coverage 365 days and nights per year. The program has grown significantly over the last ten years with gross revenues increasing 295%.  Additionally, there are multiple other clinical areas the team has developed including the expansion of rapid response team coverage, behavioral response teams, inpatient hospice teams, opioid use consult services, perioperative clinical services, and inpatient podiatry. DUHS hospitalists have been identified as outstanding in many areas and continue to be recognized with awards such as 2022 GIM Division Excellence Awards.
Leadership
The leadership team for Duke Hospital Medicine programs includes:
David Gallagher, MD, SFHM – Chief, Hospital Medicine Programs
Ryan Stephenson – Operations Director
Ginger Newbold – Program Manager
Noppon Setji, MD – Medical Director, Duke University Hospital
Lalit Verma, MD – Medical Director, Duke Regional Hospital
Eliseu Chuang, MD – Medical Director, Duke Raleigh Hospital
Dr Jonathan Bae was chosen as DUH Chief Quality officer this year and brings great expertise in quality, safety, and resiliency to the DUH Senior Leadership Team.
Diversity, equity, and inclusion
For several years, the hospital medicine DEI committee has been working to help to record key metrics associated with hospital medicine and identify opportunities for improvement. Sonya Vipul Patel-Nguyen, MD, a medical instructor in internal medicine/pediatrics, and Talia Bernal, MD, a medical instructor, are helping establish goals. We are currently reviewing recruitment practices to ensure diversity within our teams.
Length of stay and Readmissions
Geographic cohorting of patients and hospitalists with incremental case management and pharmacist support can reduce hospital length of stay and readmissions, Duke hospitalist research has demonstrated. Reducing length of stay is important to keep available hospital beds open for other patients that require DUHS inpatient services. 
Mortality rates
By engaging in a goals-of-care discussion with patients who are very ill, care teams and family members initiate end-of-life planning that may improve patient comfort and allow care to be delivered at non-hospital locations in line with patient wishes.
Academics
Hospitalists are involved in training learners of all levels in their inpatient rotations. Hospitalists are actively involved in training residents of internal medicine, family medicine, emergency medicine, psychiatry, and anesthesiology as well as medical students, PA students, NP students, and pharmacy students. This year DUH Hospitalist Dr. Colby Feeney was chosen as Program Director for the Medicine-Pediatrics Residency Program and Dr. Poonam Sharma was selected  as Director for the Duke Medical School PIONEER longitudinal clerkship experience. Dr. Jenny Van Kirk was recognized as the Department of Medicine – Section of Hospital Medicine "Excellence in Education" award recipient.
Hospitalists have also been increasingly involved in quality improvement and patient safety projects as well as clinical research.  Many of these projects were showcased at the 2022 NC Triangle Chapter Abstract Meeting, the 2022 Society of Hospital Medicine Annual Meeting, and the 2022 Duke Health Quality and Safety Conference. DUH Hospitalist Dr. Lana Wahid has been identified as a key early researcher within hospital medicine and chosen as the Medical Director of the Duke Early Phase Research Unit. DUH Hospitalist Dr. Suchita Sata was selected as one of the Journal of Hospital Medicine Digital media fellows.
Acknowledgment
Duke University Hospital Medicine Programs will miss Dr. Ebony Boulware in her departure to Wake Forest University and recognize that her leadership was instrumental in the many successes of our programs! Thank you, Dr. Boulware!