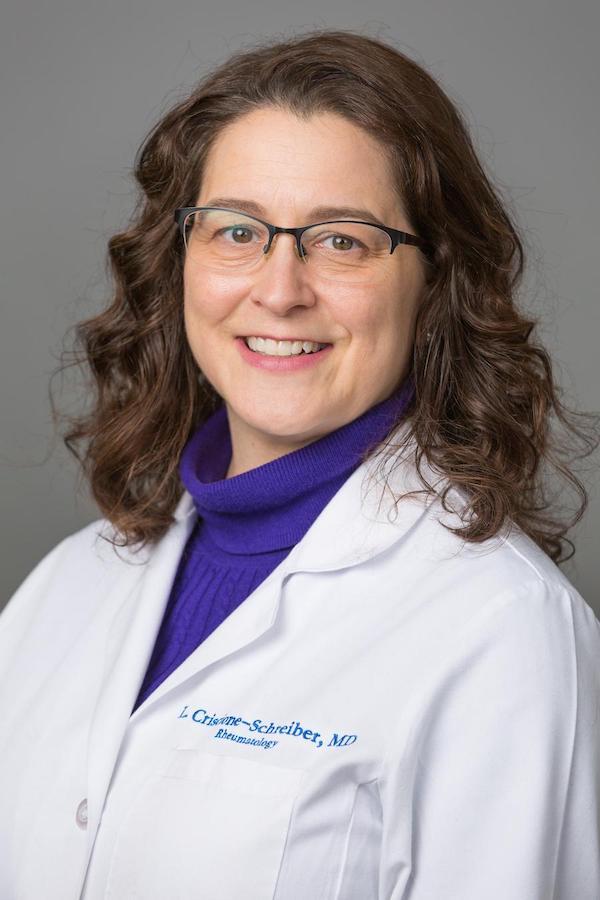 Professor Lisa Criscione-Schreiber, MD, MEd, Vice Chair for Education, has received the American College of Rheumatology (ACR) 2022 Distinguished Fellowship Program Director Award which recognizes outstanding contributions in the mentoring and training of future rheumatologists.
Criscione-Schreiber has mentored 47 rheumatology fellows over 14 years of service as Program Director of the Duke University Hospital Rheumatology Fellowship, stepping down in July to focus her efforts on her role as Vice Chair for Education in the Department of Medicine. She is also personally responsible for numerous pivotal advances and innovations in rheumatology education, her award nominators note.
"It is remarkable to reflect on the fact that she has trained and worked at only one institution throughout her career, yet her impact on rheumatology education stretches across the nation," says her former fellow, David Leverenz, MD, an assistant professor in the division of Rheumatology and Immunology, who nominated Criscione-Schreiber for the award along with William St. Clair, MD, chief, division of Rheumatology and Immunology. 
"It is remarkable to reflect on the fact that she has trained and worked at only one institution throughout her career, yet her impact on rheumatology education stretches across the nation." - Former Duke Rheumatology Fellow, David Leverenz, MD
"She has devoted her entire career to teaching and, for nearly 15 years, superbly directed our rheumatology fellowship training program, launching the careers of many of our best clinician educators," says St. Clair. "She has done a fabulous job in this position over the past 14 years, providing superb direction of our educational activities and mentoring our trainees and future clinician-educators. It has been my pleasure over this time to watch Dr. Criscione-Schreiber grow into an institutional and national leader in rheumatology education."
After joining the faculty in the Division of Rheumatology and Immunology in 2003, Criscione-Schreiber spent five years overseeing the division's medical student rotation before accepting the position of Program Director of the Rheumatology Fellowship Program in 2008. The fellowship program consists of three first- and three second-year fellows and one or more third-year fellows. Through loose collaboration with the Division of Pediatric Rheumatology, Duke also offers a combined adult and pediatric rheumatology fellowship program.
Duke's fellowship training program is associated with three other rheumatology programs in North and South Carolina—University of North Carolina, Medical University of South Carolina, and Wake Forest University School of Medicine— together forming the Carolinas Fellows' Collaborative (CFC). The winter CFC educational conference has included for many years a formative rheumatology objective structured clinical examination (ROSCE).
"Dr. Criscione-Schreiber had the foresight to see the ROSCE as a valuable educational tool owing to its advantages of providing direct learner observation and immediate feedback," St. Clair says.
Through the CFC, Criscione-Schreiber began her scholarly work in medical education, and the ROSCE concept formed the basis of a successful application for the ACR Rheumatology Research Foundation Clinician Scholar Educator Award. The career development grant, which she received in 2011, allowed her to investigate the utility of the ROSCE for teaching rheumatology and to earn a master's degree in education. Afterwards, Criscione-Schreiber continued to represent Duke's fellowship training program in the CFC which has provided a foundation for much of her educational research. She has successfully competed for several Amgen Fellowship Training Awards offered through the ACR Rheumatology Research Foundation as well as other training grants, which have been critically important for maintaining the financial stability of Duke's training program.
In the division of Rheumatology and Immunology, Criscione-Schreiber helped launch a fellowship training program for advanced practice providers, at the time the only such program in this country. At the same time, she had made numerous scholarly contributions describing innovative approaches to rheumatology education.
Criscione-Schreiber's reach extends outside of her division, where she has served on numerous departmental, institutional, and ACR committees focused on various aspects of student, resident, and fellowship training. She has served as chair and member of the ACR Clinician Scholar Educator Advisory Board and as chair and a founding member of the ACR Curriculum Subcommittee of the Committee on Training and Workforce Issues.
In the Department of Medicine at Duke, she has led the Education Scholars Branch of the Faculty Development Academy, co-founded the Medicine Civility Champions Program, and acted as a program facilitator for the Stepping In 4-Respect Program.
"Distinguished leaders in education are not simply those who adapt to change—they drive change," St. Clair says. "Dr. Criscione-Schreiber is certainly such a person."
In 2013, she recognized the need to teach core principles of patient safety and quality improvement (QI) in rheumatology, collaborating with a Duke geriatrician, Dr. Mamata Yanamadala, to create an innovative QI curriculum for rheumatology fellows. Since that time, the curriculum has evolved into an annual hands-on collaborative QI project. Every year since the creation of this curriculum, the Duke rheumatology fellows have successfully presented their QI project as a poster or oral presentation at the ACR Annual Scientific Meeting.
Criscione-Schreiber recently described this curriculum in The Rheumatologist. Another innovative educational program created by Dr. Criscione-Schreiber is a rheumatology fellowship for NPs and PAs. At the time of its creation in 2017, this was the only formal fellowship program for advanced practice providers in rheumatology. This program meets the growing need to expand the rheumatology workforce.
Recently, Criscione-Schreiber obtained a grant from the Arthritis Foundation to support the education and recruitment of medical students from underrepresented in medicine backgrounds, and her leadership activities extend beyond the world of rheumatology.
In 2012, she was a founding senior mentor in the Duke Department of Medicine Faculty Development Academy (FDA). She became Chair of the FDA Education Scholars branch in 2016, in this role creating "education lab meetings" as a space for educators at Duke to collaborate and learn together. In 2017, she became Chair of the Duke Program for Women in Internal Medicine (PWIM), and helped develop the Department of Medicine's Civility Initiative and also helped bring the "Stepping in to Prevent Harassment" curriculum to Duke. In 2019, she served on the School of Medicine's Sexual Harassment Taskforce.
"Clearly, Dr. Criscione-Schreiber is a nationally recognized leader, innovator, and scholar in rheumatology education," Leverenz says. "However, the primary reason she deserves recognition as a Distinguished Fellowship Program Director is her profound impact on the lives of current and former fellows. [When I interviewed for fellowship at Duke] Dr. Criscione-Schreiber provided the most detailed, practical, and honest advice on becoming a medical educator that I had ever heard. Immediately, I knew that I had just met a person who would change my life. She ended our conversation by saying, 'I'm so energized to think about how I can help you make all of this happen!' And that's exactly what she did."