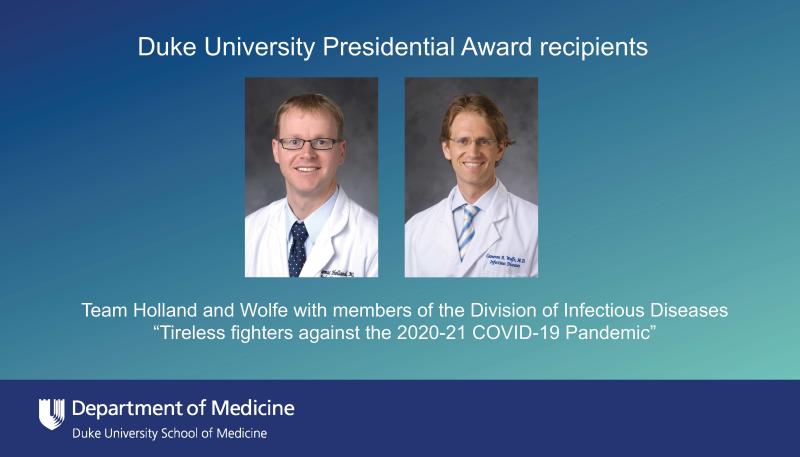 According to their colleagues in the Division of Infectious Diseases, both Thomas Holland, MD, and Cameron Wolfe, MBBS, MPH, richly deserve the Presidential Award for their work during the COVID-19 pandemic. Many coworkers said that over the past year Dr. Holland and Dr. Wolfe seemed to be everywhere, all the time, and many called them "tireless."
The Presidential Award, the highest honor given by Duke to faculty or staff, recognizes those individuals and teams who best represented Duke values in the past year. In an extraordinary year, many at Duke went above and beyond, and President Vincent Price recognized 15 of these groups and individuals for their service. The awards were presented in a virtual ceremony April 14, 2021.
As both a hospitalist and infectious diseases physician, Holland, associate professor of medicine, led the process of setting up dedicated COVID wards, took care of COVID patients, kept the team of hospitalists up-to-date on the latest treatment techniques and therapies, and conducted clinical trials. "First and foremost, we had to take care of patients in front of us," Holland said. "But because we didn't know what worked or how to take care of them best, we needed to conduct high quality research, including clinical trials."
Wolfe, associate professor of medicine, led clinical trials, too, while helping develop pandemic polices in for Duke Health and continuing to care for transplant patients. He also took on many external facing roles: He educated the public by participating on panels and being interviewed by local and national media, and he worked with groups outside the health system, such as Duke University, the state of North Carolina, the Atlantic Coast Conference (ACC), and the National Collegiate Athletic Association (NCAA), to develop sound policies to keep people safe.
Looking back over the past 14 months, both referred to Duke's clinical COVID research as being a point of pride.
Wolfe said, "I'm very proud of how the hospital as a whole has been able to carry out research under the framework of a pandemic. There have been many hospitals that weren't able to coordinate all their research efforts that way, and that's really a credit to Tom Holland and to Susanna Naggie, MD, MPH, who has been the director of the research effort." Dr. Naggie, associate professor of medicine, is the vice dean for clinical research in the School of Medicine. Naggie not only oversaw the COVID clinical trial enterprise, she also led the effort to lease, outfit, and staff an off-campus facility for outpatient clinical trials.
The Beginning
The pandemic began for Duke in mid-January, when a patient with flu-like symptoms and a history of travel to China was admitted to Duke University Hospital. Wolfe, Holland, and others in the Infectious Diseases division drew on past experiences with highly contagious pathogens like H1N1 flu and Ebola to care for the patient, who, it turned out, did not have COVID. But it was clear that COVID patients would be coming, and the division began preparing in earnest.
In mid-March, the first COVID patients were admitted.
An incident command center was set up in the Duke Medical Pavilion, where infection control experts Becky Smith, MD, Sarah Lewis, MD, MPH, Jessica Seidelman, MD, MPH, and Ibukun Kalu, MD, with assistance from many others including Schaefer Spires, MD, and Sonali Advani, MD, developed and disseminated infection-control policies, managed PPE supply, and, in a thousand different ways, tried to stay one step ahead of the pandemic. 
Libby Dodds Ashley, PharmD, associate professor of medicine, began sending an email first thing every morning to those in the Command Center (and later hundreds of others), with case counts, state and federal guidance, and the day's research news. (Holland said, "I read that religiously.")
Across the street, Christopher Hostler, MD, MPH, assistant professor of medicine, helped set up the incident command center at the Durham VA Health Care System and served as its medical advisor.
Kristen Dicks, MD, MPH, assistant professor of medicine, developed back-up call schedules to cover division members who had new responsibilities or were out due to illness, possible exposure, or family or childcare duties. ("We had to get creative," she said.)
As the pandemic grew, infection control specialists educated frontline providers on the latest guidance and fielded calls 24 hours a day from healthcare workers in the hospital.
Dozens of other faculty, staff, trainees, and students found ways to help out, big and small.
"It takes a team to respond to a crisis and the Infectious Diseases division responded as a team," said Division Chief John Perfect, MD, the James B. Duke Distinguished Professor of Medicine. "Everybody played a part."
'Just Call One of These Two Dudes'
"Tom and Cam are definitely role models of what our entire division has aspired to in a year of incredible challenges," said Eileen Maziarz, MD, assistant professor of medicine and director of the Infectious Diseases Fellowship Program. "I'm pretty sure neither of them took a day off in almost a year. It's been really remarkable to see their commitment to our patients, our research initiatives, and our community."
Rebekah Moehring, MD, MPH, associate professor of medicine, said, "I can't think of two more deserving people, truthfully. Tom led the group of hospitalists not just in clinical management of patients, but as a thought leader, problem solver, and overall resource for everyone who needed a question answered. Cam has an amazing network of people around the country that he's in constant contact with. He has this point of view that helps us stay on the cutting edge. Whenever anyone runs into a tough case, they just call one of these two dudes."
For their part, Holland and Wolfe are eager to spread the credit around.
"I think I speak for both of us when I say Cam and I feel like we're accepting the award on behalf of a lot of people who have done this work," Holland said. "There are dozens and dozens of people who have put in similar amounts of effort in response to this pandemic who equally deserve this recognition."
Wolfe said, "Some of us get recognized because we have had our face on TV or are involved in athletics or clinical trials, but there's bunch of people in the background who don't get the recognition they deserve. How humbling to see people rolling up their sleeves and doing what they do. The nursing staff, going in and out of rooms continually, counseling patients. The people in Clinical Microbiology Lab who completely regenerated their work flow to make us safe."
Holland called the work of the Clinical Microbiology Lab "absolutely heroic." Christopher Polage, MD, associate professor of pathology, is medical director of the lab, whose members overcame multiple obstacles to develop a COVID test so Duke providers could diagnose patients locally without having to wait for results from outside labs or the CDC. In fact, over the course of the year, the team developed nine different COVID tests to meet the ever-increasing demand and to avoid being hamstrung by the supply shortages that affected many labs nationwide. At the height of the pandemic, the lab was performing COVID tests for Duke patients, Duke University students, and individuals from local skilled nursing facilities, homeless shelters, prisons, and underserved communities. And all of this was on top of their regular work of testing Duke patients for other infectious agents.
The thank-you list goes on: patients who volunteered to participate in clinical research trials, and all the Duke University faculty, staff, and students who complied with social distancing requirements and a regular schedule of surveillance testing.
"The other people who deserve a hell of a lot of credit are all our spouses, who held the forts down," said Wolfe, who noted many in the division have young children at home.
Beyond Duke
Holland, Wolfe, and their colleagues cared not only for Duke patients, but also for vulnerable populations in the community.
Dr. Polage, the director of the Clinical Microbiology Laboratory, said, "Something you need to know about Dr. Perfect's Infectious Diseases team," and paused for a moment. "Pardon me if I get emotional, but people have gone out of their way to do the right thing and to care for people around us in the world. Nick Turner and others have been going to homeless shelters and gowning up and swabbing people. Cam Wolfe and others were gowning up and going to nursing homes. They would come to me, and we would give them boxes of swabs."
Nicholas Turner, MD, MHSc, assistant professor of medicine, and many other volunteers, tested people at homeless shelters, helped shelter managers come up with policies and solutions relating to isolation and quarantine, and have now begun vaccinating homeless people.
"We're not just a hospital," Wolfe said, "We live in a community. When we started to first get our nursing home outbreaks in March and April, I would walk in the ER and say, 'I need a team of people to go out to nursing homes to swab people,' and the hands would go up and these teams of nursing staff would come out and put themselves right in the middle of an outbreak."
Dr. Hostler's team went to the addiction treatment center in Butner to test more than 1,100 people during an outbreak.
'We Signed up for This'
The past 14 months have served up a brutal workload to those in the Infectious Diseases division, but they aren't complaining. As Dr. Perfect said, "We signed up for this."
"Taking care of patients is what we do," Holland said. "I don't think doctors are heroic any more than every teacher, every environmental service worker and others who had to be exposed to risk. We weren't uniquely heroic in rising to the challenge of COVID, but it's definitely been a lot of work this year."
And with the extra workload and stress came the rewards of successfully rising to a challenge of epic proportions as a team.
"There was a feeling of camaraderie and community and shared purpose," said Dr. Maziarz. "That's something that can fuel you when you're tired or overwhelmed by what you are facing."
"Everyone rolled up their sleeves and pitched in," Wolfe said. "I feel really lucky to have been able to watch all the pieces move and see how much everyone came together."
This story was written by Mary-Russell Roberson, a freelance writer for the Department of Medicine.