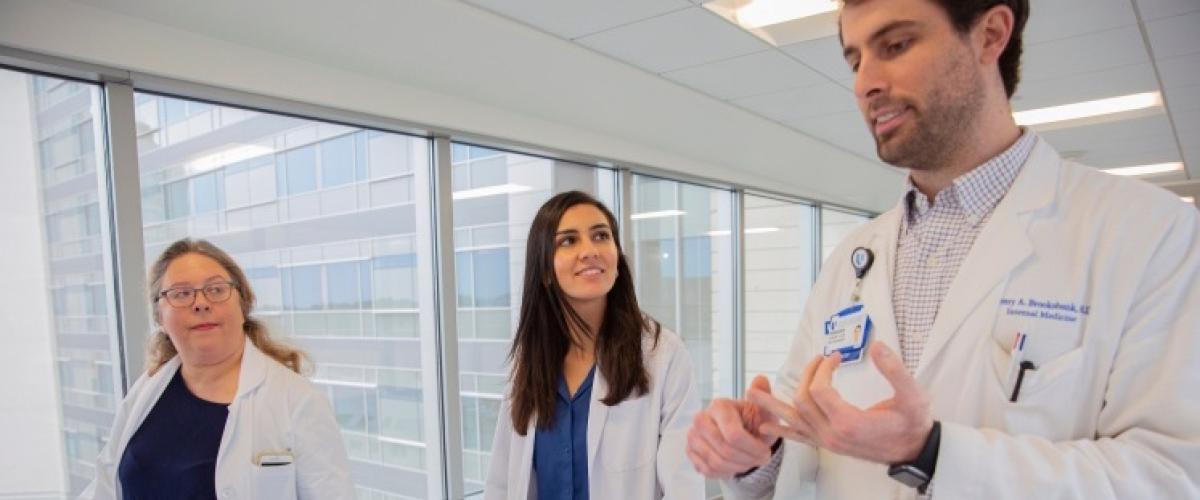 Endocrinologists in our division offer expert diagnosis and treatment of diabetes and other diseases and conditions affecting the endocrine system including thyroid, parathyroid, adrenal, pituitary and gonadal disorders.
Physicians in the division have special expertise in osteoporosis and bone disease, disorders of lipid metabolism, and diabetes management with insulin pumps. The Duke Division of Endocrinology also has specialized clinics in gender medicine, PCOS, thyroid ultrasound procedures, and diabetes pumps and sensors. We have multi-discipline programs including endocrine neoplasia, endocrinopathies in pregnancy, and cardiovascular prevention.
In addition, members of the Duke Division of Endocrinology partner with members of the Department of Surgery in the treatment and management of tumors of the endocrine glands including thyroid, parathyroid, adrenal and pituitary tumors, as well as pre- and post-operative care of patients undergoing bariatric surgery.
Our diabetes treatment programs include intensive education programs for patients and their families.
Click here to view a complete listing of treatments for endocrine disorders on DukeHealth.org.
Duke Endocrinology of Brier Creek
Brier Creek Medical Pavilion
10207 Cerny Street, Suite 306
Raleigh, NC 27617
Duke Endocrinology South Durham
Duke Health Center South Durham
234 Crooked Creek Pkwy, Suite 400
Durham, NC 27713
Duke Endocrinology of Raleigh
Duke Medicine Plaza (MOB 8)
3480 Wake Forest Rd, Suite 414
Raleigh, NC 27609