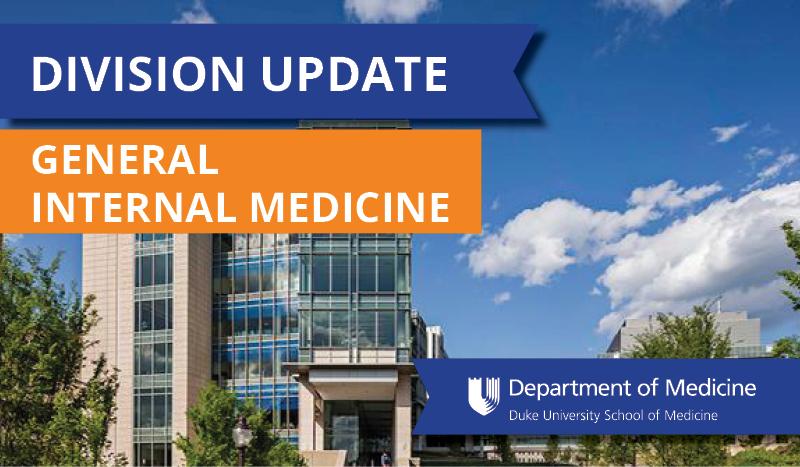 By William Yancy, MD
Interim Chief, Division of General Internal Medicine
The Division of General Internal Medicine at Duke strives to improve adult patient, family, community, and population health through exemplary patient care, education, and research. Perhaps most importantly, we have maintained core values of excellence, integrity, kindness, and commitment to health and health equity for our patients and our communities.
Our division had an outstanding presence in the recent Society of General Internal Medicine annual meeting earlier this month in Colorado, including 23 presentations by Duke faculty, fellows, residents, and medical students.
Patient Care
Our clinical programs have continually provided exemplary care and have generated new innovations that have advanced clinical practice standards locally and nationally.
In our hospitals, we have recently expanded rapid response team coverage, behavioral response teams, inpatient hospice teams, opioid use consult services, perioperative clinical services, and inpatient podiatry. In our outpatient clinics, we are working to improve health equity by expanding our services in addiction medicine, women's health, obesity medicine, and palliative care. The Duke Palliative Care program celebrated 25 years this spring, a program that was impressively built from the ground up at Duke. Several of our faculty were recent recipients of Duke Institute of Health Innovation (DIHI) awards, working to improve health through clinical innovation.
I want to thank our faculty for dealing with the Duke Health Integrated Practice (DHIP) transition with grace this past year. Thank you also to the administrative staff that also helped in this process. Over time, we anticipate a more aligned clinical enterprise that will enable more seamless and coordinated patient care. 
Education
Our education and training programs have been continually recognized as anchors for our department and the medical school, garnering local and national recognition. GIM is proud to have so many outstanding faculty who are training the next generation of master clinicians, researchers, and leaders in delivering and studying patient-centered, high-value, and highest quality care.
Poonam Sharma was selected to serve as the new Director of PIONEER (outPatient Integrated lONgitudinal ExpERience) for second-year medical students. In this program, students will have more one-on-one experiences and relationships with clinicians whose clinic they return to week after week and the preceptors will be able to better invest in students' growth over the course of the program.
Daniella Zipkin continues to lead the Advocacy in Clinical Leadership Track for internal medicine residents, which played a pivotal role in moving Medicaid expansion legislation forward. Caroline Sloan has extended this advocacy work and has developed the Fellows Advocacy Curriculum that will kick-off this year. Nia S. Mitchell directs our GIM Fellowship Program. Of the eight Associate Program Directors for the Duke Internal Medicine Residency Program, we are proud that four of them are GIM faculty members (Drs. Joel Boggan, Nia S. Mitchell, Jenny Van Kirk, and Dani Zipkin). Numerous other accolades exemplify the outstanding contributions of our faculty educators.
Research
Our research programs have grown in breadth, size, and impact— addressing the critical needs of patients and our communities. Through innovative research, we are studying ways to expand the delivery of high-quality equitable care. Lana Wahid is the Associate Chief of the newly launched Hospital-Based Clinical Trials and Research Program, which improves access of research to patients across the research triangle and in underserved populations. Several others are conducting research to study and intervene on mechanisms for poor health outcomes, including studies in obesity, kidney disease, aging, and health care costs. These studies include new ways to interrogate our electronic health records for research.
DEI
Our division is committed to providing a culture of inclusion and equality for all of its faculty, staff, and trainees. We have three Vice Chiefs for Diversity, Equity, and Inclusion in our division: Drs. Fatima Syed (Ambulatory & Research), Sonya Patel-Nguyen (Hospital Medicine), and Karen Jooste (Palliative Care). They have been hard at work understanding the current state of our culture, recruitment, retention, and promotion status. They conducted a culture survey, are addressing faculty concerns, and are developing a system of DEI best practices moving forward so we can further increase diversity in our division and department.
---
These highlights only 'scratch the surface' on the range of impactful events happening in GIM. I invite you to learn more about our division by reading our 2022 Annual Report or subscribing to our award-winning weekly newsletter. I want to thank everyone in our division for their outstanding work, dedication, and devotion.