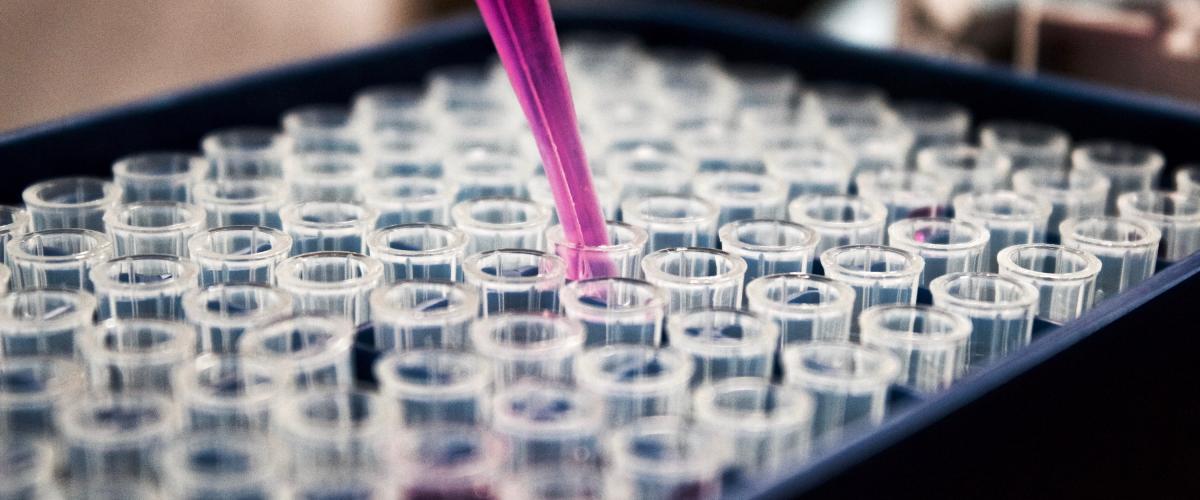 The Center for Infectious Disease Diagnostics & Innovation (CIDDI) molecular diagnostic initiatives bring together expertise and infrastructure of the Precision Diagnostics Laboratory with the Molecular Epidemiology Research Lab (MERL) to support discovery and development of host response biomarkers and signatures, and next-generation point-of-need molecular diagnostic assay and device technologies.
Please contact our team to discuss your collaborative research opportunities.
Precision Diagnostics Lab
The Precision Diagnostics Lab leverages expertise and resources of the CIDDI in developing host-based genomic signatures of health and disease with the cutting-edge engineering, material science, and data analytics programs at Duke and beyond to advance development of next-generation diagnostic technologies.
The Precision Diagnostics Lab has standardized protocols and workflows to perform clinical research sample processing, extraction and QC, and biomarker discovery and verification analyses.  Capabilities include genome-wide discovery assays (genomic, epigenetic, and proteome/metabolite assays) and targeted, quantitative measurements of specific gene products or analyte panels, with the goal of migrating biomarker signatures from unbiased discovery studies to targeted, multi-analyte assay platforms suitable for rapid point-of-need diagnostic use.  The lab interfaces as well with the Duke -omics core facilities, including Genome Sequencing and Proteomics and Metabolomics Cores, to generate -omics data in support of genome-inspired discovery studies. Key capabilities include:
Specimen processing and quality assessment

Preparation of genomic and epigenetic libraries including RNAseq and ATACseq

Real-time qPCR with automated plate loading

Novel assay platform development, refinement, and performance assessment
The Precision Diagnostics Lab occupies ~1000 sq. ft. of dedicated wet-lab workspace located on the second floor of the Fitzpatrick CIEMAS building. The laboratory is equipped with infrastructure and equipment including Applied Biosystems 7900HT real-time PCR system, Agilent Bioanalyzer 2100, Nanodrop 2000, Qubit fluorometer, Countess automated cell counter, certified class-II biological safety cabinets, PCR workstation cabinet, refrigerated centrifuge and microcentrifuges, -80C ULT freezers (monitored, alarmed, and power backup).  Other equipment includes: -20C freezer and +4C refrigerator, PCR thermal cycler, gel electrophoresis systems and power supplies, hand-held liquid handling equipment, and analytic and top-loading balance.
MERL Lab
The Molecular Epidemiology Research Lab (MERL) is a developmental extension of the Durham Veterans Affairs Medical Center Clinical laboratory, and is directed by Dr. Christopher Woods, Chief of Molecular Microbiology at the Durham VAMC and is supervised by Bradly Nicholson, PhD. The laboratory brings to bear expertise in classical clinical microbiology, epidemiology, clinical research, and contemporary molecular microbiology. 
The MERL laboratory has developed standardized operating procedures for the collection, processing, and storage of clinical research samples for use in a diverse range of clinical and epidemiological diagnostic studies. For example, the laboratory directed the sample collection, processing, and detection of diverse respiratory viral pathogens for studies that examined early phase host response diagnostic development following human challenge studies in several offsite clinical research locations. From the 7 total challenge cohorts enrolled, more than 100 volunteer subjects produced over 50,000 clinical samples that were processed and analyzed at the MERL as part of our diagnostic development program. In addition, the MERL supports several large, ongoing cohort studies for the development and validation of host response diagnostic tests.  These include the Community-Acquired Respiratory Disease Study (CARDS) of Duke University Freshman and a similar study in the Durham VA Medical Center long-term care unit.
In addition to the 2,400 square foot comprising the Clinical Microbiology Laboratory at the Durham VAMC, the MERL includes an additional ~1500 sf, 225 office, and 1275 wet lab of which 330 is shared space.  Standard laboratory equipment includes an autoclave, laboratory oven, 2 Monitored –80°C freezers, -20°C freezer, Table Top Centrifuge (Processing blood), 3 Micro-centrifuge (Molecular assays), Agarose Gel Electrophoresis equipment & power supplies, 2 Refrigerators, a Cold Room, 2 Fume Hoods, 2 Biosafety Cabinets,1 Dead-Air Box.  Other major equipment includes, 2 Pulsed Field Gel Electrophoresis Rigs (Bio-Rad), a Gel Doc Imaging system (Bio-Rad), BioNumerics Analysis Package, LightCycler v1.0 (Roche), 2 LightCycler v2.0 (Roche), MagNA Lyser (Roche), Qiagen EZ1 Sample Prep. Robot, Qiagen LiquiChip (Luminex Platform), Qiagen Pyrosequencer, Bactron IV Anaerobic Chamber, Mini-Vidas, My-Cycler (Bio-Rad PCR Instrument), and a PE 9600 (PCR).
Meet Our Team
Precision Diagnostics Lab