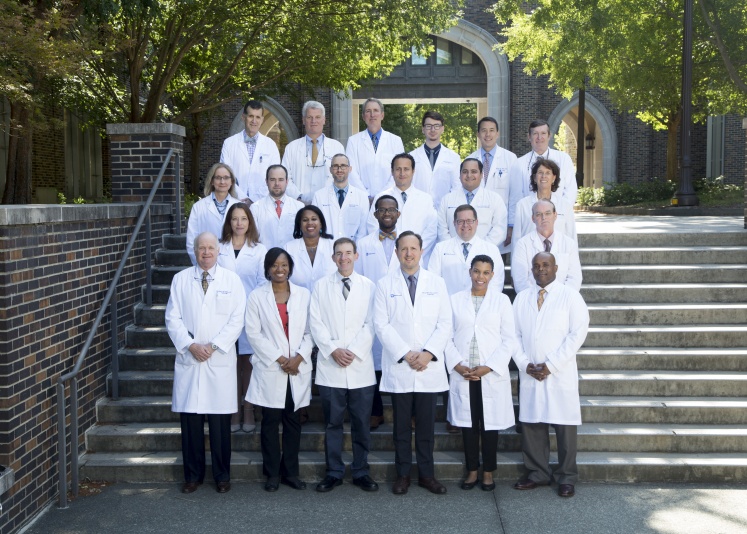 ​Mission
The mission of Duke Nephrology is to combine the delivery of outstanding clinical care with cutting-edge research and innovative teaching. To this end, the programs in the division are structured to address the most pressing needs facing patients with kidney diseases.
Areas of emphasis include the treatment of end-stage kidney disease, genetics, disparities, kidney transplantation, hypertension, and bone and mineral metabolism.
Commitment to Quality Care
Our clinical practices focus on delivering excellent care to all of our patients.
The division provides clinical consultation in all aspects of kidney disease, water and electrolyte metabolism, disturbances of bone and mineral metabolism, hypertension, transplantation, onconephrology, glomerulonephritis, and immunosuppression.
We also furnish active acute dialysis services and continuous renal replacement therapies for inpatients. In addition, we have a robust kidney transplantation program and a substantial outpatient dialysis program serving Durham and surrounding counties.
The depth and size of our clinical program provides a strong basis for our active training program and for a diverse clinical research program.
Research
We have active basic research programs focused on hypertension, diabetes, chronic kidney disease, autoimmune disease, hereditary kidney disease, transplantation, renal replacement therapy, and other issues related to kidney disease. 
Education
The Duke Nephrology Training program excels in all aspects of nephrology including renal replacement therapy, glomerular disorders, electrolyte abnormalities, transplantation, hypertension, education, global health, informatics and clinical and basic science research. Our fellowship program includes both a 2-year clinical tract (with clinical concentrations) and 3-4 year research tracts. All fellows who match to our program will have the opportunity to complete either tract. We also have a separate 1 year clinical training program in kidney transplantation.
History
For 50 years the Duke Division of Nephrology has excelled in the study, diagnosis, and treatment of kidney disease. Our distinguished faculty members have consistently been leaders in research, bringing innovations from the laboratory bench to the patient's bedside.