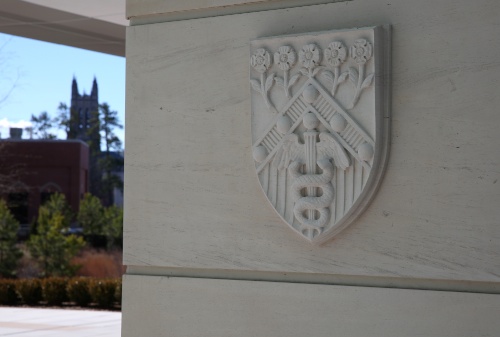 Duke Nephrology maintains a multidisciplinary research effort with contributions from clinical and laboratory-based investigation.
Basic and Translational Research
Nephrology faculty members are engaged in active basic research programs focused on diabetic kidney disease, transplantation, calcium homeostasis and bone metabolism, inflammatory diseases of the kidney, and genetic mechanisms of hypertension.
More about current basic and translational research studies.
Clinical Trials
View a list of current Nephrology clinical trial opportunities.
Clinical Research
Researchers within the division also engage in active clinical research designed to more effectively diagnose and treat end-stage renal disease, kidney transplantation, hypertension, and bone and mineral metabolism.
More about current clinical research.
Institute Collaboration
Duke Nephrology faculty work in multidisciplinary teams to integrate inpatient and outpatient clinical services with clinical, translational, and basic research programs. Their work largely takes place in the centers listed below.
Centers and Institutes:
Duke Cardiovascular Research Center (Duke CVRC)
Under the direction of Howard Rockman, MD the Duke CVRC promotes and stimulates basic discoveries that will advance understanding of the molecular pathogenesis of cardiovascular diseases that will enhance clinical care, by developing novel diagnostic strategies, and identifying new targets for therapy. To promote these objectives, the Center provides a framework of support of more than 60 faculty members spanning six academic departments at Duke University and Duke-NUS in Singapore. Through the Center, we have launched a series of programs designed to encourage the development of an interactive and synergistic community of scientists focused on addressing critical problems in cardiovascular disease.
Duke Molecular Physiology Institute (DMPI)
The DMPI's mission is to produce integrated multi-omics and physiologic profiles of chronic human diseases, and to use such profiles to develop new disease detection strategies, novel therapies, and insights into disease mechanisms. The center is directed by Dr. Chris Newgard.
The Duke Hypertension Center
The Hypertension Center provides a focus for the care of hypertensive patients and for broad initiatives in hypertension research.
Duke Institute for Renal Outcomes Research at Duke Clinical Research Institute (DCRI)
The Duke Institute for Renal Outcomes Research provides training and research in epidemiology and outcomes of patients with renal disease.
Sarah W. Stedman Nutrition and Metabolism Center
Under the direction of Laura P. Svetkey, MD, MHS, the Stedman Center provides clinical research into:
Mechanisms involved in regulation of insulin secretion from the pancreas

How the body uses dietary copper and iron

Mechanisms by which nutrition links to immune system function

Mechanisms involved in whole body fuel homeostasis, including the responses of muscle and liver to overnutrition and exercise

The role of microRNAs in control of pancreatic islet function and survival