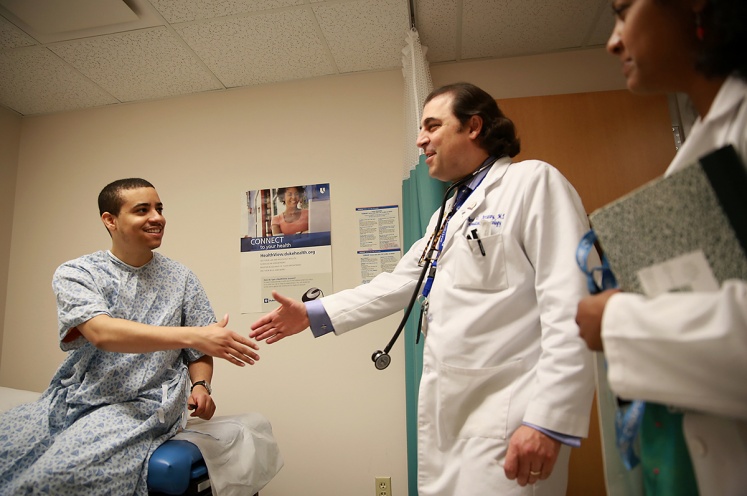 Providers within the Duke Division of Hematology diagnose and manage a variety of hematologic disorders in adults throughout the greater Triangle. Our providers include doctors, physician assistants, pharmacists, and nurse clinicians who provide the full spectrum of care for patients with non-malignant hematologic disorders.
Clinical Programs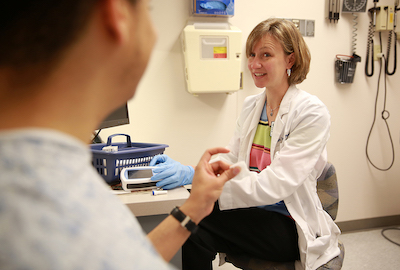 Learn more from DukeMedicine about internal medicine care for adults and how to find a doctor and a location.
In addition to our general hematology clinics, where we see patients with a variety of problems including anemia, thrombocytopenia, leukopenia, and related problems, our providers are also clinical leaders in the following subspecialty areas:
Anticoagulation Management Service 
The Anticoagulation Management Service manages patients on antithrombotic therapies. Areas of expertise include perioperative management of anticoagulant therapy, decisions about optimal anticoagulant therapy, and management of anticoagulant therapy in patients with other medical conditions, including cancer and during pregnancy.  Providers in the Anticoagulation Clinic include Archana Khandelwal, MD, Serena Eldridge, PA-C, Kim Hodulik, PharmD, Michelle Schoonover, PharmD, and Karen Baker, RN.  Dr. Tom Ortel is the Medical Director of the Anticoagulation Management Service.
Hemostasis & Thrombosis Clinic
The Hemostasis & Thrombosis Clinic sees patients with a variety of hemorrhagic and thrombotic disorders.  Areas of expertise include the diagnosis and management of patients with hemophilia and von Willebrand disease, acquired factor inhibitors, qualitative platelet defects, and rare thrombotic disorders, including antiphospholipid antibody syndrome and heparin-induced thrombocytopenia.  Providers who see patients in the HTC include Gow Arepally, MD and Thomas Ortel, MD, PhD.
Sickle Cell Clinic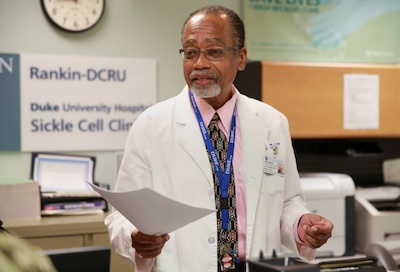 The Sickle Cell Clinic provides outpatient care for patients with sickle cell disease and other hemoglobinopathies.  The Clinic oversees the Day Hospital which is open six days a week to provide urgent management of patients with sickle cell disease and pain crisis or other problems.  The Sickle Cell Transition Clinic sees young adults with sickle cell disease who are transitioning from the pediatric to the adult sickle cell clinic.  Providers in the adult Sickle Cell clinic include JJ Strouse, MD, PhD, Nirmish Shah, MD, Soheir Adam, MD, Charity Oyedeji, MD, Joy Curry, NP, Katie Colosimo, NP, Shieghetha Edwards, NP, and Ranitha Dep, PA-C.
Myeloproliferative Neoplasms Clinic 
The MPN Clinic sees patients with polycythemia vera, essential thrombocytosis, and primary myelofibrosis. Providers who see patients in the MPN Clinic include Sandy El Bitar, MD and Srikala Addepalli, MD.
Apheresis Outpatient Service
The Apheresis Service provides outpatient care in Duke Clinic 2N.  The service provides outpatient apheresis for patients with a wide variety of clinical conditions, including plasma exchange for thrombotic thrombocytopenic purpura and red cell exchange for sickle cell disease.  Dr. Grace Lee is the Medical Director of the Apheresis Service.  Providers in the Apheresis Outpatient Service include Kelsey Starnes, NP, Joy Curry, NP, and Soheir Adam, MD.
Durham VA Medical Center
The Division of Hematology provides outpatient subspecialty service at the Durham VAMC.  Providers who see patients at the Durham VAMC include Ammon Fager, MD, PhD.
Click here for a full list of treatments for hematology and blood disorders at DukeMedicine.org.