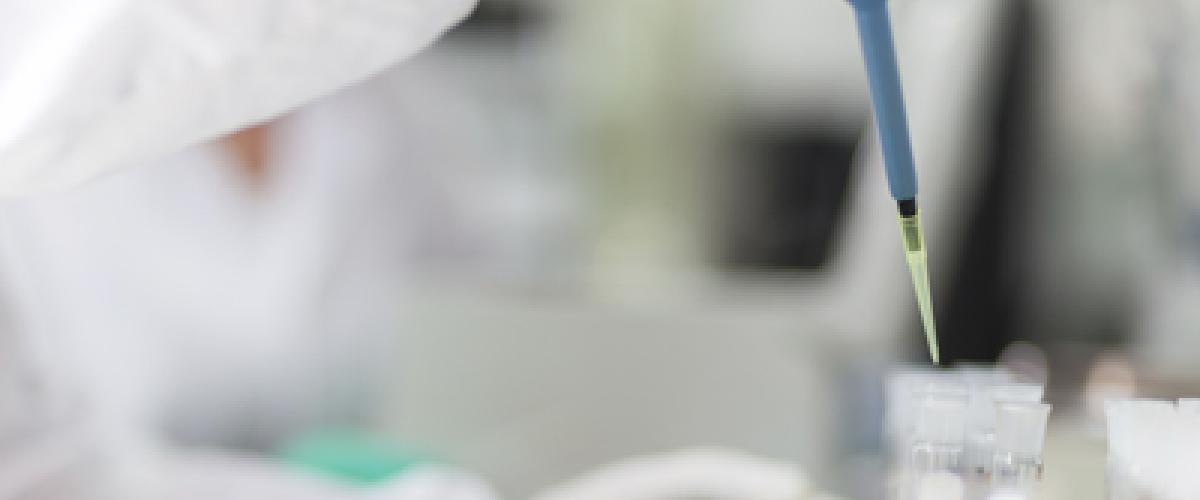 Duke Division of Hematology faculty members work in multidisciplinary teams to integrate inpatient and outpatient clinical services with clinical, translational, and basic research programs.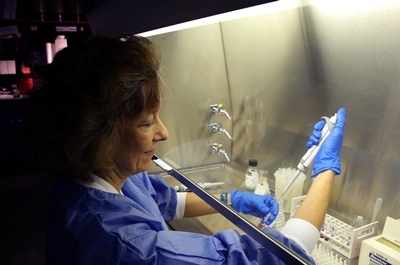 Collaborators include researchers in other divisions in the Department of Medicine, the departments of Obstetrics and Gynecology, Surgery, Pediatrics and Radiology, the Duke Clinical Research Institute, the Duke Cancer Institute and Duke Molecular Physiology Institute.
Hemostasis and Thrombosis Core Laboratory
The Hemostasis and Thrombosis Center Core Laboratory offers an extensive array of routine and specialized assays for the assessment of normal hemostatic pathways. Services also include research protocol development and experimental study design, as well as data management and sample banking.
Dr. Thomas Ortel is the Director for the HTC Core Laboratory. He is Board-certified in Hematology and is the medical director of the Duke Clinical Coagulation and Platelet Antibody Laboratories. 
Specialties:
Hemostasis Testing - Includes coagulation screening assays as well as testing for individual coagulation factors, factor inhibitors and von Willebrand factor analysis.
Platelet Studies - Includes screening assays for platelet function, platelet aggregometry, flow cytometric and ELISA analyses for anti-platelet antibodies, drug-induced anti-platelet antibodies, and flow cytometric analysis of platelet activation.
Thrombosis Testing - Includes testing for natural anticoagulants, fibrinolytic proteins, testing for lupus anticoagulants, anticardiolipin antibodies, and anti-b2 glycoprotein I antibodies, homocysteine levels, and molecular diagnostics for factor V and prothrombin.
Hemostasis Testing in Animal Model Systems (e.g. murine, rat and baboon).
Pediatric Testing - Adaptation of assays to minimize blood volumes.
Test Development - Expertise in development of novel analytic strategies for evaluating and monitoring hemostatic mechanisms, including assessment of novel antithrombotic therapies, hemostatic agents, etc.
Research studies recently supported by the HTC Core Laboratory:
Jiang W, Boyle SH, Ortel TL, Samad Z, Velazquez EJ, Harrison RW, Wilson J, Kuhn C, Williams RR, O'Connor CM, Becker RC.  Platelet aggregation and mental stress induced myocardial ischemia: results from the Responses of Myocardial Ischemia to Escitalopram Treatment (REMIT) study.  Am Heart J, 2015; 169: 496-507.
Vavalle JP, Rusconi CP, Zelenkofske S, Wargin WA, Ortel TL, Alexander JH, Povsic TJ, Becker RC.  The effect of the REG2 anticoagulation system on thrombin generation kinetics: a pharmacodynamic and pharmacokinetic first-in-human study.  J Thromb Thrombolysis, 2014; 38: 275-284
Ellero-Simatos S, Lewis JP, Georgiades A, Yerges-Armstrong LM, Beitelshees AL, Horenstein RB, Dane A, Harms AC, Ramaker R, Vreeken RJ, Perry CJ, Zhu H, Sanchez CL, Kuhn C, Ortel TL, Shuldiner AR, Hankemeier T, Kaddurah-Daouk R, on behalf of the Pharmacometabolomics Research Network.  Pharmacometabolomics reveals that serotonin is implicated in aspirin response variability.  CPT: Pharmacometrics Syst Pharmacology, 2014; 3: e125.
Voora D, Cyr D, Lucas J, Chi J-T, Dungan J, McCaffrey TA, Katz R, Newby LK, Kraus WE, Becker RC, Ortel TL, Ginsburg GS.  Aspirin exposure reveals novel genes associated with platelet function and cardiovascular events.  J Am Coll Cardiol, 2013; 62: 1267-76
Berger JS, Becker RC, Kuhn C, Helms MJ, Ortel TL, Williams R.  Hyperreactive platelet phenotypes: relationship to altered serotonin transporter number, transport kinetics and intrinsic response to adrenergic co-stimulation.  Thromb Haemost, 2013; 109: 85-92
Shah N, Thornburg C, Telen MJ, Ortel TL.  Characterization of the hypercoagulable state in patients with sickle cell disease.  Thromb Res, 2012; 130: e241-5.
Contact Us 
Location: Clinic 1E 
40 Duke Medicine Circle
Durham, NC 27710 
Main Line: 919-684-5350 
Appointments: 919-620-5300
Billing/Insurance: 800-782-6945