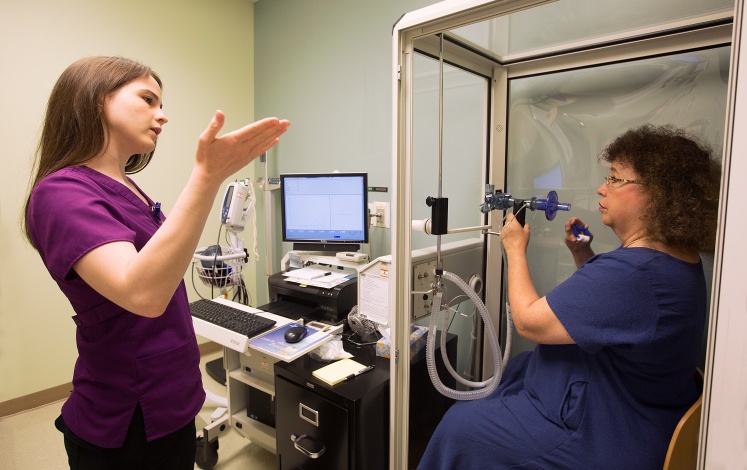 Evaluation and management of a wide range of allergic, immunodeficiencies, and lung diseases are offered at the Center. In addition to the full range of diagnostic laboratory tests and imaging studies available through Duke University Health System, a number of services are available at the Duke Asthma, Allergy, and Airways Center including pulmonary function testing, methacholine challenge testing, exhaled nitric oxide testing (FENO), exercise testing, laryngoscopy and allergy skin testing. Our allergy clinic performs skin testing for inhalants, pollens, molds and foods. In addition we perform drug allergy evaluation and desensitization, immunotherapy and preparation of vaccines. 
Pulmonary
The Duke Pediatric and Adult Pulmonary Clinic at the Asthma Allergy and Airway Center provides initial evaluation as well as follow-up for patients with recurrent cough, shortness of breath, asthma, vocal cord dysfunction, and other issues of the respiratory system. Pediatric and adult pulmonary function testing is available on site. Care is often coordinated with Allergy Immunology, ENT, and the Healthy Lifestyles program, as well as with the Sleep Program.
Allergy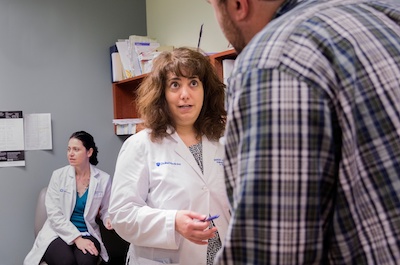 The Duke Allergy/Immunology clinic provides comprehensive care to patients with environmental allergies, food allergies, medication allergies, asthma, hives, recurrent infections, and immune deficiencies. We offer skin testing to a variety of aeroallergens, foods, and medications as well as pulmonary function testing.  We also offer allergen immunotherapy and mix allergen immunotherapy on site in the Duke Allergy Vaccine lab.
For patients with recurrent infections or concerns regarding an immune deficiency, we perform a comprehensive evaluation including specialized laboratory evaluation of the immune system in the Duke Immunology Lab. We also offer dedicated penicillin testing service (see brochure in English and Spanish) to patients with one-on-one nursing.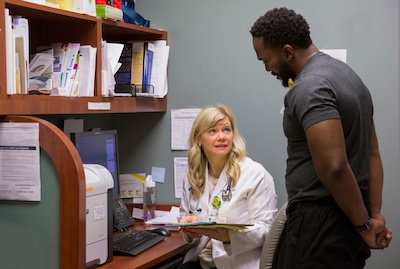 We currently have four physicians specializing in Allergy/Immunology - Dr. Patricia Lugar, Dr. Peter Bressler, Dr. Ann Collier, Dr. Christine Radojicic, and one physician specializing in Allergy/Immunology and Rheumatology - Dr. Ankoor Shah. Our nurse practitioner, Christine Willis, has been working at Duke since 1980 and works closely with the physicians to provide continuity of care.
Our physicians are board certified by The American Board of Allergy and Immunology, the national accrediting body which establishes the standards of care for allergy and immunology.
Immunology
To serve as world class leaders and teachers in advancing the science of Allergy and Immunology through basic and clinical research.
Dr. Cristine Radojicic is an expert in angioedema with 15 years of experience treating patients with hereditary and acquired angioedema. Dr. Patricia Lugar is an expert in B cell pathology, specializing in primary and secondary immunodeficiencies.
Sleep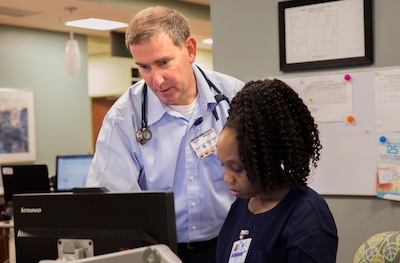 The Duke Pulmonary Sleep Apnea Program provides comprehensive care for patients with obstructive sleep apnea, central sleep apnea, complex sleep apnea, obesity hypoventilation syndrome, COPD-OSA overlap, hypoventilation, late onset Pompe disease, and other sleep disorders. We have implemented a multidisciplinary approach by working with Duke Sleep Lab, Duke Insomnia Clinic, Duke Neurology Sleep Clinic, Duke ENT, Duke Speech program and UNC dental sleep specialists to find the optimal care for our sleep apnea patients. Our clinic treats many CPAP failure cases as well as patients with difficult-to-treat sleep disorders.
Steve Taxman is a seasoned physician assistant who has been working at Duke for more than 15 years and is an expert in sleep disorders.
Sleep medicine websites for your information
National sleep foundation
American Sleep Apnea Association
Restless Leg Syndrome Foundation