The Duke GI Diversity Committee (DGDC) comprises faculty, fellows and staff. The mission of this committee is to foster an environment that embraces and supports diversity of all types within the Duke Division of Gastroenterology.
This mission encompasses ensuring that fellows, faculty, and staff have the resources they need to be successful and feel supported by the GI division. Creating a supportive and diverse environment is a priority for Duke GI, and through the DGDC, we have put a structure in place to achieve this goal. 
The DGDC works with the Division Chief to identify and recruit diverse faculty and staff.  The DGDC also works with the fellowship program director on applicant interviews and recruitment. In this role the DGDC ensures that applicants and individuals accepted to the GI division reflect the rich diversity of the community we serve here at Duke. 
A core component to a supportive diverse environment is cultural competency and education. The DGDC provides these for the GI division through lectures and talks through the year that are available to all fellows, faculty, and staff. Core lectures occur throughout the year at the divisional grand rounds. Topics covered include racial/ethnic/gender bias, diversity and inclusion, social determinants of health, and bystander training for managing incidents of harassment. 
The DGDC is a resource available to all faculty, fellows and staff. If you have questions about the DGDC, our mission, or Duke GI, please feel free to contact us.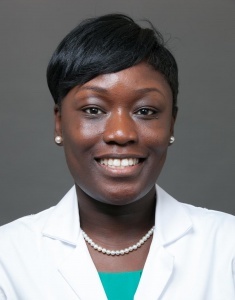 Omobonike Oloruntoba Sanders, MD
Vice-Chair, Duke GI Diversity Committee
Email: Omobonike.Oloruntoba@duke.edu