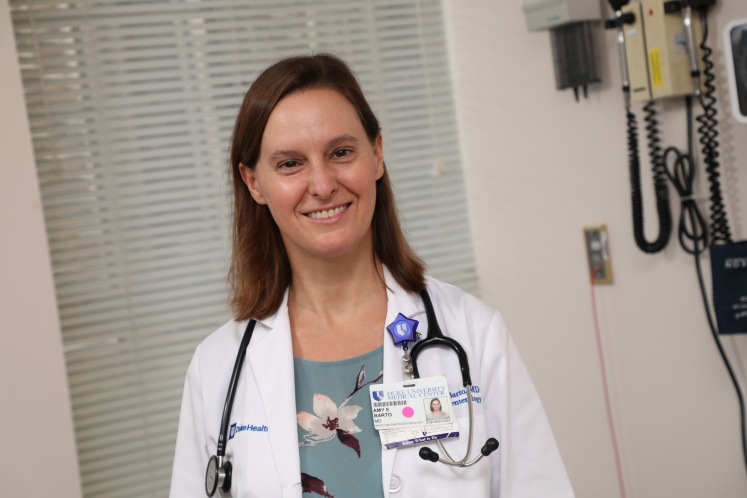 The Duke Fecal Microbiota Transplantation (FMT) Program was established in January 2019 and manages treatment of patients with recurrent or refractory Clostridium difficile colitis. Currently, FMT procedures are performed via colonoscopy using commercially available frozen universal stool products from the OpenBiome® stool bank. 
Duke Gastroenterology (GI) provides patients timely access to care with numerous providers available to schedule clinic consult appointments and perform the FMT procedure.  
As part of the Duke Microbiome Center, providers have the opportunity to collaborate with both basic science and clinical researchers across multiple disciplines in this exciting and rapidly evolving field.  The center is also participating in ongoing clinical trials investigating capsule FMT and FMT applications for IBD and non GI-related diseases. 
Providers: Amy Barto, MD (Program Director),  Karen Chachu, MD, PhD,  Justin Crocker, MD,  Matthew Kappus, MD,  Darsh Kothari, MD,  David Leiman, MD, MSHP,  Nancy McGreal, MD,  Jane Onken, MD,  Omobonike O. Sanders, MD,   Iris Vance, MD,  Daniel Wild, MD,  Richard Wood, MD,  Cecelia Zhang, MD,  Julia Constant, PA-C,  Jennifer Ha, PA-C,  Alison Kerekes, PA-C,   Ashley Neville, FNP-BC,  Janathea O'Regan, PA-C,  Meredith Reed, PA-C,  Justin Wood, PA-C